At last, good news for the good
Reviewed by Geetu Vaid
How A Good Person Can Really Win
by Pavan Choudary
Wisdom Village Publications Pvt Ltd.
Pages: 234. Price: Rs 195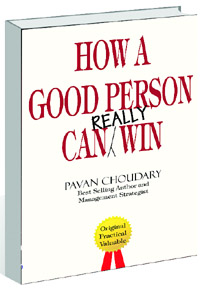 The arresting title of this book makes one reach out for it as in today's world of cut-throat corporate culture the good winning the race of success is nothing more than a paradox. The general impression is that if you are good then you will have a lot of impediments in your journey to success as success comes to those who can mould and modify their morals, principles and beliefs according to a situation.
It is this perception that management strategist and MD of leading French multinational Vygon, Pavan Choudary sets about to change with this book. Steering his ship clear of the whirlpools of platitudes and the marshes of canting, he takes one on a voyage to success through the route of anecdotes, real-life examples and logical explanations.
The book is like a well-researched argument through which Choudary debunks the Machiavellian belief that 'a good man hasn't got a chance in the real world' very systematically. The author substantiates his contentions and suggestions by opening the gates of his vast repertoire of knowledge for the readers. So here you have examples from Aristotle to Hillary Clinton, from Osho to Nikita Khruschev, all strung together beautifully in different chapters.
Simplicity and directness of language and content are the striking features of this book which allow Choudary to strike an immediate cord with readers of any age, profession or country. Whether it is his uncomplicated classification of 'vile' and 'na`EFve' as the two personas in the world of power or the different sections in which the book is divided, the author keeps things simple and easy-to-grasp for readers. His 'vile' is the manipulative and bullying person who has sedated his conscience with a shot of power, while the na`EFve is the virtuous believer in the power of good and the justice of Providence. With a deft treatment, the author takes out the shades of violence of the quintessential war between the Good and the Evil from this struggle between the 'vile' and the 'na`EFve'. Here he presents answers and techniques to the na`EFve to stand up to the challenge posed to his goodness. At the same time he doesn't forsake the 'vile' and holds out the promise of hope through pertinent advice at the end of each chapter.
While the first part of the deals with the modus operandi of the 'vile', the second part suggests the ways in which the 'na`EFve' can counter vileness without losing faith in his positive qualities. The author also highlights how different good qualities can be used as fountainheads of power by the 'na`EFve' in winning the war against the 'vile'.
So whether you have the shades of 'vile' or of the 'na`EFve', this treatise is worth a read. It has been rightly observed that the 'alternative (to getting these insights) would be to read up hundreds of books over tens of years