Meet the step-parents
Nonika Singh
The word 'step' is often affixed to describe relationships other than biological. For all of us fed on Cindrella stories and introduced to the Kakeyi fable in early childhood, a step family can never ever be a happy one. We reinforce and feed stereotypes of the stepmother as vicious and revengeful, never affectionate. Headlines such as "mother catches stepfather raping 11-year-old girl" and "stepfather held for raping 21-year-old girl" only add fuel to the fire.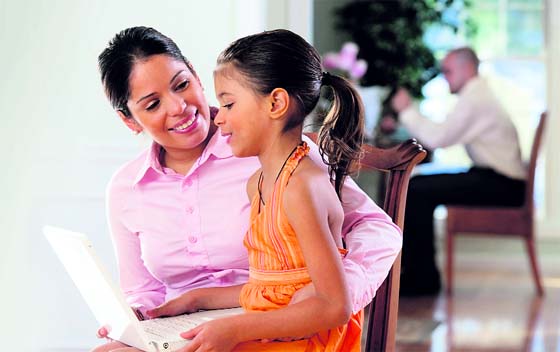 The relationship between step-parents and children breaks the conventional barrier. It is heartening that more and more stepfathers are now accepting their new role
---
ARTS
Between fame and calumny
Criticism about painter, stage designer, poet and anthropologist, Nicholas Roerich is an example of how it is in our character to first create icons, and then point to their clay feet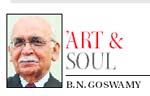 I met them purely by chance: Kenneth Archer — art historian and scenic consultant — and his wife, Millicent Hodson: dance historian and choreographer. This was some years ago: in 2009, in fact. I was at an international symposium on the celebrated Russian painter, Nicholas Roerich, at the Jamia Millia Islamiya, and so were they: I, by no means an expert in this area, was presenting a paper on 'Landscape in Indian art' in general, and those two, thoroughbred experts on Roerich, a paper on his contribution to the stage and stage design.

BROAD BRUSH
---
FITNESS
Forbidden fruit
Fructose is a simple sugar present in fruits, fresh juices, honey and many commercial sweets and beverages. Taken in excessive amounts, it can increase the risk of obesity, diabetes and heart disease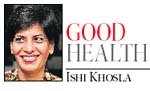 If you thought going on a fruit diet will help you lose your flab, think again! Undisputedly, fruits and vegetables are central to a weight-loss diet and good health. However, recent research suggests that excessive intake of sugar from fruits can be harmful. Sugar from fruits, also called fructose, in excessive amounts (more than 50gm / day) can be counter-productive for many and can increase the risk of obesity, diabetes and heart disease. A 100gm of apple gives you about 6 gm of fructose and a single serving of a sweetened carbonated beverage can give you as much as 20 gm of fructose.
---
Society
An officer and a social worker
From a pioneering officer in the IAF, whose legal battle empowered other women in the forces, to running an NGO, it has been a momentous journey for Anupama Joshi
Swati Rai
In 1992 Anupama Joshi, 45, joined the Indian Air Force Education Branch, and became part of the first batch of women in the Indian Defence Forces in India. Joshi recounts, "We were 12 of us in the first batch and the Indian Air Force was the first organisation to induct us, followed by the Army and the Navy. There was lot of fanfare and adulation for being the pioneers. We were showcased at the Air Force Diamond Jubilee celebration in 1992."
---
TRAVEL
Home of the tango
Though greatly influenced by French and Spanish culture, Buenos Aires is quite South American with a relaxed, happy-go-lucky air
Ranjita Biswas
In the 16th century the Spaniards sailed for months on the choppy water of the Atlantic. On finding a big mouth of a river they sailed by it, Rio de La Plate (river of silver). After arriving at this place they named it Buenos Aires (place of good air). The vibrant capital of Argentina at that time had only 144 blacks and 63 inhabitants.

Globetrotting
---
ENTERTAINMENT
Many aces up his sleeves
Saibal Chatterjee
For more than a year now, India has been on Hollywood producer Ashok Amritraj's radar again. It is the absence of a fitting screenplay that is holding him back. He says, "Among the scripts that have been coming to me are for standard Bollywood fare. There is no reason for me to do that. I am looking for something different, something special."
Cooking up a passion
For 23-year-old Ripudaman Handa, who beat 11 much more experienced contestants to win MasterChef Season 3, it was a moment to cherish
Renu Manish Sinha
Naughty, mischievous, a backbencher, he was never interested in studies. In school, more often than not, he was found outside the classroom rather than inside because the teacher forbade him to sit inside. His score in Class XII was an unimpressive 52 per cent. He hardly had the attributes of a winner in any field but 23-year-old Ripudaman Handa proved everybody wrong when he went on to beat 11 older contestants, and much more experienced than him, to win MasterChef Season 3.
---