Food processing
Tasting success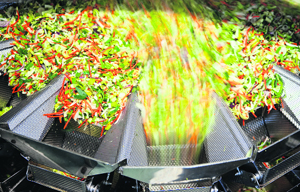 Have you ever wondered how grains from the farm become cornflakes on your breakfast table, how apples and oranges in orchards become squashes and marmalades, how milk becomes cheese or milk powder? Well, all this is the part of the journey of food from farm to fork through the route of food processing. The changing face: Food processing has evolved substantially over the past few years. Its scope is now much beyond simple food preservation, packaging and transportation, which mainly involved salting, curdling, drying, pickling. Today, it has entered the flourishing hypermarkets and organised Retail. In the time-crunched society, with working couples, many new items are now a part of its repertoire like ready-to-eat food, beverages, processed and frozen fruit and vegetable products, marine and meat products.
Career Hotline
How can I overcome my stammering problem?
Q. I am a science student. Although I'm expecting at least 80 per cent marks, my problem is that I stammer, which causes me great deal of embarrassment. Please guide me, which career I should choose, keeping in mind my this limitation. I'm afraid I'll lose out at the interview stage itself when applying for jobs. — Anurag Nag

Scholarship roundup
Azim Premji Foundation Fellowship
The Azim Premji Foundation is offering a two-year fellowship programme in which the applicants will get to understand and experience the realities of rural government schools. The fellowship includes 22 months of field work based on any one of district institutes, combined with class work to conceptualise the experience.
career compass: fashion marketers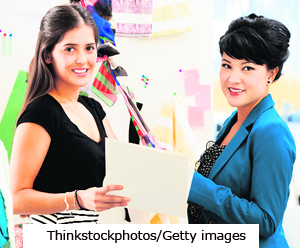 Stay in fashion
With higher inflows of Foreign Direct Investment (FDI) in the single and multi-brand retail scene the number of global brands ready to stake their claim in Indian markets is growing steadily. In this competitive scenario the foreign brands are likely to adopt an aggressive and more robust approach in order to be more visible and saleable among the Indian consumers. This will mean more demand and better opportunities for professionally trained fashion marketers who will play a key role in helping these brands to stand out.
Course cruising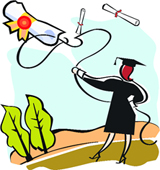 Management courses: Gurgaon-based International school of Business & Media (ISB&M) invites applications for PG programme in Business Management + Masters in Business Management (PGPBM+MBA) and PG programme in Supply Chain Operation Management (PGP-SCOM). The course: The two-year courses are aimed at providing students with the knowledge and analytical tools to evaluate and make key strategic decisions in an increasingly complex corporate environment. Offering specialisation in Finance, Human Resource Development and Marketing, the course comprises subjects such as Business Organisation & System, Business Economics (Micro), Personality Development, Business Laws among others.
Smart strategy: how you can boost EI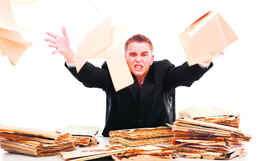 Play safe on emotional pitch
Though the unwritten rule at all workplaces is to keep emotional outbursts out of the way, these can be witnessed regularly whether it is the tiff over sharing the workload or the responsibility for a mistake or something as petty as loss of office stationery. The very fact so many people with different personalities are thrown together for a substantial number of hours makes workplace a virtual minefield of emotional outbursts.
How working moms can work guilt-free
Avoid the guilt trip
A survey by Mother and Baby magazine has revealed that more than half of working mothers feel guilty about leaving their children at home. Fiona Clark says with a few small lifestyle changes these moms can get a better perspective. Clark, founder of Inspired Mums, a web-portal to coach and inspire women to reach their potential at work, said that mums are often their own worst enemies.
Courses with a good job potential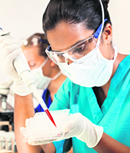 With the declaration of academic results students are now looking for clarity on the courses and which colleges to join. While the choice of subjects and stream opted for in Plus II is the main deciding factor in choosing a particular course, the job potential is also a key factor that students look at while deciding about a course. Placement record of the institute and need for professionals in a particular field are the factors that can't be ignored by students as no one wants to slog for a degree for three to four years only to find out that there are no vacancies in that sector.
Happiness @ work
Gems of ancient wisdom
Put footholds to full use
A successful career is not like a smooth ride on a levelled road, but is akin to a hard climb on a mountain. Winners use the footholds on the hillside to keep moving upwards. When his father Mughal Emperor Humayun died in Delhi, Akbar was just 13 years old and busy fighting Sikandar Shah in Punjab. Meanwhile, Hindu General Hemu had captured Agra and Delhi and proclaimed himself King Vikramaditya.


CareerCature
SANDEEP JOSHI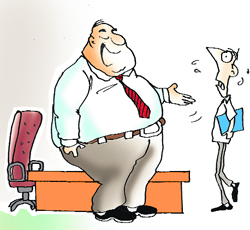 Have faith in me, I have a record of achieving 200 per cent growth in five years.

Cheating on employers
One third of workers in Australia admit to 'cheating' on their employers by fantasising about working somewhere else, a new poll has revealed. The survey, which was conducted on 1,000 Aussie workers by workplace website 'JobAdvisor', has found that around 50 percent were "window shopping for a new job." It was suggested that nearly 10 percent were desperate to leave their current job.
The off-beat course
Bordeaux International Wine Institute, France, has launched iWine — a comprehensive wine-tasting course accessible to students and professionals of all levels. The objective of this training programme is to provide students with the technical skills necessary to succeed in wine tasting.
Opportunity for edupreneurs
International learning solution providing company Pearson has entered into a partnership with innovative funding firm Village Capital to support and invest in education entrepreneurs in India. Winners of up to $75,000 funding will be selected through peer review by fellow entrepreneurs. The Pearson Affordable Learning Fund, set up last year to invest in low-cost private schools and other affordable educational solutions, will work with Village Capital to offer Indian entrepreneurs a chance to receive seed investment.
Cubicle trends
Hardworking Indians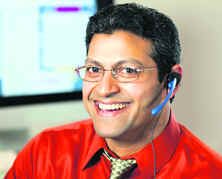 Indian professionals are more hardworking than their peers globally with many of them dedicating at least one to three hours for work even during holidays, says a survey. The findings, based on a survey of more than 26,000 executives worldwide by provider of flexible workplaces, Regus, revealed that about 49 per cent of Indian professional spends more time on work, much higher than the global average of 41 per cent. As per the survey, the top reasons making professionals to work on vacations are the urge to check mails, the boredom of being so free on a holiday, obsession with files, clients and meetings and insecurity about jobs or the uneasiness of leaving behind the workstations.
What causes disenchantment at work
More or less everyone has a grudge or two against their job. A recent study by Dale Carnegie Training showed that nearly 75 per cent of workers are not fully engaged at their jobs. LinkedIn has brought out some reasons as to why employees may be hating their job, the Huffington Post reported.
Newsboard
Young pioneers contest
In order to promote a spirit of entrepreneurship among youngsters the National Stock Exchange (NSE) recently carried out an all-India contest — NSEYoung Pioneers — in association with History TV 18. The contest picked up the top four teams that had the most exciting business ideas to offer, before an eminent panel of judges. The finals were held at the NSE office on July 18.
Hack India contest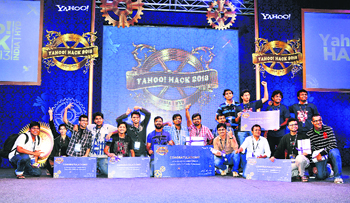 Yahoo! India R&D organised the sixth edition of Yahoo! Hack India on July 13-14 in Hyderabad. Programmers, developers, designers from across the industry, start ups and students from the top tech universities took part in the event which was held outside Bangalore for the first time. As many as 250 hackers, selected after an entry-level coding challenge, participated in the two-day event through a series of technical workshops, followed by a non-stop 24-hour coding Hackathon.
Fortnightly quiz 443
1 .In which year was the telegram service made available to the public in India?
News board
Special offer for students going abroad
Qatar Airways is offering additional baggage allowances to students travelling from various cities in India to destinations in Europe, Australia, USA and Canada. The special student offer allows three pieces for students travelling to USA (Chicago, New York, Houston, Washington & Montreal), 40 kg to (Barcelona, Berlin, Brussels, Frankfurt, Geneva, London, Manchester, Melbourne, Moscow, Munich, Oslo, Paris, Perth & Vienna) and 30 kg to (Bucharest, Copenhagen, Milan, Stockholm, Tbilisi & Zurich). Apart from additional baggage allowance, students can also avail benefits and rewards with Privilege Club programme. The offer will be valid until October 31, 2013.