LIFE+STYLE

CHANDIGARH

LUDHIANA

BATHINDA

JALANDHAR

AMRITSAR TRIBUNE

JALANDHAR TRIBUNE

BATHINDA TRIBUNE

JAMMU TRIBUNE

KASHMIR TRIBUNE

DELHI

DEHRADUN

DEHRADUN PLUS
2 killed in Uttarakhand copter crash
Dehradun, July 24
Two persons, including the pilot of a civilian helicopter, were killed in a crash at Garudchatti in Rudraprayag district of Uttarakhand today.

Biden for liberalised trade regime, sets $500b target


Describes India as a 'rising power'


Lauds its plans for future growth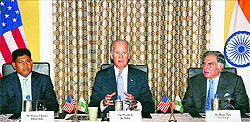 Mumbai, July 24
The US today pitched for further expanding the rapidly growing economic cooperation with India.
US Vice-President Joe Biden (C) speaks as former chairman of Tata group Ratan Tata (R) and Boeing India vice-president Pratysh Kumar look on during a meeting with business leaders in Mumbai on Wednesday. — PTI

India concerned over US pull out from Afghanistan
New Delhi, July 24
India today made its apprehensions clear to the US on what it perceives will be the situation in Afghanistan after the US-led international forces start withdrawing in June 2014.
OTHER PAGES

PUNJAB: New Chandigarh is SAD creation for self-benefit, claims Bajwa


HARYANA:
Geetanjali's family moves HC


J&K: PM's scholarship scheme for J-K students makes tardy progress


HIMACHAL: High yield, but low profits for apple growers


CHANDIGARH: Youth drowns, 5 missing, 2 rescued


LUDHIANA: Rain leaves city roads waterlogged


DELHI: Board to take up traders' issues


Business:

SC slaps contempt notice on two Sahara firms

OPINIONS: Poverty declines

SPORTS: Kohli ton sinks Zimbabwe

WORLD: Egypt's army chief calls for protests to fight 'terror'


Lahore Log

The tribune guide to best colleges

Budget
2013-14

INDIA CHINA WAR 50 YEAR LATER

YEAREND SPECIAL: 2012

Year of survival

The tribune 130 years
a witness to history
book released by prime minister manmohan singh

Guide to best colleges

Results of Punjab Assembly Polls 2012

HIMACHAL VOTES 2012

EARLIER FEATURES
Afghan, Myanmar women win Magsaysay award
Manila, July 24


Afghanistan's first and only female provincial governor and an aid worker from Myanmar's Kachin minority are among the winners of this year's prestigious Ramon Magsaysay awards, the award foundation said today.
Habiba Sarabi, governor of the Afghan province of Bamyan

Hit-and-run case
Charges framed against Salman Khan
Actor to be tried for culpable homicide, may face 10-yr jail
Mumbai, July 24


A Mumbai court today framed charges against actor Salman Khan, including under harsh provisions relating to culpable homicide, in the 2002 hit-and-run case for which he may face a jail term of 10 years. The Bollywood superstar, who had earlier been tried for a lesser offence of causing death by negligence (Section 304 A of IPC), which provides for a maximum punishment of two years in jail, will now stand trial under a more stringent law.
Special to the tribune
141-yr-old Valley man may be world's oldest


Guinness World Records may investigate claims that India is home to the oldest man in the world. The claimant is a retired fruit trader, Feroz-un-Din Mir, from Uri in Baramulla district of Kashmir, only 18 km from the Line of Control. Married to a woman in her 80s, Mir has had four previous wives and claims he is 141 years old. Guinness World Records currently recognises 115-year-old Japanese Misao Okawa (nee Aoki), who was born on March 5, 1898, as the oldest living person.
India, US keen to take civil N-deal forward
July 24, 2013
US Vice-Prez arrives to discuss trade, defence ties
July 23, 2013
Uncertainty over sale of power to Pakistan
July 22, 2013
100 Yamunanagar villages flooded
July 21, 2013
PM admits growth rate may fall below target
July 20, 2013
4 dead, 42 injured as mob raids BSF post in J&K
July 19, 2013
Bihar mid-day meal tragedy toll 22; 50 more kids fall ill
July 18, 2013
Govt revises FDI cap, allows 100% in telecom, 49% in insurance
July 17, 2013
One month on, 5,748 still missing in Uttarakhand
July 16, 2013
New Bhutan govt keen to boost ties with India
July 15, 2013