Framed finesse
The photo frame has been popular as a drawing room staple for centuries because it helps to capture golden moments and milestones
Divisha Saran
The most beautiful part of every picture is the frame. — G. K. Chesterton
Time was when a good picture was worth a thousand words and needed to be framed and displayed proudly on a prominent wall of the house. While a great frame enhanced the artistic value of a picture, a cheap one could diminish, or even ruin its appeal.
Though the frame has existed for thousands of years as a decorative boundary for paintings and diptychs, its modern avatar is linked to the invention of the camera image by French inventor Nicéphore Niépce around 1825. Even as photography captured the imagination of the world, the visual and symbolic status of the frame became paramount.
Back in those days, frames were made of oak and painted or covered in gold leaf or finished in silver and lacquered for protection. The valuable ones were elaborately carved and adorned the rooms of royalty and aristocracy and were called wall jewellery as these were memories of the golden moments of life.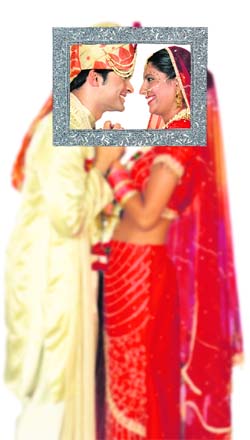 OLIVIA RIEGEL
American designer store Olivia Riegel's estate jewellery-inspired Winsdor frames are a class apart. The modern and dazzling pave frames are embellished with hand-set Swarovski crystals in a silver-tone metal finish. A modern take on a classic design, it is a must have for your home.
Price: Rs 20,400
Adaptable formats
However, over the years, frames became more adaptable in format and framers started sourcing wood from a variety of trees. The beginning of the 20th century was the golden age of the frames as these started being made from wood procured from rosewood, mahogany, timber, walnut, pine and a host of other trees.
Photo frames became popular as decorative pieces for the drawing room around the world through most of the 20th century. But then, quite suddenly, times changed and the cheese moved. The digital revolution, which started in the 1990s, pulled the camera out of the confines of the dark room and put it in the electronic mode.
Images started getting captured and stored in the camera's memory and the frames, too, began going out of fashion. Pictures no longer required albums or frames as these could be digitally stored on the camera's LCD screen and transferred on to a computer or any other electronic storage device.
Digital frames
However, once people got over the initial euphoria of the changed format of images, the frame made a comeback but in a digital incarnation. This was simply an LCD screen that displayed multiple photos as in a slideshow and could be connected to the internet.
Pictures from a digital camera could be automatically transferred on to the frame and displayed in a moving format which was akin to thumbing through a photo album. What the digital frame did was to eliminate the need for physically printing the picture and framing it.
The digital frame caught the fancy of photo enthusiasts in the new millennium. Some of the good quality electronic frames costing between Rs 1,500 and Rs 7,000 also have an alarm clock and a calendar and like traditional frames, can be placed on a table-top or hung on a wall.
However, with the arrival of the digital frame, those who sounded the death knell of the conventional one were soon to be proved wrong. Like all things retro, the new millennium has seen a sudden revival of the old-fashioned frame, which is back adorning the walls of trendy homes.
The traditional frames are now are co-existing with the digital versions, which are being made by leading photo equipment companies like Kodak, Philips, Sony, Hewlett Packard, Polaroid, and a host of other organisations. Both the frame types have their set of admirers.
The conventional frame has now become more flexible and though those made from wood are still very popular, you can get affordable ones made in almost any material, including plastic, metal, acrylic, bronze aluminium, leather, papier-mache and also in gold and silver.
Price check
The prices, too, vary with every picture frame. While you can get a cardboard-and-art-paper frame for less than Rs 100, the market also has on offer custom-made frames that can cost a fortune.
Russian luxury brand Bulushoff, renowned for its fine art pieces, recently hand-crafted a translucent gold frame that sold for $100,000 (Rs 60 lakh). A four-LCD folding screen photo frame by South Korean giant Hyundai sells for $70,000 (Rs 42 lakh).
There is also a bustling antique market for antique photo frames. The most-sought after are the Art Deco and Art Nouveau frames made of oak, mahogany or walnut wood between the 19th and the middle of the 20th centuries. Many of these have intricate carvings and layers of mouldings, along with ornate brass embellishments. Some even have gold or silver leaf covering the entire frame. Depending on their condition, the genuine antiques can cost a fortune.
But one doesn't have to be a millionaire to buy a photo frame. Depending upon your budget, you can choose from a plethora of frames that make great gifts for family, bosses, teachers and colleagues.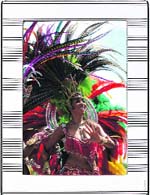 CARTIER
This sterling silver and palladium photo frame is a part of a new collection that honours Cartier's long-standing tradition of creating high-quality objects. Skillfully and uniquely crafted in precious leathers, metals and lacquer, each of these frames manifests the Cartier art de vivre.


Price: Rs 63,900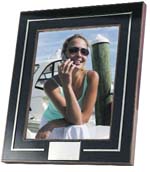 DAVID LINLEY
This attractive walnut frame is meant for your most-treasured photographs. It is made from high gloss walnut with nickel stringing detail and sterling silver plaque. Its beauty is testimony to the fact why frames by David Linley, nephew of Queen Elizabeth, are such sought-after decoratives.
Price: Rs 51,750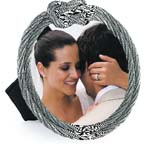 RALPH LAUREN
Drawing inspiration from a nautical round knot, the silver rope frame from Ralph Lauren is crafted from gleaming silver-plated brass and pewter. Its black canvas backing with an easel stand gives it a vintage finish and makes it an essential for a stylish drawing room.
Price: Rs 8,550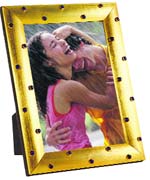 Atelier
This stunning frame from California-based L'Objet Atelier is handcrafted and made from gold vermeil, sterling silver and lapis stones. Emulating centuries of fine jewellery design and technique, it has exquisite detailing and is available in two sizes either with amethyst or malachite stones.


Price: Rs 1.575 lakh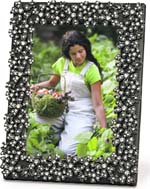 GARLAND NOIR
Inspired by fine jewellery, this L'objet flowers frame is meticulously handcrafted, incorporating sparkling Swarovski crystals and semi-precious stones, along with 14-karat gold and platinum plating. It has classic bevelled glass, stretched leather backings and comes in a luxurious gift box.


Price:
Rs 20,250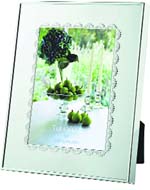 VERA WANG WEDGWOOD
The collaboration of two of the world's celebrated names in luxury, Vera Wang and Wedgwood showcase a new range of silver-plated photo frames. The range of frames have been inspired by the lace used in wedding gowns and make an excellent gift for any newly weds.


Price: Rs 9,000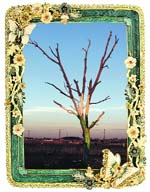 CHLOE
Exotic florals and leaves carve out an arrangement of fresh shapes on this exquisite Chloe photo frame. The frame is available in greenish blue or brushed silver colours. A 2 mm wide polished bright border,around the outside, heightens the attraction of this frame.


Price: Rs 9,000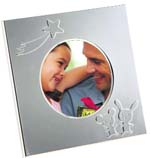 CHRISTOFLE
The charming Galaxie and Confetti picture frame by Christofle, the French luxury home accessories company, is made from sterling silver and treated with anti-rust varnish. Made for precious baby pictures, it makes a great gift as it also has a matching baby cup and spoon.
Price: Rs 19,350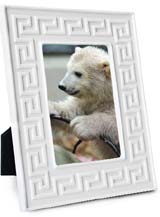 JONATHAN ADLER
This charade Greek key frame by American designer Jonathan Adler reinvents a traditional motif in contemporary design to create an exquisite decoration piece for your photos. It is chic and can fit in many different styles of decor. With this frame, your favourite memories take centrestage.



Price: Rs 6,600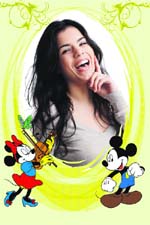 DISNEY
The Disney photo frames are a fun way to display memorable pictures. The frames have Mickey Mouse, Minnie Mouse, Donald Duck, Goofy, and Pluto. The entire Disney gang bursts forth with glittering sculptured designs to present stellar souvenirs of your family vacation.




Price: Rs 720 to Rs 2,400

GUCCI
Though Gucci is one of the global leaders in fashions, it started off in 1921 as a maker of fine leather goods. The tradition continues even today as is evident from this fabulous dark brown Guccissima leather picture frame with embossed 'Gs' (for Gucci) connected in a diamond pattern.
Price: Rs 35,700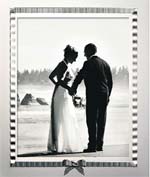 KATE SPADE
New York-based global luxury lifestyle brand Kate Spade's silver-plated grace avenue frame is a beauty to behold. The attractive polished frame has a smooth surface with a tonal trim inspired by grosgrain ribbon. It comes packaged in a pretty box and makes a great gift idea.

Price: Rs 8,100