CENTRESPREAD
The new pin-up beauties
Brooches and pins perk up a lacklustre outfit and add pizzazz to your personality, besides upping your fashion quotient
Shobita Shivshankar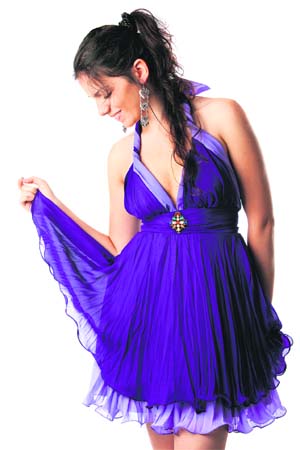 Guess what's the latest fashion fad among celebrities? It is 'wearing' butterflies, dragonflies, bunny rabbits, crystal flowers, falling stars, nostril-flaring dragons, galloping horses, racing panthers, unicorns, crocodiles, swords and other quaint designs and motifs. Yes, they are all wearing their attitude on their shoulders, coat lapels, collars, chests, sleeves and arms.
Welcome to the world of pins and brooches — the latest fashion accessory that the trendy are flashing on the ramp and the red carpet. These attractive little accessories can perk up a lacklustre outfit. These can be elegant, whimsical or chic. These can send out a message, or just be funny. Whatever their intent, the main purpose of these brooches and pins is to brighten and enliven ensembles.
Star divas like Freida Pinto, Sonam Kapoor, Alia Bhatt, Deepika Padukone, besides hunks like Aditya Roy Kapoor, Abhay Deol, Ayushmann Khurrana and a host of others have all been accessorising their outfits with designer pins and brooches made in gold, silver, platinum, diamonds, rubies, Swarovski crystals and a host of other materials.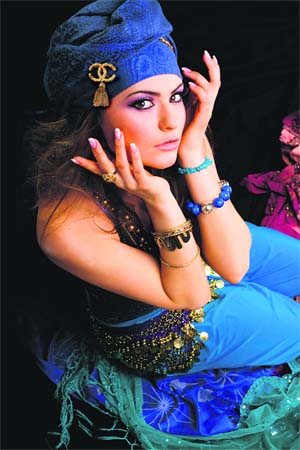 And thanks to Bollywood A-listers, these pins are fast-gaining popularity among the youth. With floral, animal and celestial designs dominating, brooches are adding a zing to dresses and are suddenly becoming fashion accessory of the year.
Instant pizzazz
"It's all about passion. Brooches are like icing on the cake. Once you pin these on, these add instant pizzazz to your personality. These are a self expression, a trend, and more importantly, these are addictive and heighten your fashion quotient," says Shiney Sehgal, an upcoming accessories designer.
Designers like Shiney, who are cashing in on that one sparkling moment on the ramp or the red carpet when a celebrity flaunts a brooch or a pin. That moment can translate into serious money as the styles celebrities wear set trends that trickle all the way down to the young fashionistas who frequent the malls and high fashion streets to add a chic touch to their couture.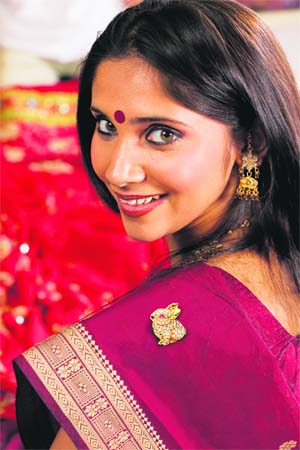 The best part about brooches is that these add an elegant touch to an old outfit like a dress or a blazer. And not all of them require you to break a bank. Stylish brooches can come for as little as Rs 200 though the upper limit can touch the sky in case you decide to encrust them with gold, platinum and precious stones. A chic faux jewel-studded brooch, however, can be a wonderful way to get your party sparkle for a few hundreds of rupees.
The best places to wear brooches for maximum effect are coat lapels, scarves, cravats, and even belts and waistbands. These can be pinned to shawls, stoles and other outwear. You can also wear these in your hair, at the curve of your waist, and just about anywhere that needs a little panache.
The versatility of brooches make these a stunning fashion accessory that can add drama to any outfit. These let you effortlessly change your look, especially from day to evening wear with just a pin-on that says a lot about your personality.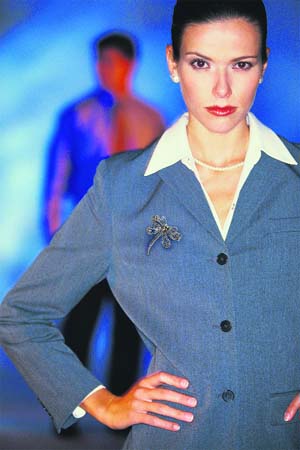 Hair ornaments
Interestingly, brooches make great hair ornaments. These can be used on braids, straight hair, curly hair or any other hairstyle. Large brooches look fabulous on long wavy hair and are just the thing for keeping an 'up-do' firmly in place. Flower brooches, in particular, will look lovely on buns and straight styles, too, can be electrified by a brooch.
Seeing their rising popularity, it is little wonder that this classic accessory has been re-invented by the world's leading design labels like Roberto Cavalli, H&M, Yves St. Laurent, Oscar de la Renta, Chanel, Cartier, Tiffany and a host of others.
These leading couturiers are making crystal brooches, pearl and rhinestone brooches as well as beaded brooches. However, acrylic, amber, diamante, enamel, fabric, gold plated and sterling silver brooches, too, are ruling the world of fashions.
Brooches, sometimes called finely articulated miniature sculptures, have been around for centuries. In the earliest times, when people wore big pieces of clothes, brooches were used to fasten these on the body. Egyptians, Romans, Greeks and other ancient civilisations have been known to have used these as ornaments and as symbols of status and position in society.
Their appeal may, at times, have diminished but these have never gone out of fashion. Through most of the 20th century, these have been used to add class and elegance to the outfits. But, of late, these have come back to create waves in the fashions world all over again.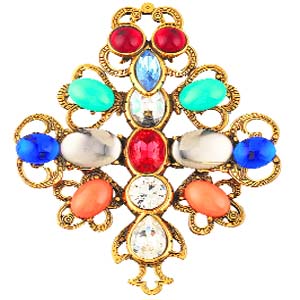 OSCAR DE LA RENTA
This stunning insect-shaped brooch from celebrated New York-based fashion and accessories designer Oscar de la Renta is made of 24-karat gold-plated pewter and brass with resin and glass accents. It has a spring ring closure and a bar-pin at the back to minimise risk of hole in fabric.
Price: Rs 26,700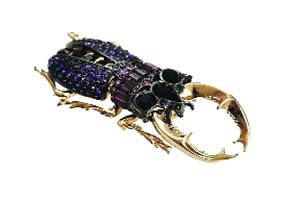 ROBERTO CAVALLI
The gilded beetle brooch with Swarovski crystals is a part of the Roberto Cavalli Fall/Winter collection. It comprises 65 per cent brass and 35 per cent Swarovski crystals in colours ranging from the deep blue of the Mediterranean to purple, emerald green, bright gold and intense red.
Price: Rs 41,700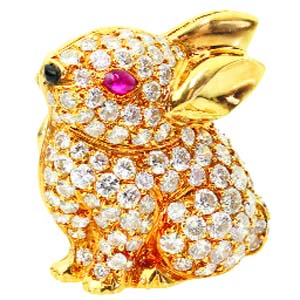 VAN CLEEF & ARPELS
This ruby diamond bunny rabbit is a stunning estate brooch from the animal collection of French jewellery, watch and perfume company Van Cleef & Arpels. The brooch is made in 18-carat yellow gold and features a sparkling pave-set diamond body with a black enamel nose and a faceted ruby eye.
Price: Rs 5.70 lakh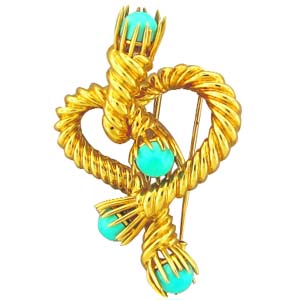 TIFFANY
There is something about this brooch-pin that will tug to any woman's heart. Made from 18-karat gold and studded with bluish-green turquoise it is designed for Tiffany & Co. by jewellery artist Jean Schlumberger. it comprises wires of gold twisted together to form the heart design.
Price: Rs 4.20 lakh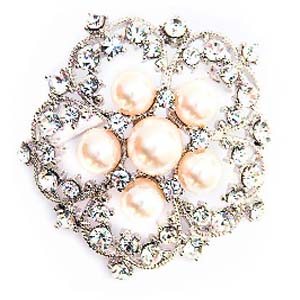 SHEARINGS
The Art Deco-inspired brooch from Shearings lends a vintage touch to any formal attire. With creamy ivory glass pearls and Swarovski crystals in a starburst shape, this brooch can be worn as a sparkling detail to a dress or a jacket lapel or even as a shimmery hair accessory.
Price: Rs 8,550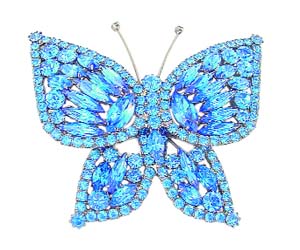 GLITTERS
Large three-dimensional vintage style blue butterfly pin brooch from US accessories company Glitters is made with prong set Swarovski Austrian rhinestones. It has a hematite metal finish, which brings out the striking rich deep tones of the Swarovski rhinestones adding to the sparkle.
Price: Rs 9,000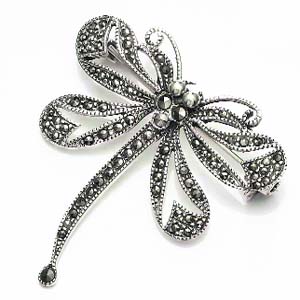 PAUL GONER
This exquisite Paul Goner hand set sterling silver dragonfly brooch with Marcasite stone is studded with Swarovski crystals. It can be adorned to any garment, or even at the back of the hair. The exquisite Art Deco styled piece of jewellery makes a perfect gift for that someone special.
Price: Rs 6,300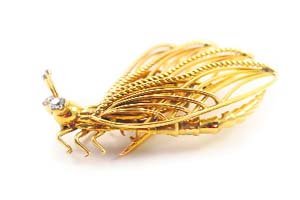 CARTIER
An exquisitely designed and rendered Art Nouveau Cartier brooch, sculpted in rich 22-karat yellow gold wire-work, is the original interpretation of a butterfly and is typical of the 1950s Cartier design. Enlivened with mine-cut diamonds, it makes a charming evening piece.
Price: Upon request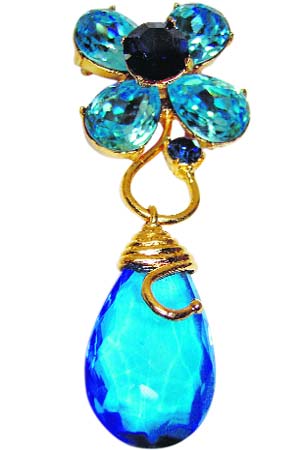 YVES SAINT LAURENT
The classically-designed flower brooch by Yves St. Laurent features blue faceted stones set in aquamarine and sapphire in rich gold-plated metal in a retro style. It has YSL logo at the back and will perk up any dress or jacket label. It is sure to become a conversation piece at a party.
Price: Rs 15,000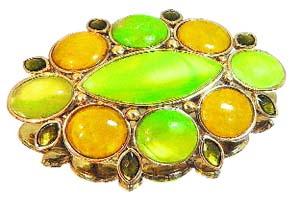 LIZ CLAIBORNE
This vintage Liz Claiborne brooch features striking amber, green and gold marbled cabochon gemstones. It has a rolling C-clasp on both the heart and the rose adding to its beauty. This gold tone oval shaped brooch will be a perfect addition to any lady's vintage jewellery collection.
Price: Rs 7,200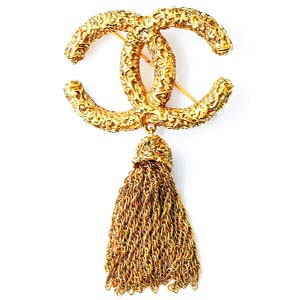 CHANEL
Slip this timeless showstopper from the House of Chanel, featuring the world-famous interlocking 'CC' motif, on to any sleek scarf or lapel of a jacket for that instant Parisian chic. This is an authentic vintage tassel brooch from the French luxury house and is hand-sourced and verified.
Price: Rs 50,700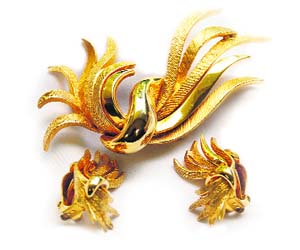 CARNEGIE
This large and lovely rich gold-plated brooch and earring set has been created by American designer Hattie Carnegie. It is wonderfully textured with an organic design of flowing petals and leaves and is guaranteed to add sparkle to any dress or jacket.
Price: Rs 4,200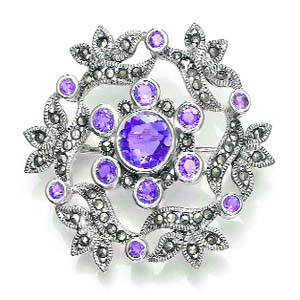 HEIRLOOMS EVER AFTER
This gorgeous sterling silver and Marcasite flower circle brooch from UK fashion house Heirlooms Ever After has a beautiful lilac purple stone centre detail with smaller stones surrounding it. A great example of the stunning effect, Marcasite and silver have worked together.
Price: Rs 9,900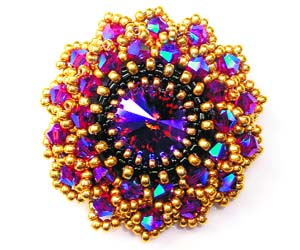 ETSY
This sparkling vintage-inspired Swarovski crystal brooch with beaded stones from online store Etsy is surrounded by a double row of pink, blue and purple hue crystals with a signature gold-beaded frill embellishment. It is backed in black faux suede with a premium gold-plated pin.
Price: Rs 3,000