The fading moments of Mughal glory and the tragedy that followed the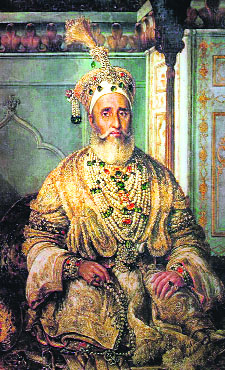 First War of Independence in 1857 have been revived in public memory as the campaign to bring back the mortal remains of the last Mughal emperor Bahadur Shah Zafar is set afloat
Bahadur Shah Zafar
Will exile end?
Nirupama Dutt
The lament of the last of the proud Mughal emperors, Bahadur Shah Zafar, remains ever alive in the collective consciousness of the subcontinent in which the emperor who was also a poet cried out of his misfortune at not being able to avail of the two yards of land in his beloved country: Kitna hai badnaseeb Zafar dafn ke liye/Do gaz zameen bhi na mili koo-e-yaar mein. These two lines are embedded in the Indian psyche are indeed a part of popular culture. This couplet still has the power to sadden the human heart to let out a helpless grieved sigh.

Autumn of an Emperor: Oil painting of Bahadur Shah Zafar by Austrian artist August Schoefft now in the Lahore Museum collection

---
ARTS
'ART & SOUL
Celebrating a life
A recent exhibition on Anasuya Sarabhai, popularly known as Motaben, paid a tribute to the courageous woman, who worked selflessly for the uplift of the less fortunate
B.N.Goswamy
The exhibition I saw recently at the India International Centre in Delhi — moving in content, elegant in presentation — was a tribute to the one person who lived her life by the above-cited words: Anasuya Sarabhai. In many ways, it could be seen as an act of homage of one icon — Ela Bhatt, founder of that great voluntary organisation, SEWA — to another, for Elaben has always seen herself as someone who has followed in the achingly simple but distinguished footsteps of Anasuya Sarabhai. Each of them adopted and fought for causes, each of them in her own fashion.

broad brush
---
FITNESS
Refine your ways, not your food
Processed foods and products made from maida are bad for our health. These permit us to become overfed and under-nourished because these provide empty calories
It appears that most of us live to eat. A client once said that after a nerve-wrecking day at the office, the only way he could let off the steam is by eating a mouth watering pani puri or a juicy Frankfurter or some spicy bhel or may be a pastry.
---
Society
Mountains are terrestrial too
Rain-ravaged Uttarakhand is an example of the consequences of tampering with nature and forests
Deepak Rikhye
An ancient Chinese saying has prophetic undertones. "If you cheat the earth, the earth will cheat you". Recent reports have described rain-ravaged Uttarakhand, as "rain fury". The devastation has been tragic. Almost all hill stations have become an ideal destination for anyone wanting to escape the heat during a summer season. Each hill station is now confronted with a situation never envisaged before. The after-effects of an increase in tourists has created a desideratum within that hill station. Accommodation in the form of hotels and homes have to be increased. If there is no space available within the hill station, buildings and allied development move to the suburbs.
---
TRAVEL
The charm and attractions of Mussoorie are still undiminished despite the recent disaster in Uttarakhand
The magic of high living
Hugh and Colleen Gantzer
This morning, a cloud breezed through our front door. We live two km up in the sky and clouds are our companions. Particularly now when rain drizzles like a silver shower and a visitor from Chandigarh was delighted with something we take for granted. He said "Imagine wearing a sweater in July! Wonderful!" Then he and his family drifted out of their room, shopping, snacking ... we have a particularly friendly bhutta-wala ... and breathing in our oak-filtered, mist-moistened, mountain-cooled air. Our mountains are young and, like all infants, they throw occasional tantrums which hurt those near and dear to them. But no one disowns an infant because of a tantrum. And we thank our mountains that, recently, they have not been upset.

Globetrotting
---
ENTERTAINMENT
Gulabi Gang — A different story
Nishtha Jain's documentary on Gulabi Gang traces the journey of its founder Sampat Pal. The film shows how an individual's crusade turned into a veritable movement by women against gender violence, and caste oppression
Shoma A. Chatterji
Gulabi Gang is a documentary film made by Nishtha Jain, who has honed her skills in making meaningful documentaries often centered on women and which win awards or gain recognition. The film won Best Film Award in Muhr Asia Africa documentary section at the 9th Dubai Film Festival, which happens to be one of the many awards it has been collecting at different festivals across the world. Jain received a $25,000 grant from the Sundance Documentary Film Program.
I am not pretentious
There is something about PC. Be it her films or her singles, whatever she touches, becomes a hit
Sreya Basu
Now that your international single Exotic - featuring American rapper Pitbull is topping music charts worldwide, tell us what makes you exotic?
I think every part of me is exotic.