Bring tears to your eyes
Excessive use of computers and air conditioners and the rising air pollution levels are the leading cause of the growing incidence of dry eye syndrome
Dr R. Kumar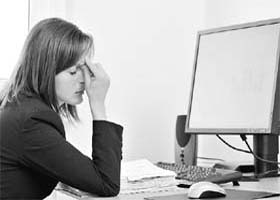 Take frequent breaks as constant eye strain can result in a headache. Thinkstock
THE dry eye syndrome is a common condition, caused due to various lifestyle factors like air pollution, smoking, vehicular smoke, excessive use of gadgets like computers, iPods, mobiles, and the also use of air conditioners, heaters etc. Other factors like sedentary habits, excessive use of various cosmetics and chemicals can have an impact on the quality of our vision.
Hormonal changes are also a cause of the dry eye syndrome (DES); causing changes in tear production e.g. menopausal women are most often affected by dry eye. Older men are also affected by this problem. Nearly 50 per cent of the population suffers from this problem. However, it is more prevalent among women and older individuals.
Conditions that affect the lachrymal gland or its ducts, including auto-immune diseases like lupus and rheumatoid arthritis, lead to decreased tear secretion and dry eye. Tear secretion may also be reduced by conditions that decrease corneal sensation e g. diabetes and herpes zoster. Medications such as diuretics for high blood pressure; Beta-blockers for heart or high blood pressure; antihistamines for allergies; sleeping pills; anti-anxiety medications; pain relievers etc. can cause DES.
The condition is quite common and most of us may suffer from it either persistently or under certain situations.
Dry eye syndrome
Sometimes people don't produce enough tears or the right quality of tears to keep their eyes healthy and moist. This condition is known as dry eye. In a normal eye there is a tear film in front of the cornea that lubricates, nourishes, and protects the eye from dust and other irritants. Spread by blinking (about every six seconds), it keeps the surface of the eye optically clear and smooth, and also protects from infection. This film has several layers of fluid viz. the lipid, or oil layer; the watery layer; and mucus layer and is not like ordinary water in its composition. All three layers of tears are necessary for proper lubrication. Persons with dry eye syndrome have tears that are mostly water and evaporate quickly, providing little protection to the eye.
Symptoms
Dry eyes are dry, irritated and uncomfortable eyes. Sometimes excess production of water from the lachrymal gland in dry eyes results in watery eyes. Other symptoms include eye strain, sensitivity to light, headache, blurred vision, pain and foreign body sensation, itching in the eyes, red or burning eyes. Even repeated splashing of water in the eyes does not give any relief, instead it worsens the condition.
People prone to DES may also find their eyes feel more uncomfortable after reading or watching television at a stretch. Constant eye strain can result in headache or neck-ache, which may be the leading symptom. If not treated early the dry eyes can progress to ulcer formation and opacity of the cornea resulting in permanent loss of vision.
A test called the Schirmer's tear test is usually done to diagnose DES. It involves placing filter-paper strips under the lower eyelids to measure the rate of tear production under various conditions. Another way your doctor can diagnose dry eye is by putting special eye drops in the eye then studying how long it takes for dry spots to develop on the cornea after a blink. It is called tear break up time (TBUT). The dye test can also be used to look for certain staining patterns that show any damage to the surface of the cornea.
Treatment
Eye drops called artificial tears are used as substitute tears. If you need to use artificial tears more than every two hours, preservative-free brands may be better for you. These lubricate the eyes and help maintain moisture.
The use of cyclosporine drops, work by stimulating tear production. It treats the underlying inflammation that's causing the problem, but only 25 per cent to 30 per cent of patients are benefited and cyclosporine doesn't work in every patient. Steroid eye drops may also be used occasionally.
Surgical options include Lacrisert, a tiny insert filled with a lubricating ingredient (hydroxypropyl cellulose) placed just inside the lower eyelid, where it continuously releases lubrication. Other option is to close outlet channels temporarily with plugs to conserve your own tears and make artificial tears last longer. One more option is to permanently seal the opening of tear ducts by using heat cautery.
Supplementary measures may include drinking more water to improve general hydration of the body, treating any inflammation of the lids and the measures mentioned under prevention. Some people may find dry eye relief by supplementing their diet with Omega-3 fatty acids, which are found naturally in foods like oily fish (salmon, sardines, anchovies) and flax seeds.
Recent research
A recent study found evidence that increasing dietary fatty acids especially Omega-3s can improve dry eye symptoms. The study's primary outcome was an increase in tear break-up time (TBUT). At 30 days, TBUT had increased from a mean of 3.9 seconds to 5.67 seconds in the study group. Schirmer's test showed improvement of 22.3 per cent in this group.
In another research in Japan use of 2 per cent rebamipide suspension was found superior to a 0.1 per cent sodium hyaluronate solution for treatment of dry eye.
— The writer is a Chandigarh-based eye specialist
Tips to prevent dry eyes
Avoid direct blowing of air in eyes from hair dryers, car heaters, air conditioners or fans.
Add moisture to the air e g a humidifier can add moisture to indoor air.
While swimming wear wraparound glasses or eyeglass shields or swim goggles.
Take frequent breaks while reading or working on computer. Blink frequently.
Be aware of your environment. Air at high altitudes, desert areas and in airplanes can be extremely dry. Close eyes repeatedly to minimise evaporation.
Position the computer screen below eye level. This will slow the evaporation of tears between eye blinks.
Stop smoking and avoid vehicular and other smoke.
Wear sunglasses when outdoors to reduce exposure to sun, wind and dust.
Do not use any eye drops meant for the normal eyes.
Avoid long-term contact lens wear. Avoid surgery that involves making incisions in or removing tissue from the cornea i.e. laser correction of myopia, if you have dry eye problem.