On the cutting edge
Divisha Saran
From the conventional knife, fork and spoon to the arcane foon, spife or knork, the worldwide demand for cutlery is adapting to the changing times and tastes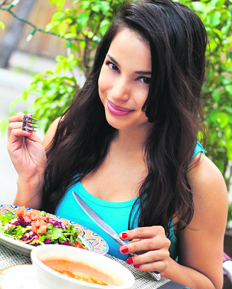 Manners, goes an old English adage, maketh a man. But in these hurried times silver cutlery, formal dining table settings and polite eating etiquettes are on the endangered list. Even as an increasing number of people park themselves in front of television sets at mealtime and gobble down food, the art of elegant eating has taken a backseat.
The meal in modern households is no longer the main event, and the implements to make food travel from the plate to the mouth are not important anymore. Unmindful eating, besides being a habit sneered upon by medical experts, is making cutlery redundant and reducing it to an ornamental appeal.
Table etiquette
Time was when the process of eating was an important occasion not just to satiate hunger but to display immaculate table manners and demonstrate grace and working knowledge of forks, knives and spoons placed on either side of the dining plate.
In many up-end homes, special emphasis was laid upon the importance of protocol on the dining table. Because such occasions, young people were told, could arrive at a formal business lunch, a meal with a loved one at a swish restaurant or a dinner at an important family gathering. The idea was not to display an obsessive wisdom about using cutlery but to appear sophisticated in stylish company.
Thankfully despite the widespread predilection for fast food, the demand for classy cutlery has not diminished, even as high-end hotels and stand-alone fine-dine restaurants are keeping alive the art of indulgent eating. Decorative knives, forks and spoons, with a variety of rounded handles, long handles, weighted handles, flat handles and ivory handles are back on the menus and are being used to elevate one of our most primary needs for food into an art form. For centuries, cutlery has been used by humankind to scoop up food. There is a mention of spoons and knives during the fourth and fifth centuries, though the fork came to the dining table much later — perhaps in the 10th century — and its main function was to pull out meat and vegetables from boiling pots.
Design refinement
Over the ages, great refinement was made to cutlery and various elements of design were infused to bring it to the current style. Cutlery-making skills received a major boost in the 17th century when Sheffield, a city in England, where the best British steel was made, began manufacturing knives, spoons and forks in steel and silver.
Suddenly, these pieces became family heritage. Sets of knives, spoons, forks were passed on from generation to generation as heirlooms to be used and also displayed in frames, if they were made of gold, silver or any other precious metal.
A connoisseur will tell you that not all cutleries are born equal. There are subtle variations that distinguish one set from another. The groupings include the Prism Flatware, which is a timeless classic with long handles and large spoons. The Artik Cutlery comprises forks with projected points and rounded handles.
Varied styles
There is the City Flatware with weighted handles that provide great equilibrium. Then, there is the Bettina Flatware is marked with seductive curves. Similarly, there are many more categories and varied styles which can be paired with other tableware.
Formal meals usually have more than one knife and fork. On the outside left is the appetiser fork and nearest to the plate is the main eating fork. On the right of the plate is the appetiser knife followed by the main knife. The soup and eating spoons are in front of the plate.
Proper etiquettes dictate that when you start talking while eating, the knife should be placed horizontally on the plate and crossed over with the fork making the formation of the letter 'X'. When you have finished eating, the knife and fork should be placed facing upwards parallel to each other in the centre of the plate.
New terminology
However, in the modern era, the meaning of cutlery is coming in for a number of dramatic changes and a lot of new terminology has come to be added to it. You can now eat with modern-day implements like a foon (a blend of fork and spoon), spife (spoon and knife) or knork (knife and fork). However, if you are a stickler and want the traditional combination of spoon, knife and fork, you can simply ask for the sporfe, which is a three-in-one combo.
But no matter what shape the forks, spoons and knives take, the fact is these are not going to go away in a hurry. There is a growing demand both for budget cutlery made from steel and plastic costing a few rupees to high-end sets in gold and silver which can cost in lakhs. As long as food has to be lifted from the plate to the mouth, cutlery will be around in one form or the other. The conventional and the esoteric will co-exist.
Shape of things to come
Apart from the foon, spife, knork and sporf, cutlery comes in many exotic — and bizarre shapes and sizes.
Take for example the EasyFit cutlery set. This has been designed for those who like their fast food but also worry about not burning enough calories. The wacky knife-fork-spoon combo is shaped like a dumbbell and weighs as much. The knife and fork weigh in at one kilo each and the spoon tilts the scale at two kilos. The idea is that you work your muscles with every bite you take!
Or take the case of the HAPIfork. This is a vibrating fork that can monitor exactly how much you eat with the help of electronic sensors.
If you are eating too quickly, it will vibrate in your mouth to tell you to slow down and eat mindfully. It stores this data directly in your computer or smart phone. Eating slowly also helps you lose weight.
RUBY LANE

This antique six piece ivory set from online retailer Ruby Lane has hand-engraved silver-plated designs on blades featuring anchor-shell motifs. All pieces are fitted with genuine ivory handles and are a reminder of the past when formal eating was a matter of elegance and sophistication.

Price: Rs 8,100

---

NEWBRIDGE

The Newbridge collection of premium stainless steel cutlery is designed for the modern household. The 24-piece silver Celtic cutlery set can be used both for casual and formal dining as it is long-lasting and does not lose its shine and lustre. It adds to your dining elegance for a long time.

Price: Rs 15,500

---

ANDRE VERDIER

This vintage ivory handle cutlery set from France's leading Andre Verdier Coutellerie is made of professional quality stainless steel and coloured resin. The set features the trademark symbol of the Bee and is handmade. The stunning cutlery comes in a wooden box with a certificate of authenticity.

Price: Rs 15,000

---

ARTHUR PRICE

Experience the sophistication of using the premium cutlery collection from Arthur Price. This luxury king sovereign silver-plated 124-piece cutlery set for 12 people epitomises the very best in English craftsmanship and carries an unconditional lifetime guarantee.
Price: Rs 2.7 lakh

---

VINERS Harley

Harley cutlery from Viners is elegant and has enduring good looks. It is decorative without being overly ornate and shows the influence of the British Art Deco style. This 44-piece set, made from high quality steel, is polished to a long-lasting finish and comes with a 50-year guarantee. Price: Rs 16,200

---

WMF TAIKA

This award-winning 30-piece cutlery set comprising six tablespoons, six forks, six table knives, six teaspoons and six cake forks comes from German company WMF Taika. It is extremely slim in design and the cutlery design establishes a link to the Asian gastronomic culture. Price: Rs 45,000

---

CHRISTOFLE Jardin d'Eden

The French brand Christofle has been a leading symbol of luxurious cutlery since the 19th century. Its silver-plated Jardin d'Eden collection is in baroque style and features interlaced leaves, flowers and curls found in a lush garden. Each piece is for a very special occasion.

Price: Rs 7,200 per piece

---

GEORG JENSEN 'ALFREDO THE TWIST' FAMILY

This is a wonderful gift for children. The Twist Family cutlery set from Danish designing company Georg Jensen's Alfredo collection features hand-sketched drawings of a mother, father, son, and a daughter. Made of mirror-polished stainless steel, the set is just the gift children will love. Price: Rs 5,400

---

BABIES'R'US

The cutlery set for toddlers from Babies'R'us a part of the world toy leader Toys'R'us will make your little one feel grown up at meal time. Lightweight and easy to hold, this set allows kids to move from soft handled feeding spoons to metal cutlery easily. Pack includes fork, knife and spoon.

Price: Rs 600

---

CUTIPOL GOA

At Portugal's Cutipol cutlery, hands-on craftsmanship is paired with modern technology to produce this superb set of 24 pieces. Called Cutipol Goa, these pieces with black resin handle and hand-polished stainless steel head draw their inspiration from Portugal's erstwhile Indian colony.

Price: Rs 10,500

---

DAVID MELLOR PRIDE

British cutlery designer David Mellor's iconic 'Pride' range of silver plated cutlery is inspired by early 20th century metalwork designs. The 24-piece silver-plated set comes in a handmade black stained oak box and is an ideal wedding present for someone you value. Price: Rs 63,000

---

Toyo Ito MU

The elegant 24-piece cutlery from the Japanese design house Toyo Ito is a head-turner. It is a part of the 'MU' series, which means hexagon in Japanese. The imaginative designers at Toyo Ito have made the cutlery handles like chopsticks and these can be held in the same way as well.

Price: Rs 25,500