M A I N N E W S
18 US missions to reopen today
Lahore Consulate, Sanaa Embassy to remain shut after Qaida threat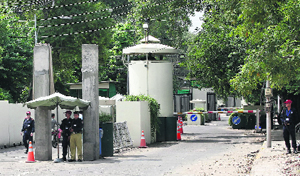 Security personnel guard the entrance of a road leading to the US consulate in Lahore. — Reuters

Washington, August 10
The United States of America will keep its consulate in Lahore closed, even as it will tomorrow reopen 18 of its 19 missions in the Middle East and north Africa that were closed this week after intelligence intercepts from Al-Qaida suggested an attack was imminent.
Besides Lahore, the US embassy in Sanaa, Yemen, will remain closed, State Department spokesperson Jen Psaki has said.
"On Sunday, August 11, the Department of State will reopen 18 of the 19 embassies and consulates that were closed recently," Psaki said in a statement. America had closed some two dozen embassies and consulates since August 4 as a precaution after it intercepted Al-Qaida's most serious threat in recent years to target its embassies.


Lurking danger
On August 4, the US had closed 22 diplomatic posts as a precaution after it intercepted
Al-Qaida's threat to its embassies
The US will evaluate terror threat to Sanaa and Lahore and all other missions regularly
The US last week issued a travel alert warning its citizens that Qaida may be planning attacks in the Middle East
"Our embassy in Sanaa, Yemen will remain closed because of ongoing concerns about a threat stream indicating the potential for terrorist attacks emanating from Al-Qaida in the Arabian Peninsula," she said. "Our consulate in Lahore, Pakistan, which closed yesterday due to a separate credible threat to that facility, will also remain closed," Psaki said.
She said the US would continue to evaluate the threats to Sanaa and Lahore missions and make subsequent decisions about the reopening of those facilities.
The US will also continue to evaluate information about all of its posts and to take appropriate steps to best protect the safety of our personnel, citizens travelling overseas and visitors to its facilities, Psaki added. On August 4, the US initially closed 22 diplomatic posts for the day and later extended closure of 19 missions till August 10. The State Department last week also issued a worldwide travel alert warning Americans that Al-Qaida may be planning attacks in August, particularly in the Middle East. — PTI