Promise of an edgy, racy and riveting read
Reviewed by Aditi Garg
Popular by Alissa Grosso
Jaico Books. Pages 325. Rs 199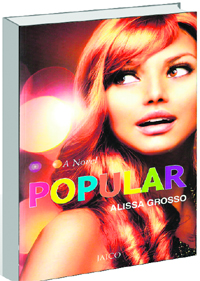 THE trials and tribulations of high-school stay with you long after you graduate and are a big part of your personality. At an age when friends mean the world to you and they can make or break any peer's standing in school, it is indeed a stage of a multitude of experiences. Alissa Grosso, a former children's librarian, newspaper editor and author of Ferocity Summer, has authored Popular. It is a wonderfully insightful book that a lot of teens would identify with. Written with an in-depth understanding of the tender youthful age, the author does full justice to the subject of popularity; its highs and ultimate lows.
Hamilton Best is every teen girl's dream. With an enviable gang of friends who seemingly stand by her in her every decision, to throwing parties that are the talk of the school till the next one is hosted, she is simply the most popular girl around. Everyone in school looks forward to being on her guest list to feel that they have truly arrived. Her fame is not going down well with her closest friends and her boyfriend is doing the unthinkable. In an environment such as this, she struggles to keep her position and sanity intact. It is a story with an interesting twist that will surly make you love it. A must-read for every teenager.
Boomtown
by Aditya Mukherjee Rupa.
Pages 303. Rs 295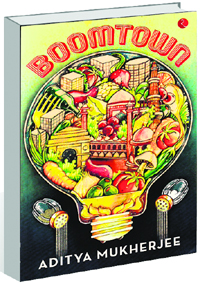 growing up is an experience that teaches you about the harsh realities of life; where everyone works, some enjoying it but most of them carrying it on as an everyday burden. Boomtown by Aditya Mukherjee is a book about a quest to make a living by looking inside your heart and asking questions about what you would really enjoy doing, everyday for the rest of your lives. It is also a story of friendship and love and the travails of both. Mukherjee is an IIM Bangalore alumnus working for a management consultancy firm. The novel is the perfect recipe with all the ingredients of a pot-boiler, with food as an ingredient in just the right measures.
It revolves around the dream of JJ to pursue his heart. He has as his allies two old friends, one a divorced mother and the other jobless, and a great chef who he believes holds the key to his success. The property dealers' mafia, a grandfather who holds tradition in high stead, swindlers and much more keep the plot throbbing with action. The single aim that unites them all and the bickering that threatens to blow them apart keep the reader engrossed. As the characters struggle to keep their head above the sea of parental expectations, obvious and covert; a secure future for their loved ones and a burning desire to follow their heart, love blossoms and success is within grasp.
The Price You Pay
by Somnath Batabyal
Harper Collins. Pages 286. Rs 350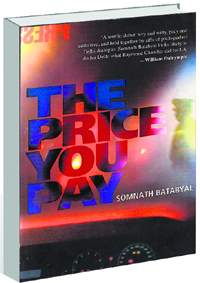 somnath Batabyal's The Price You Pay is a racy thriller that keeps you engrossed to the last page. He spent a decade in journalism covering crime and has seen first-hand experience with the police and the politicians. He teaches at the School of Oriental and African Studies in London and has previously written a non-fiction book. The novel exposes the nexus between politicians, police, media and crime. In a world where friendships are sacrificed everyday for personal and other gains, new ones are forged with surprising ease to further your case.
Amir Akhtar, a seasoned journalist with The Express, hires Abhishek Dutta as a crime reporter on the basis of a hot news story that he brings to the former on the day of his first assignment. Following a streak of breaking news stories, he earns himself an enviable reputation and has well-placed officials for friends. As he revels in his success, he discovers the sinister side of corruption where only power is important; everything and everybody else is dispensable. As he tries to make sense of things, he finds himself more embroiled in the dark underworld that rules the lanes of Delhi.