Conquering the Everest within
These gritty people have challenged intense personal suffering to come up trumps in life. It's been an arduous and determined climb. They have travelled far from days when many of them lay in their hospital beds to where they are today
Shobita Shivshankar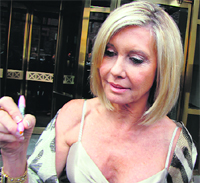 ON the face of it Arunima Sinha should pass off as a young and passionate mountaineer who dared the highest peak in the world and conquered it in May 2013. But the 25-year-old is no ordinary climber. In fact she's the only one of her kind — the first Indian female amputee to scale Mount Everest. The gritty lady lost her leg in 2011 in a horrific train incident. Arunima says that the person who inspired her to conquer disability was Yuvraj Singh, the iconic cricketer who was diagnosed with cancer.

Olivia Newton John: After surviving cancer, she set up a cancer centre
---
ARTS
Music Zone
Saurabh & Gaurav
Pet Shop Boys — Electric
(Sony)
Produced by Stuart Price (Madonna, The Killers, Scissor Sisters), Electric sounds like the duo's answer to the displeasure expressed by fans about the absence of Pet Shop Boys' signature lively and danceable pop on their previous album Elysium. Opening with the explosive Giorgio Moroder-style beat, Axis, the album make its dance intentions clear.
---
sports
A boatful of promise
For the first time an all-Indian team participated in the Dragon Boat Race Festival in Hong Kong this year
Swati Maheswari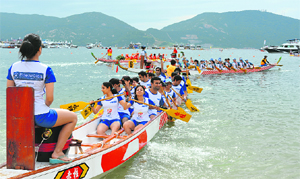 THE Dragon Boat Race Festival in Hong Kong is the Chinese equivalent of the colourful Kerala snake boat races. Hundreds of teams participate in this annual event and paddle to the beating of drums kept at the head of the canoe like boat whose front end is rigged with a decorative dragon head. Teams from Britain and Australia have been participating in it for a long time but for the first time an all-Indian team participated in this race this year.
The Indian team having the ride of its life
---
Society
The other side of Jinnah
Not many know that the founder of Pakistan was into investments, including Air India stocks, and owned mansions
Vivek Shukla
There is another side to M.A. Jinnah,the founder of Pakistan. He was a careful and persistent investor in shares and landed estates. By March 1947, both the Congress and the Muslim League were agreed that India would be partitioned. Even then Jinnah was looking for investment options. Given these circumstances, how then is one to explain Jinnah writing to share brokers and estate agents that very month and buying 500 shares in Air India Ltd. He also showed keen interest in the purchase of Sandow Castle, described as "a large property near Bombay with 18 acres of land and with an unrestricted view of the sea". Its price was advertised at Rs 5 lakh.


---
TRAVEL
Chambers of death
Visitors to Auschwitz are always a silent lot as they try to grasp the unimaginable horror of it all. The air there feels heavy; laden with throttled cries of tormented people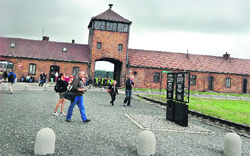 Priyanka Singh
Nothing quite prepares one for the Auschwitz experience. About 11,00,000 people were killed at this largest concentration camp, a setting for the most massive murder campaign in history.



The entrance to Birkenau, or Auschwitz-II. About a million people visit the camps each year


Globetrotting
---
ENTERTAINMENT
A delicious Lunchbox
The film found instant takers in Cannes. It is now Toronto-bound. The whole world is warming up to Ritesh Batra's debut effort
Saibal Chatterjee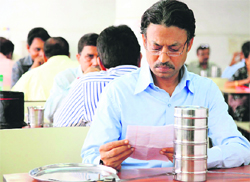 A Gala slot at the Toronto International Film Festival (TIFF) is usually reserved for a big, glitzy, star-studded entry. Debutant director Ritesh Batra's The Lunchbox does not fit that description. It is a rare film that has made the cut for the upcoming edition of TIFF (September 5 to 15) purely on the strength of the global buzz that it has been generating since premiering and winning a viewers' choice award in Cannes earlier in the year.
Irrfan Khan in a still from The Lunchbox. The film is a sensitive study of loneliness and unrealised dreams in a bustling megalopolis
Revival of the 'cult' film
Kundan Shah's Jaane Bhi Do Yaaro, which was recently re-released in digital format, has acquired the status of a film classic. Here's look at what makes it distinct
Shoma A. Chatterji
Jaane Bhi Do Yaaro, directed by Kundan Shah who could never repeat the masterful command over the language of cinema since this film, was recently re-released in digital format. This was done by public demand because over time it has acquired the status of a film classic and a cult film. A few years ago, K. Asif's magnum opus Mughal-e-Azam was also released in a colour version. These re-releases happened decades after the films were released in the theatres the first time.