ON the face of it Arunima Sinha should pass off as a young and passionate mountaineer who dared the highest peak in the world and conquered it in May 2013. But the 25-year-old is no ordinary climber. In fact she's the only one of her kind — the first Indian female amputee to scale Mount Everest. The gritty lady lost her leg in 2011 in a horrific train incident. Arunima says that the person who inspired her to conquer disability was Yuvraj Singh, the iconic cricketer who was diagnosed with cancer. He decided to fight back and underwent treatment in the US and came back to play for India again.
In his memoir, The Test of My Life, the swashbuckling all-rounder writes that the day his cancer was discovered he cried like a baby not because, "I feared what cancer would do but because I didn't want the disease. I wanted my life to be normal, which it could not be." But he made it normal with fortitude and resolve.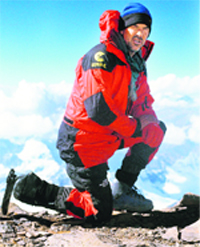 Paul Whittaker: With single-minded determination,
he became the first disabled
person to conquer the Everest
Attitude is everything
Yuvraj was in turn inspired by Lance Armstrong. In fact, he had a surprise mail from the (now disqualified) world cycling champion wishing him speedy recovery. "I want you to know the entire team of Livestrong (Armstrong's non-profit organisation that provides support to cancer patients) is here for you. We say it all the time: Knowledge is Power, Unity is Strength, and Attitude is Everything."
The message was precious for Yuvi as Armstrong himself is a stage-three cancer survivor. In 1996, he was 25 when he was diagnosed with testicular cancer that had metastasised to his lymph nodes, lungs and brain. He fought the disease with single-minded determination and then spread awareness through his hugely inspiring website.
Like Armstrong, Paul Hockey too is an inspiration to millions. A positive blend of Arunima and Yuvraj, he is an Everester and a cancer conqueror. The first one-armed adventurer to scale Mount Everest from the North side.
Hockey lost his right arm to cancer when he was just three weeks old. Much worse, he lost his mother, father, stepfather and aunt to cancer as well. "That is why I wanted to make a bid for the Everest to raise awareness and money for cancer research," says Hockey who named his Everest Mission after his mother — The Dorothy Bridge Expedition.
Adversities & challenges
"My life has been full of adversities and challenges but nothing has ever beaten me. I don't give up easily and I don't listen to negative people. That is why I reached the Everest."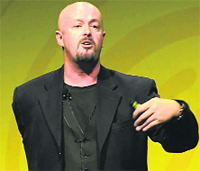 Paul Hockey: Conquered both cancer and Mount Everest
Paul Hockey is not alone. Two more people come to mind who have challenged intense personal suffering to come up trumps in life. Paul Whittaker became the first disabled person to conquer the Everest in 1998, despite the fact that his right foot was amputated following a car accident. He is now seeking to climb the highest peaks of all the seven Continents.
New Zealander Paul Joseph Inglis's feat is even more death-defying. In 1982, while climbing Mount Cook he got stuck in an ice cave and it took 13 days to rescue him. However, his legs had to be amputated as they had been badly frost-bitten. Undaunted, he went on to conquer Mount Everest in 2006 with two prosthetic legs. His extraordinary expedition was made into an inspiring series by Discovery Channel, titled Beyond the Limit.
Five years later, an American woman almost equalled Inglis's historic achievement. However, Rhoda Graham made news for conquering Everest not because she was an one-leg amputee but because of her age. In 2011, she was 61 years old when she scaled the peak on one leg. Upon her return when reporters asked her how she had achieved the amazing feat on one leg, she famously replied, "A leg doesn't define who you are!"
Defying odds
Rhonda's attitude is shared by several people have defied odds and the curbing hand of fate. Today, they are all accomplished in their respective fields competing with normal people. It's been a long and hard climb back from the days when many of them lay in their hospital beds to where they are today.
Take, for example, Lisa Ray the Indo-Canadian model, actor and activist. In 2009, she was diagnosed with multiple myeloma which is a cancer of the white blood cells. Her announcement about her condition was dramatic. In 2009, she had gone to attend the Toronto International Film Festival where two of her films were being screened. There she told a dumbstruck audience that she had been struck with this rare form of cancer. But she was determined to fight back.
She started a blog called The Yellow Diaries to share her cancer experiences. She built a huge support base and went on to raise funds for the establishment of the first research chair for Multiple Myeloma at the Princess Margaret Hospital in Toronto.
Profile in courage

In 2010, she became cancer-free after a stem cell transplant. Today Lisa Ray's light green eyes, generously endowed figure and that sensual smile hide the fact that she has bravely fought back cancer. Though multiple myeloma is a chronic condition, and she has to undergo treatments and maintenance therapy on a periodic basis, she is a profile in courage, leading a healthy life shuttling between India and Canada.
She hosted the popular series Oh My Gold on the TLC Channel where she travelled to different Indian cities famous for their association with gold and precious gems. She also hosts the highly rated Top Chef, Canada and starred opposite Kabir Bedi in the acclaimed play Taj.
In October 2012, she married Jason Dehni a banking consultant, philanthropist and co-founder of a children's charity. Her powerful docu-drama 1A Minute about a woman's journey through cancer was applauded in the festival circuit for its sensitive handling of the issue. It featured celebrity cancer survivors like Hollywood stars Kelly McGillis (Top Gun), Jaclyn Smith (Charlie's Angels) and Olivia Newton John (Grease).
Beacon of hope
Over 20 years after she was struck with cancer, Olivia Newton John is a healthy 64-year-old and still tours the world for concerts though mostly for charities. She has set up the state-of-the-art Olivia Newton-John Cancer and Wellness Centre in Austin, USA, that is a beacon of hope for thousands of patients. She is planning a centre on similar lines in Melbourne, Australia. "We must remember we may never be able to change our disability. But we can definitely change our attitude towards it," says she. All these gritty achievers never give up hope. Their constant reaching out, steadfast quest for greater knowledge and a search for excellence has enabled the minds of these people to soar into the heavens.
Lisa Ray: She fought back cancer of the white blood cells with courage