M A I N N E W S
Onion prices bring tears, soar to Rs 60
Ritika Jha Palial/TNS
Chandigarh, August 11
Owing to shortage in supply triggered by damage of crops due to heavy rainfall, onion prices have shot up. Burning a hole in the common manís pocket, the per kg cost of onion has gone up to Rs 60 in retail markets in the region.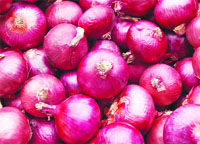 In wholesale market in Chandigarh, the cost of onion per kg has increased to Rs 45. Similar is the situation of this staple vegetable in parts of Punjab and Haryana.
In fact, in some of the cities the prices have reportedly gone up to Rs 70 a kg. In Ambala, the price of onion in the retail market today was Rs 70 a kg.
Vegetable sellers and wholesale vendors say that heavy rainfall has destroyed a big chunk of the crop, leading to the shortage in supply.
ďA majority of our supply comes from Nasik and Indore and some cities in Rajasthan. The crop in these cities was damaged due to heavy rainfall. Also, a large proportion of the harvest is exported,Ē said Balbir Singh, chairman, Sabzi Mandi Association, Chandigarh. He said the prices were likely to increase further till fresh crop arrives.