M A I N N E W S
J&K minister quits, protests continue
Kishtwar riots: Omar orders judicial probe, curfew continues in eight Jammu districts
Ravi Krishnan Khajuria & Dinesh Manhotra/TNS


Jammu, August 12
The Jammu and Kashmir Minister of State for Home Sajjad Ahmad Kichloo, under fire for his alleged inaction during Kishtwar riots on August 9, resigned today while fresh protests in Kishtwar town left at least eight more persons injured. The injured included ASP Kishtwar, Kulbir Singh, an ASI, three cops and two civilians.
On the advice of Chief Minister Omar Abdullah, Governor NN Vohra accepted Kichloo's resignation with immediate effect.
The Chief Minister ordered a judicial inquiry, headed by a retired High Court judge, into the riots. Curfew by and large remained in force in all the eight districts out of 10 in the Jammu region today with relaxation given in four districts of Kathua, Samba Udhampur and Reasi. The gateway to J&K, Lakhanpur, has been sealed and no vehicle was being allowed to enter the state.
The BJP as well as the ruling Congress wanted the government to remove Kichloo. His resignation came three days after the Kishtwar riots that left three dead and 44 injured. Property worth crores was also torched by rioters.
Kichloo announced his resignation at a hurriedly convened press conference at the National Conference headquarters in Jammu. He said his conscience didn't allow him to head the police department since Chief Minister Omar Abdullah had ordered a judicial probe into the clashes.
"I want the truth to come out. My conscience does not allow me to continue as a Minister till the probe findings. I discussed my decision with party colleagues and have decided to proceed from the party headquarters to the Chief Minister's residence to tender my resignation. Omar Abdullah is my leader and I have full faith in him," Kichloo said.
He accused the BJP of engineering the riots. "I take strong exception to the remarks made by Arun Jaitley, leader of opposition in the Rajya Sabha. Did Narendra Modi resign after Godhra riots? Did Amit Shah, BJP's star poll campaigner, resign?" he asked and accused the BJP for adopting "double standards". "I am innocent, I have done no wrong. The people of Kishtwar vouch for my secular credentials.
I am deeply hurt that for petty political ends, some people have stooped so low as to accuse me of something I have not done", he said.
Kichloo, who represents the Kishwar Assembly segment, joined the Omar Abdullah ministry on January 15 this year. In April this year, he was in the news for slapping a senior officer in full public view.
Fresh trouble erupted in Kishtwar town today when nearly 1,000 people from a particular community defied curfew and threw stones at police and paramilitary forces following arrest of a youth from Hadyal village. This morning a police team detained a 17-year old Sajan Kumar from outside his house in Kishtwar for his alleged involvement in the riots on August 9. "Soon a mob of around 300 defied curfew and reached Hadyal Chowk. They were demanding his immediate release," said a source said.
The police said another mob from Matta village started a march to Chogan Ground, from where the August 9 clashes began. However, they were stopped by security personnel.
The police and a mob clashed at Hadyal Chowk in the evening. The police fired smoke shells after being targeted by the stone-pelting mob. Seven persons, including ASP Kishtwar, Kulbir Singh, an ASI, three policemen and three civilians, police sources said. The Army had to intervene to defuse the situation. The ASP and another police officer were taken to an Army hospital in the town for treatment.
(Inputs from Arteev Sharma in Jammu, Devinder Thakur in Reasi, Ranjit Thakur in Rajouri, RK Kichlu in Ramban, Darshan Bharti in Poonch)

In Parliament, PC says situation 'near normal'
Vibha Sharma/TNS
New Delhi, August 12
The Kishtwar riots rocked Parliament on Monday, even as the Centre maintained that the "overall" situation in the region was "near normal" and "under control" and said it would not allow the repeat of the forced migration of Kashmiri Pandits from the Valley witnessed in 1990 to allay the BJP's concerns.

Making a statement on behalf of Home Minister Sushilkumar Shinde, Finance Minister P Chidambaram termed the situation in Jammu and Kashmir as "tense, but under control". "We will not allow repetition of 1990. We will not allow forced migration. We will not allow forced resettlement," Chidambaram stressed, stating that he was in constant touch with the state government on developments in riot-torn areas.
Earlier, attacking the state and the Centre, Leader of Opposition in the Rajya Sabha Arun Jaitley warned that the country's "sovereignty and integrity" was at stake and the matter should not be dismissed as a mere inter-community clash. "The violence in Kishtwar and adjoining areas involves the sovereignty and integrity of the country and should not be seen only as a clash between two communities," the BJP leader said, adding that flags of another country were waved and pictures of a convict given death sentence displayed.
Jaitley, who was not allowed to visit the affected areas on Sunday, came down heavily on the Omar Abdullah government, saying enough measures were not taken to control the situation. He also wanted to know whether the state wanted to impose censorship by not allowing leaders to visit riot-hit areas and compared the events to the violence in 1990 in the Valley that "compelled a community to leave".
This, in turn, led Omar's father and National Conference leader Farooq Abdullah to hit back by reminding the BJP of the 2002 Gujarat riots.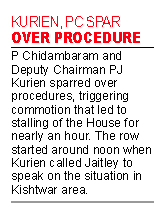 He said sufficient Army contingents had been deployed in the violence-hit Jammu region, which conducted flag marches to instill confidence.
Chidambaram also defended the state's decision to not allow Arun Jaitley to visit the scene of the communal violence. Responding to concerns expressed by members, which included BSP's Mayawati and CPM's Sitaram Yechury, he said the situation in Kishtwar was "near normal" and no untoward incident had been reported since August 9.
"The Central Government will extend all support to the state government to maintain law and order and ensure peace and harmony in the state," he said.
Providing details of the events that took place in Kishtwar town since last Friday, Chidambaram said violence erupted after a clash between some individuals and processionists on Eid.
Some of the processionists raised "pro-azadi slogans", he said adding, however, that raising of such slogans was not a new phenomenon as this happened "virtually every Friday".
"There is a challenge of infiltration. There is a challenge of terrorists. There is also challenge of undercurrent of tension between one community with another," Chidambaram said, underlining that it would not be correct to assume that the undercurrent of tension between one community with another was linked to terror element or external aggression.