M A I N N E W S
Pak 'trying' two-pronged attack on Indian defence
Ajay Banerjee/TNS
New Delhi, August 12
Indian security agencies have assessed that the recent aggressive posturing along the sensitive Line of Control with Pakistan is the outcome of definite information of Pakistan trying a two-pronged attack on Indian defence in Jammu and Kashmir.
One is the use of heavily armed Lashkar-e-Toiba and Jaish-e-Mohamed militants to enter J&K and the second is Pakistan Army's Border Action Teams. Indian agencies have specifically mentioned the presence of two heavily armed terror groups across the LoC facing Uri and Rampur in India. Also the presence of two Pakistan Army teams has been noticed across Poonch and specifically at Kathi Post. Some of the Pakistan Army has been relocated from elsewhere.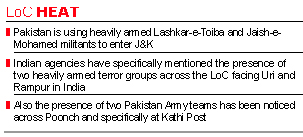 The motive is either to push in more militants with Pakistan Army attacking the Indian Army in the process. This could be a prelude to things that could unfold after the drawdown of US-led troops in June 2014. It is clear that firing from either side will continue as of now.
In the past 48 hours, the LoC along Mendhar, Poonch and Uri has seen heavy exchange of fire between Indian and Pakistani troops breaching the sanctity of the 2003 ceasefire between the two countries. Defence Minister AK Antony's words today that "the armed forces have the freedom to respond to the developing situation there appropriately", is being seen as green signal to the Army to respond to firing from across and retaliate.
The Indian Army today did not deny that it had retaliated to firing after three major ceasefire violations since Sunday evening.
Indian agencies warn of a threat to National Highway number 1 which is only road artery linking Jammu with Kashmir and also the road on which India carries it supplies to Leh, Kargil, Drass and Eastern Ladakh. At the LoC, the Army has been responding with small arms. Even Light Machine Guns is classified as 'small arms' and it can hit a distance of 2 km. Sources said mortars have been fired.
Army Chief General Bikram Singh has already made it clear that his forces will uphold the sanctity of ceasefire as long as the adversary upholds it. Once fired at all commanders have been told to retaliate.