M A I N N E W S
Parties unite against EC's proposed ban on freebies
Aditi Tandon/TNS
New Delhi, August 12
An otherwise divided political class united yet again today to tell the Election Commission that there was no need to regulate the issue of election doles that political parties promise in their election manifestos.
Except the BSP, which said "freebies" disturbed the level playing field ahead of elections and misled voters, the five national parties — Congress, BJP, CPM, CPI and NCP — rejected external scrutiny by the EC on freebies.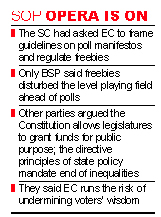 The argument: the Constitution allows national and state legislatures to grant funds for public purpose; the directive principles of state policy mandate end of inequalities through equal distribution of goods and services among people and the logic that the EC would undermine voters' collective wisdom if it presumed the voters could be misled by freebies.
The political parties conveyed their unanimous opinion at a meeting that the EC convened today to discuss the necessity of guidelines on poll manifestos with a purpose to regulate freebies. The Supreme Court had tasked the EC with the job. The EC had after internal discussions held that such dole-outs through election manifestos disturbed the level playing field in elections.
Among the 25 regional parties that participated out of the 45 that were invited, Nagaland People's Front (NPF) and Mizo National Front (MNF) opposed freebies.
All the other political parties argued against it. The Congress and BJP both argued against the regulation, saying "no external scrutiny of election manifestos is needed as political parties have an obligation to remove disparities between the rich and poor for public benefit."
"Article 282 of the Constitution allows the national and state legislatures to grant any amount of money for public purpose. In that spirit, even political parties should be allowed to promise any money because they are contesting elections to ultimately form a government," leaders who attended the meeting said.
"Even the SC said in its recent judgment that the grant of a television is a social utility as it helps make people aware of their surroundings. So what do you call a dole-out?" asked a political party representative. The CPM rejected any intervention by any authority in the formulation of the ideology of political parties.