M A I N N E W S
Namdhari sect chief was attacked by disciple's nephew
Mohit Khanna/TNS
Ludhiana, August 12
The man who attacked Namdhari sect head Satguru Uday Singh with an axe during morning prayers at a Namdhari gurdwara at Leicester in England was also a Namdhari.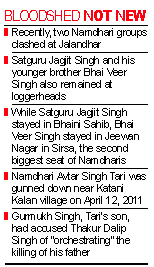 The assailant has been identified as Harjit Singh Toor, nephew of Sarwan Singh Namdhari in whose house the Satguru was reportedly staying along with Mata Chand Kaur.
While Surinder Singh Namdhari, vice-president of Namdhari Darbar in Bhaini Sahib, preferred to stay mum on the issue and maintained that the Leicester police has not yet released any details about the assailant, Navtej Singh, president of International Namdhari Sangat (the opposite faction led by Thakur Dalip Singh Namdhari) revealed shocking details about the incident.
He said Sarwan Singh is the chairman of the management committee of the gurdwara where the incident happened yesterday. "Soon after the attack, the dera was shifted from Sarwan's house in Leicester. The motive behind the attack is not clear yet," said Navtej Singh while condemning the attack. He demanded an independent probe into the incident.
Harjit Singh Toor, a banker by profession, has been involved in criminal incidents earlier, said Jaswinder Singh Namdhari, chairman of International Namdhari Sangat.
Navtej Singh said, "He (Surinder Singh) will not say anything on the issue as it would cause embarrassment to their faction. Sarwan Singh Namdhari is a kitchen cabinet man of Satguru Uday Singh. His nephew's involvement in the crime has shocked everyone."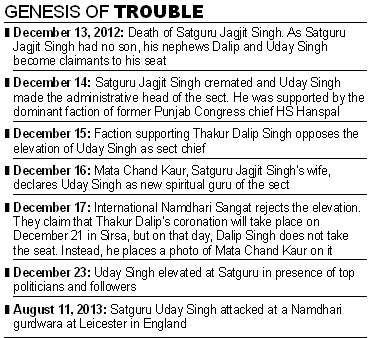 Sarwan Singh had reportedly offered a Rolls Royce to Satguru recently while Harjit was facing a financial crisis.
Surinder Singh Namdhari slammed Navtej's allegations as baseless.
In a move to bury the hatchet between the two warring Namdhari factions, Navtej Singh said that some external forces were conspiring to prevent the two brothers from coming together. "Satguru Uday Singh has been coronated head of the sect and Thakur Dalip Singh never wanted to be in the race. So there is no dispute. I believe that someone else is hatching a conspiracy to capture the supreme post of the Namdhari sect. It is time to weed out such elements," said Navtej.
Thakur Dalip Singh had reportedly visited England a few weeks ago. Navtej said Thakur Dalip Singh was presently visiting Spain.