An abode called a farm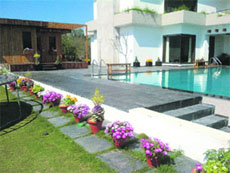 There is something real outside the cities, something that feels fresh like the dew drops. Somewhere outside the cities lies the wilderness and in this 'middle of nowhere' are people who have created heavenly abodes! The modern language calls this abode a farmhouse. Far from the din of the city, some people have resurrected their lives in the farmhouses by making them their first home, their permanent residence. Now they no longer plan a weekend visit to the farmhouse, they have moved in to the place for good and some have even worked for months to come up with an appropriate design for their farmhouse - their permanent residence.
CELEB POINT
Saree kahani
I've come a long way wearing sarees. As a 6-year-old, I once climbed up to ma's closet and with the confidence that ma's beautiful sarees would look good on me too, I took out the prettiest one. But the problem was that I didn't know how to drape a saree. So, I draped it around without any pleats and the result was disastrous. I wore mom's heels too. I tripped really badly, the bruises were there, but in the process I tore ma's precious saree!
green thumb
Veg platter
Onion and tomato, the most basic vegetables to be used in the kitchen, are luxury items now. It happens to many vegetables at different times of the year. With the changing lifestyle, the use of fast food is taxing on our pockets. The use of exotic vegetables in diets is also getting impetus.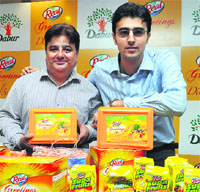 Healthy gesture
As part of its mission to touch the lives of thousands of under-privileged children across Punjab and spread health and happiness this Rakhi, Dabur India Limited has announced the launch of a mega initiative – Réal Dil se Dua.






Vikrant Sharma (L), head, Real & Dev Varyani, regional sales manager

Ring tone
Senco Gold Ltd presents stylish cocktail rings at 10 per cent discount on the auspicious occasion of Rakhi. Bring a smile on the face of your sister by gifting her an eye-catching elegant ring that has a sparkling crystal.


STAR Track
Bebo impresses Jha
Big B finds AbRam adorable
Ayushmann set to fly
Bizarre demand
United front
Back to life
Mira's manhunt
Spicy treat
Happy New Year to SRK, Deepika
Waiting for the verdict...
chatter box
Comic caper
Hurt in action
Shruti steps in
Now, Atul Kulkarni on telly
Closing time
Ruslaan's all-agog