Heroic sagas
Richard Attenborough told us the story of The Gandhi just as half-a-dozen films on Bhagat Singh brought forth the story of influential revolutionary of the freedom movement. Perhaps the only two freedom fighters to have been paid a celluloid tribute! There is nothing like cinematic obeisance to spread the message.
National Spirit: (L-R) Stills from the movies The Legend of Bhagat Singh, Mangal Pandey and Bhaag Milkha Bhaag
Jai ho!
Anurag Kashyap and his gang flaunted a gamcha around their neck at one of the film festivals. At the London Olympics 2012, a lesser-known woman Mary Kom made everybody jump with joy as she proudly donned the bronze medal she had won in boxing. Today, we have a biopic being made on her. Recently, every single Indian citizen went down on the knees and prayed for the Uttarakhand flood victims.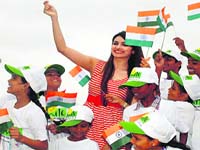 I want to break free…
Every Independence Day, year after year, there are a number of debate-glitches our society must get rid of, issues we need freedom from, concerns that should be addressed-August 15 provides food for thought, encourages introspection and makes us realise that free we might be, but not in entirety. Different problems bother different segments of the society and while it seems all hunky-dory in the glamour industry, it has its own share of issues.
Independent thought
The youngsters want freedom from the nagging of parents. They want freedom to make as many phone calls and sit on Facebook for as many hours. But when it comes to important and bigger issues like corruption, education and health facilities, they don't seem much interested.
tune in
Patriotic beat
We may have endlessly eulogised the history, culture, customs and legacy of our Incredible India, but when it comes to the patriotic play list, there is nothing much to write home about. Or rather, there's nothing much to sing aloud. Keeping our revered National Anthem and National Song a league apart, there are the long forgotten Bollywood tracks comparing Mother India with a new bride and the country farms with a gold mine.


Looking back in time
"When the issues of the past are not resolved, they keep coming back as fears," says Dr Newton Kondaveti, who was in Chandigarh with his wife, Lakshmi, to conduct a two-day long workshop on past life regression at hotel Shivalik View. Though most of us dismiss the idea of past life when it comes to dealing with our present, Newton stresses on its significant connection with body, mind and soul.
Healing touch: Dr Newton Kondaveti & Lakshmi
Go-getter
A solid block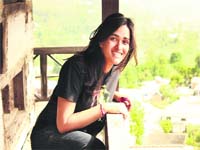 "I am an inquisitive person and I love to experiment," says Sowmya Singh, who is presently pursuing a bachelor's degree at the Chandigarh College of Architecture. As she shoulders the concerns of the Chandigarh Association of Students of Architecture (CASA) as the president of the association, she feels that she has as much responsibility as power, but what keeps her going is the ability to consider the practical aspects of projects before undertaking them.


Freedom that inspires
Art manifests in many folds of creativity. Even when it comes to patriotism, the canvas serves as a documentation of the country's state of affairs during times of struggle. As for examples, there is the Gandhi series of Atul Dodiya and Hemen Mazumdar's portraits of Jawahar Lal Nehru.


The Dandhi March cut out at Elante
It's happening
Something new, something old
As part of the Chandigarh Arts and Heritage Festival 2013, the Chandigarh Lalit Kala Akademi and Chandigarh Administration (Department of Culture) are organising two workshops in contemporary art and Pahari miniature painting. Two of the stalwarts in their respective disciplines — Sudhir Patwardhan in contemporary art and Vijay Sharma in Pahari miniature painting style — will be conducting these special workshops from August 16 to 20 at the Government Museum and Art Gallery-10.
Alia Bhatt's in a happy space
Alia Bhatt seems to have been born with a silver spoon in her mouth. Her career in Bollywood has been a fairytale so far, having debuted with Karan Johar, doing a couple of more films with his banner and a film with the coveted Imtiaz Ali. She talks about movies, fitness, life and family.


One for the country
Having won millions of hearts on popular dance reality show Jhalak Dikhla Ja, Aarti Chabria is now on cloud nine as she has been invited for the Independence Day celebrations in New York, USA. Aarti has been invited as the "Grand Marshall" for the event and she feels this is a huge honour. It gives her immense pleasure to host the Indian tricolour on August 15th.
Proud moment: Aarti Chabria (centre)
In a faraway land
The huge success of her last film Aashiqui 2 has just sunk in for the pretty and talented actress, Shraddha Kapoor.
Meet the parent!
Actress Drew Barrymore, who recently gave birth to a baby girl named Olive, has discussed the possibility of having more children in the future.
An identity crisis
Jennifer Garner was the ever supporting wife as Ben Affleck hit the award circuit for Argo but the actress says she avoids attending every Hollywood event with her husband to maintain her separate identity.