Shades of style
Lampshades add grace and impart an aesthetic appeal to the décor
Divisha Saran
Though no one is certain when the first lampshades were first invented, it can be safely assumed these have been around for centuries. Before the invention of the electric bulb, these shades were made of glass and served the purpose of covering kerosene lamps. And before this, there were shades of metal and other toughened material to cover wicker lamps lit in the night.
Over the years, the idea of a lampshade has not changed. It is used to diffuse the harsh light that emanates from the source. Its use became extensive when the incandescent filament electric bulbs were first invented in 1869. In those early days, the bulbs did not have any calibrated wattage and most of them shone very brightly. Shades both saved the eyes from the harsh light, and at the same time, these let the glow from the lamp illuminate the room.
Ornamental appeal
In earlier times, the main purpose of a lampshade was to spread light without letting the glare pass through. That explains why many of them were — and still are — made from handmade paper, velvet, silk and cotton. Usually these fabrics were stretched on a wire frame with beading hanging from the bottom of it. By the beginning of the 20th century, a number of lampshades also started being made in stone, porcelain, stained glass for ornamental appeal.
However, once the functional aspect of the lampshade had been mastered, designers began concentrating on its decorative appeal. Shades started being used to add grace and impart an aesthetic appeal to the interior décor and were made in various designs, patterns, sizes, shapes and colours.
Apart from being specifically designed to create an ambience in a room and spread a warm glow, new designs began to add drama and set a romantic mood. Special shades were created to highlight works of art. These were also used to draw attention of guests to a host's personal style and decor while spreading soothing illumination.
Exotic collections
The present-day interior decorators extensively exploit the understated elegance of lampshades. New boutiques are mushrooming that have on offer some of the most exotic collections that will add warmth and sparkle to a room. Thus, from an object of utility, the lampshade in its present avatar, has become a collectible that reflects the refined taste of a homeowner.
Lampshades were first made trendy in the 19th century by one of America's greatest artists and designers, Louis Comfort Tiffany, who along with his father, founded the iconic Tiffany and Company.
The Tiffany lampshades were unique due to the selection of the individual pieces of glass of varied colours and densities and became extremely popular. Tiffany lamps, especially their mosaic shades, are now considered part of the Art Nouveau movement and a few remaining ones are in museums around the world and a handful with avid art connoisseurs.
Collector's item
A proof of Tiffany's popularity can be had from the fact that during the first decade of the 20th century a new series called the Lotus Lamp collection was so much in demand that each lamp was selling at the then mind-boggling price of $750 (Rs 45,000).
Today though there are many reproductions and imitations, only one original Tiffany Lotus Lamp remains and is one of the most coveted collectibles. It was auctioned in 1997 by Christies to an unnamed private collector for around Rs 16.85 crore ($2,807,500). Tiffany replicas nowadays come in different shapes like oval, rectangular, square, drum or bell and empire style and are still much in demand.
Lampshades, says interior designer Manini Kalla, can lend a great charm to the living room. These look best on glass or wooden coffee tables. If you are choosing a simple lamp, then go in for imaginative shades for a standout effect. These should be placed strategically so that these look best when lit up.
Dramatic impact
Lampshade colours can be classified into bright, soft, subtle, warm, cool and bold. These can make a dramatic impact and highlight the ambience of your house. Says Manini, "Choose the shade colours you are comfortable with. If you are a black and white personality, you won't be happy in pastels and vice-versa. But remember, shades must have some relevance in the overall décor of your home and should go with the complete ambience."
Once you have the right lampshades, your living room will become a topic of conversation and a very busy part of your home as more and more guests will like to spend time there.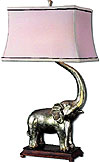 Sumatran
This Sumatran Silver tablelamp has an elephant raising its trunk to hoist a light beige linen fabric. The rectangle semi bell lamp shade has a brown trim. It is finished in antique silver with ivory tusk and a distressed wood toned foot. The shade can be a standout piece in any setting.
Price: 12,900 ($215)

John Richard
The lamps and shades by American luxury and accessories company John Richard make a bold statement. Take for example this stunning Embrace lamp and shade. Its curved wooden branch encircles a double sheer shade, which is a blend of elegant design and flawless craftsmanship.
Price: 42,000 ($700)
Laura Ashley

Laura Ashley is a quintessential English brand, synonymous with quality and creativity. The design house's products are recognised for their colourful patterns and iconic floral prints. This barrel-clip lamp shade is proof of that. It will add a sophisticated touch to your interiors.
Price: 10,350 ($115)

Harlequin
Would you like a white lampshade or a black one, or even a black and white one? With this shade by London-based Harlequin lighting, you won't have to choose. The unique shade can be customised to your décor by simply flipping the carbon-steel units on the shade.

Price: 21,000 ($350)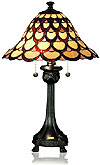 Dale Tiffany
A pattern reminiscent of peacock feathers creates a beautiful look for the hand-rolled art glass shade on the Dale Tiffany peacock tablelamp and shade. It has an elegantly-shaped metal base finished in antique bronze.
The lamp blends perfectly with today's home trends and lifestyles.
Price: 15,000 ($250)

Baccarat
Brighten up your interiors with this elegant lampshade from the house of Baccarat. A perfect setting for consoles or sideboards, the oval-shaped lampshade's facetted crystals sparkle glamorously in the flare of the light. The shade comes in three colours — red, black and silver.

Price: 47,500 (595€)

Uttermost
The mahagony table lamp and shade by American home accessories company Uttermost casts a warm amber-yellow light into the room, highlighting the colour patterns in the shade. The base is solid wood finished in a heavy mahogany wood with aged black streak details.
Price: 27,000 ($300)

Arteriors
Elegant, restrained and dazzling, the Agate Rose Gold Accent Lamp by American interiors company Arteriors has a graceful composition of iron lacquered in a rich metallic gold with a hint of pink. In the centre of four bent legs glows a natural agate gemstone when the lamp is lit.

Price: 36,000 ($600)
Americana Dragonfly

Add an alluringly fun look to your desk or table with this Americana Dragonfly desk lampshade. The handcrafted lamp features a unique hand-blown glass bottom that is encased in bronze and that features dragonfly cut-outs. It has a mica shade which glows in the dark.
Price: 9,375

Vintage
This vintage world map lampshade, handmade to fit a tablelamp or ceiling light fitting is a great gift for those who like to be a bit different. Designed by British company Rosie's Vintage lampshades, it is particularly relevant for those who like to travel around the world.
Price: 1,800 (£30)

Hannah Nunn
This striking Cow Parsley allium floorlamp shade is a creation of celebrated British interior designer Hannah Nunn, who specialises in paper-cut shades. The light shines through the tiny flowers, illuminating each one like it's bathed in the summer sun. The stem makes a great silhouette.
Price: 12,500 (£140)
Zinnia

This classic mosaic Zinnia lampshade has a glass mosaic base in gorgeous colours that include blue, orange, red, and green. It has eye-catching metal branches that rise up from the base and come out to support the beautiful shade, which is done in multi-coloured stained glass.

Price: 25,200 ($4,200)

Love Frankie
Turn up the whimsy with this charming Mr. Fox drum lampshade by London-based design studio Love Frankie. It is handmade on a flame-retardant material. It is suitable for table or floorlamps as it has a sophisticated silhouette and can be a stand out piece in any room.
Price: 4,050 ($45)

House of Hackney
Handmade by the leading British interiors company House of Hackney, this Flights of Fancy print featuring a symphony of birds of different plumage is a standout lampshade made in luxury cotton satin. It is guaranteed to add a touch of wildlife to your interiors.

Price: 44,500 (£495)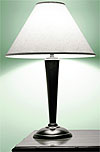 Know the shade types: Shades come in shapes of barrel, drum, ribbed bell and empire style. Choose the one you think will best suit the décor.
Shape matters: Though you can be innovative, usually a round shade looks good on a round base and a square shade goes with a square base.
Right colours: Light-coloured shades diffuse light most efficiently. Dark shades should be used to create ambience and drama in a room.
Contemporary or traditional: Smooth and plain shades look cool in any setting. However, if you have antique pieces, use a pleated shade.
Heat factor: If you are using a high-wattage bulb that generates heat, go for a wide shade that is a few inches removed from the bulb.