Why no focus on preventive healthcare?
Reviewed by Prabhjot Singh
Winning over Obesity
by Dr Sarvinder Gandhok Mohindra Capital Publishers. Pages 152. Rs 225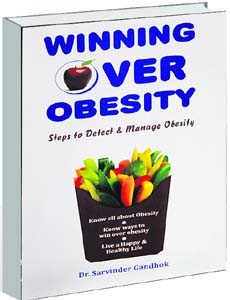 healthcare is one area where every state, whether developed or developing, feels the resource crunch. While advanced societies face complex diseases, mostly lifestyle related, developing societies grapple with preventable diseases like malaria, cholera, gastroenteritis, diarrhoea and tuberculosis. The burden of these diseases have to be borne with a limited allocation. Malaria continues to be one of biggest killers in Africa.
India is on the threshold of a TB epidemic, while other major silent killers like cancer, cardiovascular diseases and strokes have tightened their noose. Unfortunately, developing nations have either ignored or have a rudimentary preventive healthcare infrastructure. It is an oft-quoted remark that one rupee spent on preventive medicine is equal to Rs 100 spent on curative medicine. Planners still opt for curative medicine for obvious reasons as pharmaceutical houses, medical equipment manufacturers and testing laboratories lobby hard to virtually thwart any attempt to strengthen preventive medicine infrastructure in fund-starved, developing nations.
The failure of the state, however, is no deterrent for some spirited individuals and non-government organisations who are spreading awareness of preventable diseases, including malaria, cholera, TB and others. A Chandigarh-based doctor, Sarvinder Singh Gandhok, who has delivered a record number of talk shows on the local cable network about preventive medicine, has supplemented his effort by coming out with easy-to-follow help books on Winning Over Obesity (he feels obesity is mother cause of most of lifestyle diseases). He has also penned down Winning over Diabetes.
Written in a lucid style, with beautiful graphics and illustrations, these books suggest safe and easy ways of preventing diseases that would end up making huge holes in our pockets.