ENTERTAINMENT
The phenomenon
Amitabh Bachchan is not an easy man to decode. The actor, who has done innumerable films, opens up about his latest film Satyagraha, Bollywood, Kaun Banega Crorepati, and, above all, his creative journey of 45 long years
Nonika Singh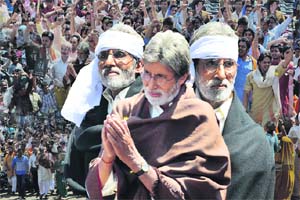 Satyagraha is the story of a man whom the system has failed and how he turns towards the peaceful mode of protest
Flattery will not get you anywhere with the tallest man (metaphorically for sure, and perhaps literally too) in Bollywood. Amitabh Bachchan, or Big B, does not take very kindly to epithets. Words like legend and superstars often affixed to his name leave him almost cold, evincing an embarrassed guffaw or at best a cynical reply. But the man who has floored the world with his magnetic charm will not let you floor him.
However, the gifted actor is more than open to direct, straight to-the-point queries. So ask him about his latest film Satyagraha, and he goes into the details of his character, of an upright man, an idealist and a moralist, who conducts his life in a manner befitting his beliefs. Perhaps, the director of the film, Prakash Jha had Mahatma Gandhi in his mind when he etched out the part. However, for Amitabh, Satyagraha is about a father in search, of a man whom the system has failed and turns towards the peaceful mode of protest. Indeed, he feels strongly about corruption...which 'sane individual wouldn't?'
But the actor in him does not have to necessarily relate to each part he plays. He says, "As an artist employed professionally to perform a particular role, the endeavour is to portray what is asked by the director. How I relate to the role is how the screenplay and scripting unfold."
No, there isn't an angry man, the part he played to perfection in his heydays, lurking beneath his cordial self. He quips, "I play a role as an actor within my very limited abilities. The script and the dialogue given and written for me are the provocateurs I would imagine."
To those who think his second innings, dotted with films like Sarkar, Black and Cheeni Kum, has done greater justice to his immense talent, his instant repartee is: "Innings defines a finite period".
He would like to believe that his association with films has been continuous. But he does feel that roles that come to him today are more commensurate with his age and, hence, more diverse. He adds, "I am no longer the young romantic hero". However, mind you even at 71, if asked to shake a leg, he would not mind giving it a shot. Quiz him about his recent defence of "singing and dancing around the trees" the staple of many a Bollywood film and he offers an elaborate answer, a mini article in itself. To put it succinctly, he reminds that since music and dance are an integral part of our culture, it has to reflect in our cinema as well. He reasons, "For the West or anyone else, we are not going to change."
In fact, he feels that if films around the world were to look like the ones made by Hollywood, the results would be devastating. He does not buy the Bollywood's so called formulaic reference, only believes all cinema has a beginning, middle and an end. And so does ours, only it offers more.
"Imagine getting poetic justice in three hours, something that will elude us in our lifetime, may be many lifetimes."
On his lifetime of success, however, once again, he is circumspect and goes into the reserved mode. At a point in life when a whole section in Bombay Talkies pays a cinematic ode to him, all he would say is "I would rather look upon myself as another actor in the firmament."
And when the actor turns a host... on his association with Kaun Banega Crorepati, he has an interesting take. Sure he loves the programme now almost synonymous with his name, enjoys meeting people but at the end of the day, he doesn't take his work home. As he summarises it, "I am at home in front of the camera but once it shuts, I am home." An average day in his life, too, he describes as simply, "I get up, work and am back."
Of course, work is not just another professional compulsion but one that brings fresh challenges, opportunities, fears, anxieties and uncertainties each day. Each new film excites him for sure. Only he doesn't measure or define success as the world understands it.
He exclaims, "I would like to believe that achieving satisfaction would be the ultimate peak for any creative artiste." So, you and me might feel that he has touched many pinnacles in his 45-year-long tryst with cinema, he insists the quest continues.
A click away
Mightier than the mighty, Big B, might seem unapproachable but the phenomenon loves to be accessible through his blogs and his presence on twitter. His reasons for connecting directly with his well-wishers on social networking sites are, "To have the delightful opportunity of responding and communicating with them instantly, to put across a point of view, to have the ability to right the wrong, or wrong the insinuated right."