ENTERTAINMENT
Man of many roles
Actor Gaurav Gera has come a long way from his days in Jassi Jaisi Koi Nahin. He is back in a new daily soap Mrs Pammi Pyarelal, cross dressing as a glamorous and ultra-fashionable, chic woman
Surekha Kadapa-Bose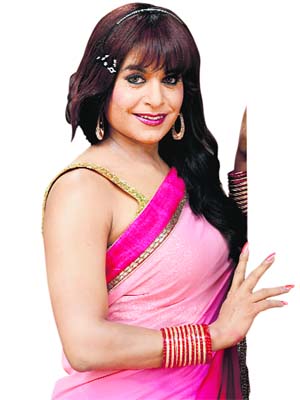 Call him by any name ó Laddoo, Nandu, Chutki, Chutka, Jhumroo, or Mrs Pammi Pyarelal. The fact remains that the 30-plus Gaurav Gera can don any make-up, style, or even adopt the suitable voice and convince you that he is real.
On his way to the Mumbai domestic airport to catch the night flight to Delhi after having wrapped up his day-long shoot at 8 pm, Gaurav laughingly recalls his days of Jassi Jaissi Koi Nahin serial. People really thought I was an illiterate nerd who couldnít speak English and didnít know the ways of life."
And this after being an RJ on Big FM, along with Mona Singh and Ayushmann Khurrana! And prior to that with his diploma in fashion, he had worked with a production house in Delhi where he found performing act his calling and moved on from fashion to radio, theatre, TV, stand up comedies, films and the worldwideweb. And now with his new daily soap Mrs Pammi Pyarelal, cross dressing as a glamorous and ultra-fashionably chic woman, he had easily managed to convince the audience, at least during the days of serial promos that he was indeed Mrs Pammi.
"As an actor, especially when in theatre acting, one gets used to observing people in day-to-day life. And I have an instinct to absorb the charisma of different mannerisms of people in life. This helped me in being "the woman" in Mrs Pammi Pyarelal," explains Gaurav.
The only problem he encountered while playing Mrs Pammi was his stubble. Before preparing for the show, the channel, the production house and the serialís creative guys had all discussed and rehearsed the entire get up of Mrs Pammi. In the serial, he plays two roles of the same man ó a regular guy, Param, and the con role Mrs Pammi, of a woman.
So usually the shooting for Paramís role is done in the first part of the day when the stubble is required. In the second half after a shave, he gets ready to Ďbecomeí a woman.
"Sometimes, we need to shoot for 12 hours at a stretch and then I need to shave at least twice! Initially, it used to take me a couple of hours to dress up as Pammi. But now we have all mastered the art and so I get ready within 40-45 minutes," says Gaurav, admitting that he still hasnít learnt the art of draping a saree and leaves it to his assistants. "But at least now I know how it is done and why women take such a long time to dress up to look glam."
It was the hectic schedule daily soaps and the usual saas-bahu melodramas, which had kept him away from TV for long. He did stand up comedies with Ranveer Shorey, Vinay Pathak and others but shied away from daily soaps till Mrs Pammi happened. A great YouTube fan, Gaurav knows the extensive reach net is likely to have in future. That is why he had started uploading his self-made 3-5 minute-long webisodes, titled Chutku aur Chutki, playing both characters, and that probably fetched him the role of Pammi.
At weekends, this man from Delhi isnít in Mumbai but is back in Delhi. No not to spend time with his family but to play the role of Jhumroo in the Broadway style musical, titled Jhumroo; and the reason for the mad dash to the airport from the sets of the serial every Friday to catch the night flight.