Food talk
Veg medley delight
Pushpesh Pant

You may not agree with the name we have given to this dish, admittedly a curious mix of baingan bhaja, tori bharta, alu chokha with a filling of tamatar ka kut or tonk , with a crown of bubbly cheese baked brown, a not-too-distant cousin of the celebrated Greek Mousaka. Believe you us, it never fails to create a sensation with strictly vegetarian guests. It is delicious even when you eschew garlic and onions and the addition of processed cheese does wonders. Keep the stuff lightly spiced; donít shy of experimenting with herbs seldom used in the Indian kitchen and we can guarantee that it will continue to delight you for a long time.
Subz gumbad
Ingredients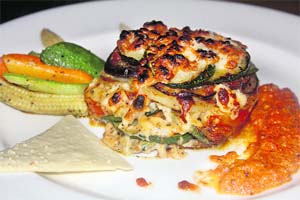 Round brinjal (medium sized) One
Tomatoes (ripe, large and firm) Four
Zucchini (medium sized) One
Baby corn 1-2
Carrot One small
Floret of broccoli One small
Button mushrooms 25 g
Cloves of garlic (crushed) 2-3
Processed cheddar cheese (grated) 100 g
Bay leaf One
Cinnamon One stick
Black peppercorn (freshly ground coarsely) Ĺ tsp
Mixed dried herbs of your choice A large pinch
Salt To taste
Olive oil 3 tbsp
Method
Wash and cut brinjal in round slices about `BC-inch thick. Sprinkle over with salt and let weep for an hour. Wash and slice two tomatoes and the zucchini in a similar fashion and chop the other two tomatoes finely, removing the eyelets. Wipe the mushrooms clean with a moist cloth and slice thinly.
Heat the oil in a non-stick pan and pan-grill the brinjal till scorched and soft. Remove and place on kitchen towels and repeat the pan grilling with zucchini and mushrooms.
Put the bay leaf in it along with the cinnamon stick, garlic and salt. Add, ginger garlic paste stir-fry briskly for 30 seconds then put in chopped tomatoes. Cook till a thick sauce is obtained. Remove and keep aside in a bowl.
Grease a baking dish or micro safe glass bowl and line it with a layer of brinjal. Sprinkle grated cheese liberally and place a layer of tomato slices. Repeat the process with zucchini roundels. Add the mushrooms, placing them between both layers. Sprinkle the salt, pepper and mixed dried herbs each time a layer is put in place. Heap the remaining cheese on top and place in a pre-heated oven, toaster-grill or micro-wave cooker till cheese bubbles and melts. Serve with lightly saut`E9ed or blanched or steamed baby corn, broccoli and carrots.