TRAVEL
Heavenís mirror image
When he visited Mauritius in 1896, Mark Twain was so impressed by its beauty that he compared it to heaven. More than a hundred years later the islandís unparalleled charms still sway visitors
Preeti Verma Lal
You gather the idea that Mauritius was made first and then heaven, and that heaven was copied after Mauritius.
ó Mark Twain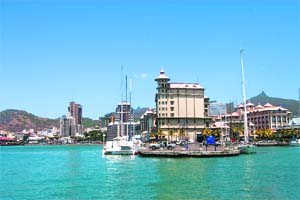 A scenic view of Port Caudon waterfront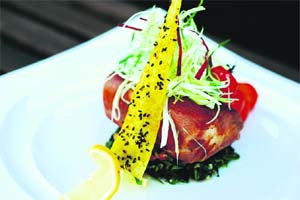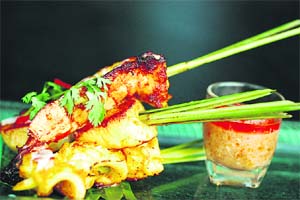 The island has many specialty restaurants having many mouth-watering dishes on the menu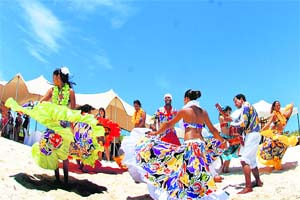 Mauritian dancers perform Sega Photos by the writer
Twain is a tad funny. He thinks of Mauritius as heavenís prototype. Heaven came first, didnít it? But do not dismiss all Twainesque wit. Youíd start believing in Twainís aphorism even before you land on the island that sits smart in the Indian Ocean. The sea is as beryl as a blue can get, the palms sway in the pristine wind, women with endless skirts do the Sega dance andnd the extinct dodo bird comes alive in a million ways. Mauritius seems as enchanting as a picture postcard. Not many islands are as beautiful.
A seven-hour flight Delhi-Port Louis flight can leave anyone hungry. If you think breakfast is as mundane as poached eggs, strips of bacon, crunchy toast and that piping hot cappuccino, think again. In Mauritius, you could breakfast with the lions! No, it is not a loony thought. You can actually have a breakfast walk with the lions. Sounds Tarzan-esque? Well, in the Casela Bird Park, two lion cubs saunter out of the pen and walk by the shrubs and the gurgling stream. They walk with you, growl at mischievous birds, scramble up trees and happily grab their meat loaf that the lion trainers skewer on sticks. It is a long and unusual breakfast walk, but do not linger too long or you might just miss the captains.
Yes, the captains who wear stripes and gambol by the corals and anemones. To meet the captains, you need to slide into a black submarine that swooshes 35 metres down in 30 seconds flat. Amidst the fluorescent bubbles that speckle the blue expanse, a sunken ship that lends its beefy keel for the corals to home in and the anemones that look delighted on the bed of stiff corals, thousands of captain fish swim synchronously. The submarine is not the only way to see marine life, though. You can do a solar-powered under sea walk, the only one of its kind in the world. Or, try manoeuvring a water scooter inside the water (mind it, not on the water). Steering the scooter wheel underwater is not the easiest of the chores. There are no milestones, no neon signs; it is the diver in flippers who plays the traffic cop to the hilt.
After the captains and anemones, you can take to history in Apravasi Ghat in Port Louis. Walk down the steps of the Unesco World Heritage Site and think of the hundreds of Indian indentured labourers who disembarked from a ship called Atlas, walked up the 14 wharf steps to sign their work contracts. It was on November 2, 1834, that the first batch of Indian indentured labourers landed in Port Louis. Their job: coolies in sugar estates. Their monthly salary: Rs 5 for men, Rs 4 for women. Today, the ghat is lined with modern ships and indentured labour seems a curse of the past; the depots, where immigrants were huddled for 48 hours before being carted to estates with a blanket and utensils, have crumbled and you can no longer hear a brusque European hollering at the coolies. The eerie silence of the ghat is only broken by the hooting ships and the unheard screams of the 4.5 lakh Indian immigrants who shipped into Mauritius between 1834 and 1910. Today, the ghat stands bare, its stone walls broken, its waters muddy.
The immigrant story gets poignant in Aventure du Sucre, a sugarcane museum that chronicles the history of sugar plantation in Mauritius. There are photographs of zebus that pulled the sugarcane carts, of dilapidated buildings where sugarcane was stored and primitive contraptions used to crush sugarcane. On a white screen, there are black and white photographs of immigrants and of the Dutch Governor Adriaan van der Stel, who arrived in Mauritius on November 8, 1639, with a basket of sugarcane from Java. That red sugarcane changed the history of Mauritius.
Le Barachois is Indian Oceanís one-of-its-kind floating restaurant. The gangway curves into the restaurant that literally floats on the ocean. Barachois is famed for its Madagascar faye faye crab, wood-smoked marlin, rare yellow fin tuna, grouper, urchins, prawns. Its immigrant Bihari cuisine over the years has acquired a Mauritian twist ó home-made braised chilli balls with eggplant, basmati rice and small peas; parantha, dholl puri, lentils fricassee, tomato chutney, suran pickles ó everything so Indian, yet so Mauritian.
In the island that Mark Twain once described as heavenís prototype, you can stroll with the lions; take the submarine 35 metres inside the sea; go down a ladder for an undersea walk; rev the quad bike 330 metres uphill; buy aromatic cinnamon in Port Louis market and sip exquisite wine in Indian Oceanís largest wine cellar in Constance Le Prince Maurice`85 Thereís so much to do in the tiny island that youíd start believing what Twain said. If heaven looks anything like Mauritius, it sure must be a beautiful place!
Fact file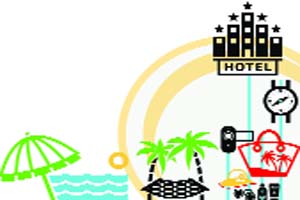 Where to stay: There are various options Ė if you are looking for luxury, opt for Constance Le Prince Maurice, Belle Mare Plage; Le Pearl Beach in Flic en Flac is a good midrange option.
What to see/do: Walk with the lions in Casela Bird Park, Undersea Walk, Submarine ride, Quad biking; Aveture de Sucre (sugarcane museum), Pamplemousses Garden, Apravasi Ghat, Port Caudon Waterfront; Port Louis Market, Legend Golf Course in Belle Mare Plage.
Where/what to eat: Le Barachois (Indian Oceanís only floating restaurant); lavish buffet in Le Citronelle (Belle Mare Plage Resort); Happy Rajah in Grand Bay (Indian food); try local ice cream and raw mangoes and pineapple with chilli and tamarind chutney and dholl puri.