Weighty issues
Dr Sameer Aggarwal
Childhood obesity is rising alarmingly due to changing lifestyles. It can cause many medical problems like diabetes, liver diseases, asthma, high blood pressure and even psychosocial problems
The incidence of childhood obesity is rising both in the developed and the developing countries. It can be found among all socio-economic groups, irrespective of the age, sex or ethnicity. In India various studies have indicated the prevalence of obesity among adolescents. The number varies between 10 per cent and 30 per cent. A study carried out in New Delhi, among 5,000 private schoolchildren in the age group of 4 to 18 years in 2002 by the Nutrition Foundation of India found that 29 per cent of these kids were overweight.
To know a child's ideal weight, one can measure the child's height and weight and calculate his/her body mass index (BMI). The BMI is weight divided by the square of height in metres.
Children with BMI equal to or exceeding the age-gender-specific 95th percentile are defined obese. Those with BMI equal to and those with BMI exceeding the 85th but are below 95th percentiles are defined overweight and are at risk for obesity-related complications.
A doctor can tell by a child's BMI if the child's weight is healthy for his/her height. If the child's BMI is high as compared to other children, he or she is overweight. When a child's BMI is high (above 30), it is called obesity.
Importance of healthy weight among children
It is important to have healthy weight because children who are overweight or obese can have:
Diabetes
Liver problems
Asthma
High blood pressure
Knee or back pain
Sleep apnoea: This is a condition that makes people stop breathing for short periods during sleep.
Menstrual problems (among girls) and early puberty.
Psychosocial problems like low self-esteem and depression.
It is also important that child should have a healthy weight so that he or she will have a healthy weight as an adult as well. Being overweight or obese as an adult can lead to medical problems such as high blood pressure, diabetes, heart attacks and some types of cancer.


How to help the child

Do not bring unhealthy food into your house. If you have unhealthy food in the home, your child may be tempted to eat.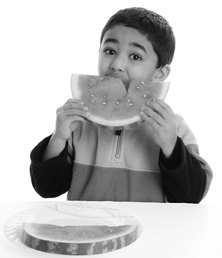 Sit down together for family meals. Make it an event, a time to share news and tell stories. Discourage eating in front of the television, computer or while playing video games. This leads to fast eating, less chewing and lowered awareness about how much you're eating. Try to do physical activities as a family. This can be as simple as going to the playground or taking a walk.

Tell your child that the goal is for him or her to be healthy and strong. Let him/ her know that the way to be healthy and strong is to eat healthy food and be active.

Get help if being overweight is causing your child to be depressed, or facing a tough time in school. Ask the doctor for ways to get help for your child.

Avoid food-related power struggles with your child. You might unintentionally lay the groundwork for such battles by providing or withholding certain foods — sweets, for instance — as rewards or punishments. As a general rule, don't use food as a reward or punishment.

Weight loss drugs are available. But these drugs should be taken strictly under supervision of an endocrinologist.

Be responsible about your own weight. Obesity often occurs in several family members. If you need to lose weight, doing so will motivate your child to do likewise. Don't expect your child to do something you are unwilling to do for yourself.

Work with your child's doctor. See him or her for regular check-ups so that he or she can follow your child's BMI over time.
What causes obesity in children
Children can be overweight for many reasons. Some children simply gain weight more easily than other kids. Other reasons can over eating, eating unhealthy food or junk or fast food and not getting enough exercise. Those children who gain weight easily have to work very hard to get to and stay at a healthy weight.
Although uncommon, some medicines and medical conditions can also make children gain weight more easily.
Diagnostic tests
After physical examination the doctor may also ask for some medical tests. He may do blood tests to check for a condition that could be causing the weight gain and besides related health problems. These tests include:
A cholesterol test.
A blood sugar test (fasting blood glucose).
Other blood tests to check for hormone imbalance that could affect the child's weight.
Some of these tests require that the child should not eat or drink anything for up to eight hours before the test. Your child's doctor should tell you whether your child should fast before a blood test. Most of these tests are generally done in morning before breakfast.
To attain healthy weight
The best way for a child to get to a healthy weight is to improve the dietary habits and physical activity levels of the entire family.
To help you and your child start making lifestyle changes, always remember the numbers 5, 2, 1 and 0. Each of these numbers stands for a goal a child should try to reach every day.
5 — Have your child eat five servings of fruits or vegetables each day. Frozen fruits and vegetables count towards the goal but fruit juice does not. A serving is usually one whole fruit (such as an apple or banana) or half cup of vegetables. Parents and siblings should also eat these foods themselves to set a good example, and have your child keep trying them.
2 — Decrease your child's "screen time" to two hours or less each day. Screen time includes watching TV, playing video games, or using the computer for things other than homework.
1 — Have your child do physical activity for one hour or more each day. This can include playing in park sport activities or dancing etc.
0 — Your child should have 0 sugary drinks each day. Sugary drinks include soda or aerated drinks, sports drinks and all fruit juices.
A child might not be able to meet all of these goals at first. So choose one or two goals and try to meet these first. Other goals can be added later one by one.
Weight loss is recommended for children older than age seven or even for younger children who have related health concerns. Weight loss should be slow and steady — anywhere from about 0.5 kg a week to 0.5 kg a month.
The writer is Associate Professor, Department of Medicine, PGIMS, Rohtak