Politically correct
Sadri, a cut-sleeve jacket, which is the hallmark of political dressing, goes under the scissors to don a chic look
This is a costume mostly worn by those who enjoy the position of power. Beginning from the top of the hierarchy, it is often seen on President Pranab Mukherjee. Shashi Tharoor, minister of state for HRD, supports a contemporary version of it. Sadri, the cut-sleeve jacket, has for long been the unannounced uniform of politicians. It's also gender neutral, for Sushma Swaraj is often seen complementing her handloom sarees with a sadri and if you go by the shades, she sure has a good collection.
Animated conversation
Krishna Mohan, the creative supervisor of new series Chhota Bheem-Kung Fu Dhamaka, feels the animation industry is in the need of government support
Be it Walt Disney's Micky Mouse and Donald Duck series or Warner Brother's Looney Toons, animation has never failed to entertain us! That our childhood continues to live in the stories of those animated characters, it speaks volumes about our love for them. With Chota Bheem series making waves in the Indian animation industry, Krishna Mohan, the creative supervisor (3D) of new series Chhota Bheem-Kung Fu Dhamaka, talks about the Indian animation industry and its scope.
Get the basics right
Five elements are all that's required to get the daily bread. Tanbir Chahal warns against the existing bakery products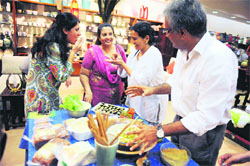 It's a detour from the flourishing baking practices where, on the product, the four sentence recipe replaces the never ending list of ingredients. Five elements are all that's required to get the daily bread. "We use only five ingredients to make the bread. There's not even a hint or a drop of the sixth element," Tanbir Chahal, of Food For Thought and Company, doesn't just put the spotlight on his latest venture Bread Basics but rather warns against the already existing bakery products in the market.
CELEB POINT
To brother, with love
When I proudly held you in my arms...a bundle of joy, literally, I rushed to thank mom for gifting me such a sweet brother. I wouldn't let anyone touch you. You were mine. My little brother!
For the spiritual you
The universe is a manifestation of one spiritual reality. Within each person this divine essence is at the core of his or her innermost being. Ravissant unveils an extensive range of their Divinity collection which includes idols, puja items, boxes, frames and religious books.
Master Chef
Sweet something
The sweet festival of celebrating the bond of love and trust between the brother and a sister calls for sweets and what better than a candy choco cake?
Salil's tribute to daughters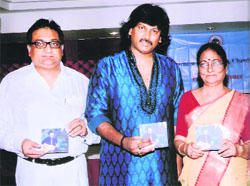 Guru Shobha Koser on Monday released the latest music album of Pt. Salil Bhatt titled Satkriti in Hotel KC Residency under the banner of Pracheen Kala Kendra. Pt Salil Bhatt's music album Satkriti comprises of two ragas - jog and kirwani. This music album is a tribute to all daughters. Satkiriti, the musical creation of Lord Shiva, is the Herculean effort of Pt Bhatt to simplify the creativity of Indian classical music and to make it available for common listeners.

Pt Salil Bhatt (centre) with Shobha Koser (right)

Behind the scenes with Sonakshi
Sonakshi Sinha talks about her phenomenal success and her simple life at home.


Picking up the threads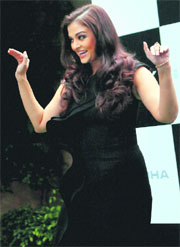 Bollywood actress Aishwarya Rai poses for media at a launch event in Mumbai.
— PTI
A regretful past
Troubled actress Lindsay Lohan is convinced that she was "making too much" money as a child star. The 27-year-old actress admitted to Oprah Winfrey that her problems began after she found fame as a child, reported a website.
Rock & role
There is something really interesting about music, besides working as a great stress buster, binding hearts, breaking barriers, you can actually make various combinations in music and surprisingly they all work well. Like for instance, a young boy from Delhi, Ssameer combines Punjabi folk with rock. And you bet, the results are fabulous! Rising on the music charts is his recent album Sohniye. Punjabi folk with rock, this definitely intrigues. "Like everyone else who loves music, I too make it from my heart, and the result is generally nice," shares Ssameer, who likes how Punjabi singer Amrinder Gill weaves romance with music. "I like to make songs that you can dedicate to someone, which means they should have excellent lyrics. I focus a lot on melodies that can touch the strings of the listener's heart."
chatter box
Candid confessions
After essaying the role of a vamp in many serials, including Pyaar Kii Ye Ek Kahaani and Iss Pyaar Ko Kya Naam Doon, Madhura Naik is thrilled to have bagged a positive role in Meri Bhabhi. The young actor talks about her role and her future plans.
The secret behind those pearly whites


He has charmed many women and made them go weak in their knees with his smile. But what is the secret to his pearly whites? "Brushing his teeth" is what our khabri tells us. So is Salman promoting a toothpaste brand? "NO!" our khabri was quick to respond. Apparently, at the recent shoot of Bigg Boss promos for Colors, Salman was required to be assisting in brushing his teeth by a beautiful apsara(angel) beneath a waterfall.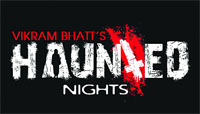 Spine chilling tales of horror
The horror fiction show, Haunted Nights, will now continue in a new avatar Haunted Nights-Kaun Hai Woh? Its theme embodies the concept of the battle between good and evil and the story revolves around the lives of Kunal (Vishal Gandhi) and Bhakti (Jyotsna Chandola).
Jhalak lost his hero tonight: Karan Johar


This week, one of the most loved hero of small screen Shiv, aka Sidharth Shukla's stint in Jhalak Dikhla Jaa came to an end. After impressing the judges and his fans alike with his hard work and sincerity, he found himself in the bottom two, along with ace dancer Mukti Mohan. From Paso Doble, to robotic and hip-hop, Shukla tried different dance styles in spite of his lack of professional knowledge about dance. After his initial choreographer, Sonia Jaffer was severely injured on the show, Mohena paired with Sidharth and as luck would have it, she brought out the best in Sidharth. He got his highest score when he did a sensuous rumba performance on Hothon pe bas tera naam hai.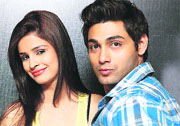 Social networking
Entertainment Television has captured the digital space with the premiere of Kehta hain dil…Jee le zara. The show starring Sangeeta Ghosh as the female lead, created a buzz among the twitterati becoming the No. 1 trending topic nationwide with over 7,700 tweets and nearly 5.37 million people joining the conversation on the #Jee le zara moment contest.
Astro Turf
ARIES: Several disruptions could leave you feeling irritated and on edge. Be careful, as you are prone to losing your temper with loved ones. Health needs attention.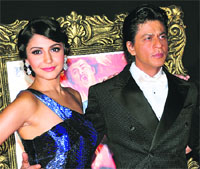 Coming soon …
Anushka Sharma gets along with Shah Rukh Khan as well as Anurag Kashyap with whom she is shooting Bombay Velvet. She enabled a meeting between the superstar and the maverick director in London recently. Anurag Kashyap will write a film for SRK after he completes Bombay Velvet.
Good colleague: Anushka Sharma with Shah Rukh Khan


Farah steps in
Farah Khan brokered peace between Shah Rukh Khan and Vishal-Shekhar. They had a tiff over Honey Singh's song Lungi Dance, which SRK added in the movie without their knowledge.

The 'fishy' aquarium
Ahmed Khan lives on the 37th floor in a high-rise in Andheri, suburban Mumbai. His home was flooded and property was damaged as his fish tank, which had 200 fish and 300 litres of water, shattered and flooded the entire place. Many exotic fish died and the family was rendered homeless for a few days as major cleaning was needed.

Water woes: Ahmed Khan

A word with Kajol
Kajol says that she met Shah Rukh Khan's son Abram and congratulated the family personally. The baby was born on May 27 and is very cute. She also said that she wants to return to films but is waiting for the right offer.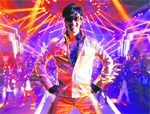 Copy and paste
The first song from Besharam titled Pyar Ki Ghanti is actually a copy of an old Italian song titled Bella Ciao and the composer Lalit Pandit makes no bones about it. He admits that the beginning of the song has been lifted.


Lazy job: A still from the song
Once bitten, twice shy
Arshad Warsi is very angry because his current car has gone for repairs and his new Audi, which he booked a while ago, has not reached him. He has decided never to buy an Audi again as he is annoyed with the bad service and delivery.

Slip between the cup and the lip
Ayushmann Khurrana acted in Nautanki Saala directed by Rohan Sippy. It seems that now Ramesh Sippy wants to return to direction. He had nearly signed Ayushmann Khurrana for the official remake of a foreign film but it seems that the new actor has backed out suddenly.