When life is an adventure
Jasmine Singh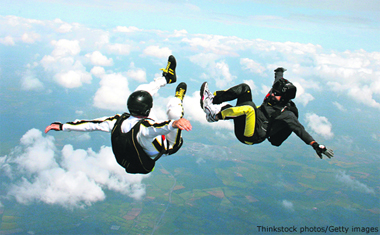 Travelling together helps in building relationships, besides, of course, unravelling a totally new side to your partner
Whoever said adventure was an adrenaline shot was bang on target. Did you not know that adventure brings people closer, couples especially, even as it takes them far away from home? Couples have discovered the real meaning of companionship on tough treks in the wilderness or while paddling on a raft. While meeting deadlines of work, monotony can get the better of most couples others spin their own tales of adventure than being caught up in the rigmarole of work.
---
ARTS
The soul of clay
Shivi Singh P Legha
For Chandigarh-based Zoya Sharma, pottery is not just creating a figure out of clay but a way of life
Anadi Mehar was with her family visiting Chandigarh (her yearly ritual) from the Bay Area in San Francisco, which has now become her home away from home. She was at the Chandigarh Museum of Art some days back with her family when she first heard of a pottery workshop for children being held there. She was instantly interested, knowing her mother had spent some time researching a traditional potter's community in the heart of Rajasthan a few years back.


---
sports
Good health
Teaing off to a healthy start
Mickey Mehta
A cup of green tea, combined with a low-calorie diet and exercise, can help in achieving faster weight loss
India is the second largest world capital of most of the cardiovascular diseases as well as diabetes, obesity, atherosclerosis, osteoporosis and many others. In today's busy life, everyone tries to find short-cut remedies to health and wellness.
Health Capsules
Careless kids may become obese adults
Washington: Children showing low conscientiousness (e.g., irresponsible, careless, not persevering) may battle obesity as adults. A study by Oregon Research Institute (ORI) shows a strong association between childhood conscientiousness (organised, dependable, and self-disciplined) and health status in adulthood. ORI scientist Sarah Hampson and a team at the Kaiser Permanente Center for Health, Hawaii, conducted the study.
---
Society
Magnificent 180-year-old Panj Mandir screams for help
Rashmi Talwar
Panj Mandir in Fatehgarh Churian, Gurdaspur, is a jewel of Maharaja Ranjit Singh's reign. It is the maternal hometown of Rani Chand Kaur, wife of Kharak Singh, son of the Maharaja
Straddling streets of New York, seeing the ancient melt so smoothly; antiquated churches virtually like "flowers" amidst sky-scrapers, I was gripped by shame. The scene reminded me of our callousness towards our rich heritage in India. Where graffiti defaces marvellous frescoes, a crude nail has gouged out an eye; a paan-spit splashed red blob is the depths of apathy towards our glorious past.


---
TRAVEL
Roman holiday
Tanushree Podder
A historic Catalonian town in Spain, Tarragona is peppered with magnificent structures of the yore and conjures up vivid pictures of the past
Tarragona, a historic Catalonian town, doesn't make any pretence of shrugging off its glorious past. One of the few remaining Roman towns in Spain, it wears its tag of being a World Heritage Site accorded by Unesco quite seriously and it doesn't hurt that the tourist inflow remains unabated. One of those enchanting towns that conjures up vivid pictures of the past, it has been touched by the bustle of the modern life though. Once known as Tarraco by the Romans, the town is peppered with magnificent structures of the yore.
---
ENTERTAINMENT
Bollywood's new mantra
Surekha Kadapa-Bose
Friday is no more the release date for Hindi films. Over the past few years, it has become almost de rigueur with film producers and distributors to book the theatres months in advance to exploit special holidays
There is a new form of advance booking in the Hindi film industry — booking of release dates nearly a year in advance. That is the new mantra of the 21st century by industry to rake in the moolah for their film. Top filmstars have nominated a day they prefer to release their latest flick — Eid is flagged as Salman Khan's day; Diwali is Shah Rukh Khan's favourite; Aamir Khan is all for Christmas week, January 26 is for Hrithik Roshan and so on! This is almost an unchanging schedule if everything goes according to plans to avoid any clash and unnecessary competition at the ticket counters.
Journey of a poet
Shoma A. Chatterji
Rituparno Ghosh's documentary on Rabindranath Tagore Jeebon Smriti offers a glimpse into the creative life of the Nobel Laureate
Rabindranath Tagore wrote Jeebon Smriti (1913) when he was 51. It was published just before he won the Nobel Prize. This free-flowing, unconventional narrative spanned memories from the first 27 years of his life. Rituparno Ghosh, who passed away recently, made an 80-minute documentary on Tagore called Jeebon Smriti. For the first 27 years, Ghosh visually creates images drawn from the book. After that, Ghosh allows his script to take over with voiceover by eminent persons to enrich the fabric of the narrative and strip it of monotony.