Court opens doors to Indian citizenship for Tibetans
Lalit Mohan/TNS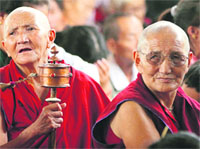 Tibetans born between 1950 and 1987 in India entitled to citizenship
Dharamsala, August 27
With the Karnataka High Court ruling in favour of a Tibetan refugee born in McLeodganj, many Tibetans born in India can now apply for Indian citizenship. The decision is likely to have implications for Himachal Pradesh that has thousands of Tibetans staying there as refugees.
The Tibetans born here are issued green books as identity cards and are considered refugees. They have to get their registration reviewed periodically from the police authorities.
A Tibetan born at McLeodganj on November 11, 1985, had moved the Karnataka High Court after he was denied an Indian passport by the regional passport office, Koramangala. The passport was allegedly denied in consultation with the Ministry of Home Affairs.
As per information posted on the official website of the Tibetan government-in-exile, Justice AS Bopanna of the Karnataka High Court has directed the passport officials to consider the request of the petitioner for a passport as expeditiously as possible. The court also ordered that the process should not take more than two months from the date of submission of all necessary documents by the petitioner.
The petitioner had pleaded that all those born between January 26, 1950, and July 1, 1987, to Tibetan parents settled in India should automatically be treated as Indian citizens by birth in accordance with Section 3(1)(a) of the Citizenship Act. He also referred to an order of the Delhi High Court in a similar case.
"As the birth certificate of the petitioner indicates that he was born on November 18, 1985, he is eligible to be considered as an Indian citizen by birth," the advocate argued.