M A I N N E W S
Re in tailspin amid concerns over oil prices


Tumbles to all-time low of 68.85/$


India Inc calls for measures such as issuing sovereign guarantee bonds
Sanjeev Sharma/TNS
New Delhi, August 28
In ominous signs for the economy, the rupee today tumbled to a new lifetime low of 68.85 against the dollar and closed at 68.80, registering its biggest single-day loss of 256 paisa.
The rupee's collapse was fuelled by rising tensions in Syria and fear of the outbreak of a conflict in the Middle East region which led to a spike in crude oil prices. In addition, capital outflows from the Indian markets coupled with a weak economy led to the mounting concerns of over the rupee trajectory which in August alone has fallen by 14 per cent or 840 paisa.
With the rupee having lost so much ground, it will lead to higher inflation from imports. Higher oil prices and a weak rupee is a potent combination for inflation to rise as both government finances and consumer budgets will come under pressure. Cars, TVs, washing machines and other home appliances are set to cost more, with companies set to hike prices to offset the impact on their margins.
The gloom in the market was reflected in the views of several analysts, investors and industry bodies. Standard & Poor's cautioned that the road ahead for countries with large deficits, including India, is "rocky in the near term."
"If steps are not taken to implement the reforms necessary to tackle the structural issues, the government will be left with the so-called '3D options': debt default, devaluation, deflation," said Angelo Corbetta, head of Asia equity for Pioneer Investments in London.
Concerned, India Inc pushed for urgent measures like issuing sovereign guaranteed bonds and exempting FIIs from short term capital gains tax to stem the rupee's slide. Industry body CII suggested that since investor confidence was low, no part of the government should announce any measures, which would be viewed as business unfriendly.
Another suggestion was to open the real estate sector for foreign funds through the creation of a Real Estate Investment Trust.
Assocham suggested that India convene an urgent meeting to engage policy makers from other emerging market economies (EMEs) to tackle the impact of US Federal Reserve's actions on the rupee.
Markets were volatile during the day as having lost more than 500 points, recovered and closed almost flat.
The Finance Ministry on Wednesday described the sharp fall in the rupee as a reflection of "irrational sentiment" and said there is no need to panic.
"There is no need to panic. The Indian economy is strong and we will turn it around," Commerce and Industry Minister Anand Sharma said.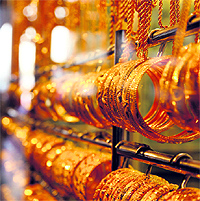 (With inputs from agencies)
Gold sparkles
Gold prices zoomed to a record high of Rs 34,500per 10 gram with a biggest ever single day surge of `2,500 in opening trade in bullion market on Wednesday.
The current upsurge surpassed its record price of `32,975 per 10 gram, set on November 27 last year P15