M A I N N E W S
Despite LoC tension, efforts on for Manmohan-Sharif meeting in NY
Ashok Tuteja/TNS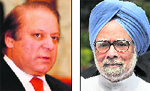 New Delhi, August 29
Pakistan is in touch with India to explore the possibility of a possible meeting between the Prime Ministers of the two countries on the margins of the UN General Assembly in New York next month.
It is learnt that the Special Envoys of the two countries -- SK Lambah (India) and Shaharyar Khan (Pakistan) -- have been asked to initiate back-channel diplomacy to see how tension could be brought down and a meeting between Prime Minister Manmohan Singh and his Pakistani counterpart Nawaz Sharif could take place. Lambah is likely to meet Khan in Dubai away from the media glare to hold free and frank discussions.
Though Indian officials were tight-lipped on 'Track II' diplomacy, Pakistan Foreign Ministry spokesman Aizaz Chaudhry confirmed in Islamabad that the two pointsmen for back-channel diplomacy were in touch with each other. ''As for the meeting in New York, it has been the position of the government of Pakistan that should an opportunity arise, we believe that such a contact between the leadership of the two countries will be a useful occasion to discuss the steps required to improve relations,'' he said. Pakistan has proposed a meeting between the two PMs on September 29.
New Delhi has, however, remained ambiguous on the possibility of the meeting between the two PMs since the flare-up on the Line of Control (LOC) earlier this month. At the same time, it has reiterated time and again in recent days that Pakistan must ensure that its territory was not allowed to be used for terrorist activities against India so as to create an atmosphere for talks between the two nations.
Hours after IM founder Yasin Batkal's arrest was announced this morning, External Affairs Minister Salman Khurshid hoped that the thinking in Pakistan would change and it would hand over to New Delhi all those fugitives from the Indian law who have taken shelter in the neighbouring country.
Track II diplomacy at work
The Special Envoys of the two countries -- SK Lambah (India) and Shaharyar Khan (Pakistan) -- have been asked to initiate back-channel diplomacy to see how tension could be brought down and a meeting between Prime Minister Manmohan Singh and his Pakistani counterpart Nawaz Sharif could take place
Lambah is likely to meet Khan in Dubai away from the media glare to hold free and frank discussions
Pakistan Foreign Ministry spokesman Aizaz Chaudhry confirmed in Islamabad that the two pointsmen for back-channel diplomacy were in touch with each other
Though Pakistan has proposed a meeting between the PMs on September 29, New Delhi has remained ambiguous on the possibility of the meeting since the flare-up on the Line of Control (LoC) earlier this month