Silver symphony
Style gurus are rediscovering the understated elegance of the metal and putting it on a pedestal
Vaishali Chadha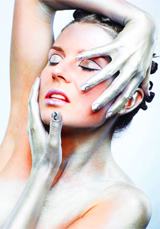 Gold, diamonds, crystals, stones and beads may have created their own niche in the Indian jewellery market but silver is gaining immense popularity. In modern expression, silver reflects a person's passion for the fine art of living. If anything, the changing times are only a testimony to the timeless allure of the metal. Besides jewellery, silver is also being used in a variety of decorations in elite homes. It is especially popular during the Diwali season.
Silver artefacts ranging from the idols of Goddess Lakshmi and Lord Ganesha to coins with their imprints are popular gifts. Other silver knick-knacks gaining popularity in trendy homes include photo frames, cufflinks, candlestands, watches, cocktail stirrers, hookah bases and a host of other decoratives.
Exquisite Designs
Even fashion gurus are discovering the understated elegance of silver, which is establishing its own identity in the jet-set circles. The reason for this new fascination is easily understandable. The metal is eminently affordable, and extremely malleable, lending itself to exquisite designs. Also, silver is the perfect medium to create both trendy and traditional jewellery.
According to Rolli Garg, a Delhi-based jewellery designer, "People's attitude to silver is changing. It is not just the young college crowd that has taken to silver jewellery but a number of working women are also falling for its charm. In semi-formal occasions, silver jewellery is the choice of the fashionable crowd."
Silver, says the designer, looks best with glass tables and colourful accessories. So, if you are choosing a set of silver candlestands, then go in for candles that are red, blue or any other bright colour to offset these. Make sure the silver objects are kept in a place which is well-lit and dust-free.
The composition of silver in jewellery varies from region to region. In some states, pure silver jewellery must have at least 50 per cent of silver content while in some others, silver ornaments must have at least 70 per cent of the pure metal.
Myths & tales
Interestingly, each region has a story to tell about this metal. The most common one, perhaps, is the superstition of buying second-hand silver jewellery. It is said silver bought second-hand brings bad luck. In olden days, poor people used to hold on to their silver jewellery for long, and sell it only in desperation. Even today, when somebody sells silver jewellery, a traditional silversmith would melt it and make a new piece because of the myth attached to it.
Rajasthan, which is famous for its intricate inlay work or kundan, uses silver with at least 90 per cent pure metal. Other than kundan, silver can also be used to create ethnic motifs. Examples of these can be seen in films, TV shows and fashion ramps. A very unique thing about silver is the variety of forms it can take, and the ways, it can be combined with semi-precious stones like garnet, amber, ruby, emerald, amethyst, moonstone and turquoise.
Complements Indian skin
"Experimentation and innovation with silver has opened up new fields in jewellery designing. Pearl, which was thought to be a partner of gold, is nowadays set in silver also. And, it looks absolutely stunning," says Rolli Garg.
Another advantage of using silver is that it complements Indian complexion. Perhaps that is why today you have gold jewellery created with a silver finish to give it a classy yet casual look.
Today women have the choice of wearing old silver, new silver, traditional designs, or even sterling silver, which mostly caters to western buyers. Sterling silver is obtained by combining pure silver with copper in 925:75 ratios.
Classic Appeal
How does one go about buying silver? If your preference is old (antique) silver artefacts, then you must know that these are sold for their design and artistry and not composition (percentage of silver in the particular piece). Therefore, the day-to-day fluctuations in the silver prices will not be reflected in these ornaments. These are acquired for their classical appeal and not purity of the metal. However, if you are planning to decorate your home with silver pieces, then you must consider the importance of their upkeep. Maintaining a silver article is not easy. Silver oxidises very quickly when exposed to air and has to be cleaned with a mild soap and water solution from time to time. After that choose a non-abrasive polish to give it a shine.
Rubbing vigorously with a paper towel or tissue can scratch it. So one has to handle it very gently. When not in use, it has to be stored in airtight containers with each piece wrapped separately in a soft cloth. However, the class and glamour it adds to your entire assemble is well worth the hard work. So, if you are still not a part of the silver crowd, go buy some right now.
Glimpse tea set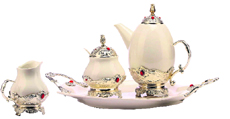 The ornate silver-plated bone China tea set by Glimpse is elegantly crafted China, dressed in ornate silver and tastefully adorned with ruby like stones, the silver-plated bone China tea set is truly mesmeric. The intricately carved tea set with silver plated handles that playfully turn, a classic loop knob dotted with red stones and an elaborate tray in fine china is a perfect addition to your prized collection. The set includes a teapot, creamer, sugar bowl with silver lid and a china spoon served on an elegantly oval-shaped tray, trimmed with delicate silver handles. Stunning yet simple, modern yet ethereal, the stylishly designed teaset offers a seamless mix of ideas giving your table an added twist.
Price: Rs 15,000 to Rs 25,000
Ancient Egyptian domestic dog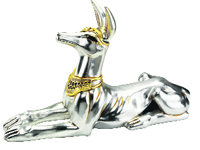 Ancient Egyptians often associated domestic dogs with Anubis, God of the Underworld. This three-foot-long bronze sculpture of the Egyptian God, available on ebay, is hand-painted in silver. The large-scale indoor sculpture makes an excellent adornment for any drawing room.


Price: Rs 22,800 ($380)
Jacob J. Roosjen wine jug\
Here's your chance to impress guests at your next dinner party with some seriously stylish silver. This sterling silver wine jug with floral decoration by Dutch designer and antique silver dealer Jacob J. Roosjen is simply spectacular. It will have you drooling to serve up something special!



price on request
Victorinox women's silver dial watch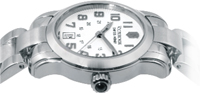 This festive season surprise the woman in your life with this distinguished Silver Sunray Dial Watch from Victorinox Swiss Army. It features a stainless steel case and steel steep bracelet. This quartz timepiece has dial, hands, date and time display all in silver.
Price: Rs 19,475
My Wedding Favors rhinestone handbag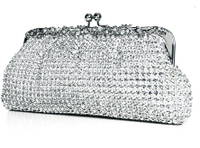 This breathtaking silver-framed handbag by American bridal jewellery company My Wedding Favors glistens on both sides with brilliant Austrian rhinestones. Inspired by an Art Nouveau design, the silver frame is embellished with a floral motif accented with pearls and crystals.
Price: Rs 23,100 ($385)
Pianki chess set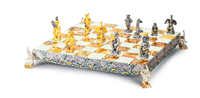 This is a luxurious handcrafted limited production Jungle Animals themed chess set by American company Pianki. It has chess pieces in handmade 24-karat gold and silver. The chessboard is made of onyx and embedded in a handcrafted gold, silver and bronze base.
Price: Rs 8,47,500 ($14,125)
WMF nut cracker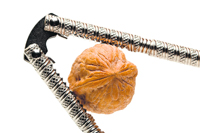 This rare nutcracker made by WMF Germany has a distinct vintage look. There are four squeezing jaws fitted with little hard and sharp spikes, and the nutcracker works both ways along a revolving hinge in the centre. Measuring five inches, it has both practical and decorative utility.
Price: RS 8,400 ($140)
L'Objet Atelier picture frame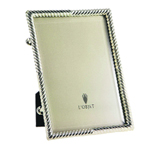 All L'Objet Atelier picture frames are made by hand in sterling silver. The freestanding frames are notable for their distinctive Florentine etching which is an exquisite ancient hand-brushing technique in which craftsmen use fine needles to create the textures in silver frames.


Price: Rs 57,000 ($950)
Festival coins

Festivals and occasions are the perfect time to make your family feel special. What can be a better gift than a silver coin from Mehrason Jewellers? Crafted from 999 fine silver one side of this auspicious coin is etched with images of Goddess Lakshmi and Lord Ganesha.
Price: Rs 1,500
Classical hookah base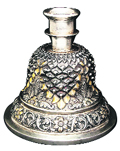 This unusual silver hookah base on display at the well-known London auctioneer Michael Backman Ltd has been gilded in a classical bell shape. It sits sturdily on its flat base, and is decorated with pine-cone like lotus petals, floral sprays and a band of floral and foliage scrollwork.



Price on request
Hazorfim candlestick set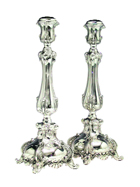 This stunning candleststick set by Israeli silver firm Hazorfim weighs 815 grams. Known for its quality and craftsmanship, the company's silver artefacts can be found in the homes of former US Presidents George Bush and Ronald Reagan, King Hussein of Jordan, Vladimir Putin, and others.




Price: RS 1.2 lakh ($2,000)
Gucci cufflinks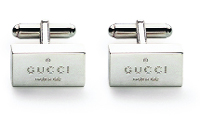 A re-interpretation of a classic men's accessory featuring an elegant modern style, these Gucci cufflinks are made from sterling silver and feature the iconic trademark engraving. Weighing 24 grams, these add a new dimension to a shirt, making a man look macho and elegant.
Price: Rs 14,500 (£160)
Beliram Ganesha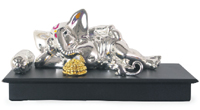 This beautiful Ganesha, in a meditative reclining position, from the house of Beliram Silver is an ideal product for home display, gifting or simply a collector's idea. Reclining on the dewan with a silver bolster, the lord is accompanied by his vahan, the mouse sitting playfully near his feet. Offsetting the silver is lord's tika in red & ochre and ladoos in gold. Contemporary yet traditional, playful yet spiritual, Ganesha in silver is an exclusive and rare art edition perfect to display in the living room.
Price: RS 6,000
Tiffany sterling silver bowl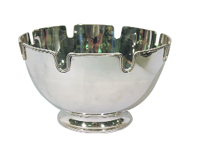 This large Tiffany silver bowl has a beautiful sleek high polished design. It is decorated with eight-reeded grooves around the circumference. The bowl sits on an applied circular base and stands 5 ½-inches high. It has a substantial weight of 32 troy ounces or almost 1 kg.
Price: Rs 1.80 lakh ($3,000)
Imperial baby spoon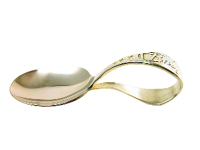 This vintage-style baby silver spoon by British company Imperial Silver Plate measures approximately 3.5 inches and has the word "Baby" embossed on the curved handle. The soft finish has no buffing or machine polishing. The spoon makes an excellent gift for a newborn.
Price: Rs 23,000 (£255)
Gorham overlay porcelain teapot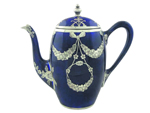 The cobalt blue porcelain teapot has delicate silver overlay work. The pot by Gorham — one of America's largest sterling silver companies — bears the vintage look of the late 19th century when such teapots were prevalent among the royalty and members of the high society.