From small town to big screen

With stars in their eyes and a dream in their hearts and a prayer on their lips, tentatively but confidently these actors from the region knocked the doors of Bollywood. They share their journey to Maximum City
Nonika Singh
Today, these men and women hailing from small towns of Punjab and Haryana are stars in their own right shining and basking in the glory of limelight. Coming from relatively obscure places, a few from the relatively more chic Chandigarh yet nowhere close to a metro, they share their trek to success. How they overcame the odds, how the small town mindset became an asset as also a disadvantage, they are only too happy to divulge how they dropped their small-town blinkers and acquired a larger vision. More significantly, they let out the secret how in the Maximum City they maximised advantages they had acquired while growing up in Bharat.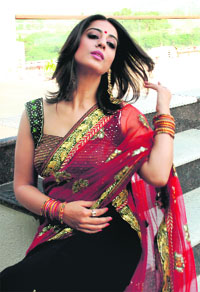 Mahie Gill: I flitted from studio to studio in an auto
Cultural advantage
Take lyricist Irshad Kamil whose latest songs from Raanjhanaa are making the country groove. It was in Malerktola, replete with the tehzeeb of Urdu zubaan and thick with Punjabi flavour that the seeds of writing songs were sown. It's the Sufi ethos of this kasba-like town that shaped his poetic sensibilities and its right here in the bylanes of Malerkotla that he nursed the grand ambition of writing songs for films. No wonder Ayushmann Khurrana, who capitalised on his Punjabi antecedents with astounding impact in Vicky Donor, says, "What was till yesterday considered regional baggage and hence a handicap has become a big boon today." Yami Gautam feels that the middle class values she imbibed while studying in YPS Mohali and growing up in City Beautiful have held her in good stead for, "In Bollywood its not only aptitude but also attitude that matters."
Of course, for many like Patialvi Jimmy Sheirgill, it's not about cultural identity or where you grew up but what you can do. He reasons, "At the end of the day, it's a workplace where people come to work and play their parts to the best of their calibre." So, even though, he rubbed shoulders with SRK and Big B early on in his career in Mohabbatein, he understood that superstars or no superstars they were actors first and foremost and couldn't be bothered with his fawning and admiration for them. However, transition wasn't as smooth for others.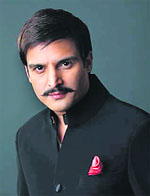 Jimmy Sheirgill: Mumbai is just a workplace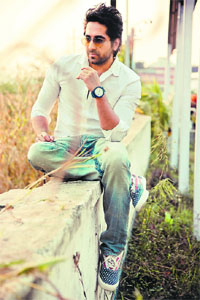 Ayushmann has had his moments of self-doubt and apprehension
Mental makeover
Randeep Hooda, the actor of smouldering intensity of films like D, Once Upon a Time in Mumbaai, Saheb Biwi Aur Gangster and many a Bhatt production, says, "You can take a man out of the town but not the town out of the man." Belonging to the heartland of Jatland, Rohtak, adjusting to Mumbai wasn't a cakewalk for him. The struggle, he insists, was more internal than external, more mental than physical. First and foremost, he had to learn to get rid of his inborn Jat characteristic of being "upfront and candid" and be more diplomatic. Ludhiana di kudi, Divya Dutta flush with praise after her superb cameo in Bhaag Milkha Bhaag shares how to begin with she found it enormously difficult to address people without a mandatory ji. In an industry accustomed to first name way of interaction, it took her a while to switch over. Irshad Kamil still hasn't learnt to overcome his nervousness while dealing with members of the opposite sex, he has only mastered the art of hiding it.
For many, stepping into the big (not necessarily bad, though) Mumbai had deeper ramifications. Mahie Gill developed an obsessive fear of auditions. The theatre actor who could enact even two-hour acts back home in City Beautiful, would even forget her lines. And when the big opportunity presented itself by way of Dev D she developed cold feet at the very mention of a kissing scene. She told director Anurag Kashyap, "Anurag ji this I can't do." Of course, since then she has gone on to play many a sassy part and is all set to sizzle in an item number in Bullet Raja. She adds, "Bombay teaches you a lot." Ayushmann, who holds his ground with superstars on stage, may appear an epitome of confidence but he too has had his moments of self-doubt and apprehension. He recalls how when he first went to Mumbai as a student of DAV College, Chandigarh, he was simply awestruck by the confidence of actors from Mumbai.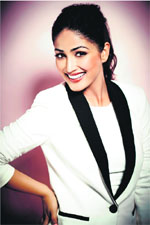 Yami Gautam: Success was not instant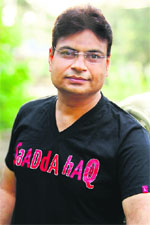 Irshad Kamil: A dream come true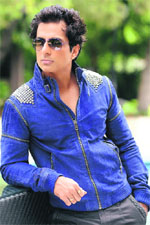 Sonu Sood: Had to wait four years for a break
Cutting edge
Diffident or confident, they took the big leap and were propelled by drive, passion and self-belief. Sonu Sood, currently immortalised in public memory as Chedi Singh of Dabangg, remembers how it took him four long years to get his first break. In the period of struggle, he would often sleep in offices or share the room with eight people. He quips, "If you are an outsider with no filmy connections, people would not even look at your pictures let alone give you a role."
Mahie recalls how she would flit from one studio to another in an autorickshaw, all the while taking care that her hairdo on which she would spend Rs 600 each time didnít get ruffled. Then she would go party hopping, hoping she would catch someone's eye. As for the glad eye, well she doesn't deny that the casting couch exists. Only she insists, "No one can force you to be on it." Agrees Sonu, "If you have faith in your talent, no one can exploit you and if you don't have that, then everyone would." Irshad shares how each day in Bollywood was full of despair and hope as he would oscillate from one end to the other. Ayushmann may have struck young but reminds that he started young as well and struggle is anyway subjective and he too had his fair share of ferrying in local trains and autos. Yami may have made it big with her very first flick Vicky Donor but she insists, "It didn't happen overnight."
Dreams fulfilled
Clearly those who dare win`85.here they are at interesting cusps of their careers. Today as Irshad's songs are being composed by none other than the maestro AR Rahman he confesses that this indeed was a dream even the ambitious him had not dared to dream. Similarly, for Ayushmann the 'Oh-my-God' moment came when he picked up the Filmfare Award for best singer as well as for the best debutant. Divya has shown her mettle more than once in films like A Train to Pakistan and Veer-Zara. However, it's now post-Bhaag Milkha Bhaag that she is walking on Cloud Nine and listening to at least one script daily. Dev D turned the tide for Mahie, but it's today that she commands her price. Jimmy has in recent times not only tasted commercial success but has critics eating out of his hands too for his parts in Saheb Biwi aur Gangster and Special 26 in particular. Same goes for Randeep who has along the way earned a loyal female fan following too. Sonu accepts one project out of the 20 that he is approached for. He smiles, "With a fallback option in the South, in Bollywood I can afford to choose the best."
Success mantra
What does it take to get there? Clearly there is no cut-and-dried formula to success. Hard work plays a part as do mercurial ways of destiny beyond human control. To those who choose to follow in their footsteps, their first bit of advice is - forget glamour. The industry is not about glamour but oodles of sweat, patience and perseverance.
Above all, as Randeep quips, "If you are Sachin, don't play hockey". Know your strengths and once having known them, Irshad interjects, "Get a proper assessment from others. Be objective about your talent." Once you are ready to temper hardwork with persistence there is a star-lit sky waiting ahead. They asked for it and got it.