ENTERTAINMENT
Rich Indian fare at Toronto

From a music-driven Bollywood love story to a daring, mould-breaking Punjabi tale about elemental human impulses, the upcoming Toronto International Film Festival will showcase a wide range of Indian films
Saibal Chatterjee
Two ends of the contemporary Hindi cinema spectrum will receive red-carpet Gala treatment at the upcoming 38th Toronto International Film Festival (TIFF). On the one hand is Shuddh Desi Romance, an unconventional love story produced by Aditya Chopra's Yash Raj Films banner; on the other is Ritesh Batra's The Lunchbox, an independent Mumbai film that had its world premiere in the Cannes earlier this year.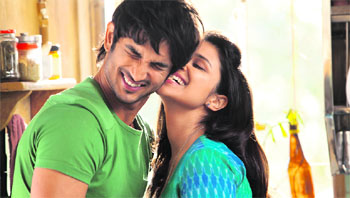 Maneesh Sharma's Shuddh Desi Romance is an unconventional love story from the YRF banner
The Indian canvas in North America's premier film festival, which runs from September 5 to 15, includes the world premieres of several other cinematic works of diverse hues, including the much-awaited Punjabi-language post-Partition drama, Qissa, directed by Anup Singh, and Pan Nalin's documentary Faith Connections, filmed at the Kumbh Mela.
Also in the official selection is The World of Goopy and Bagha, an animated adaptation of the classic 1969 children's musical made by Satyajit Ray. Directed by Shilpa Ranade, the film, produced by the Children's Film Society of India, will play in the TIFF Kids section.
The festival catalogue describes Shuddh Desi Romance as a film "that feels remarkably fresh". It adds: "For anyone raised on Bollywood's classic love stories, this contemporary take may prove delightfully shocking."
Written by Jaideep Sahni (Chak De India) and directed by Maneesh Sharma (Band Baaja Baaraat), the cast of Shuddh Desi Romance, includes Rishi Kapoor, Sushant Singh Rajput, Parineeti Chopra and debutante Vaani Kapoor.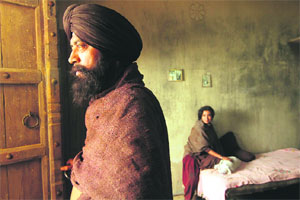 Anup Singh's Punjabi-language post-Partition drama Qissa touches the deepest human impulses
The Lunchbox, of course, comes to Toronto on the back of unstinted accolades garnered in the Cannes. With the globally feted Irrfan Khan heading the cast of the film, it has acquired a profile much higher than is usual for a small charmer. Irrfan, who also plays the lead role in Qissa, will, as part of the TIFF Mavericks programme, figure in "an in-depth onstage discussion of his storied filmography, which includes the Academy Award-winning features Slumdog Millionaire and Life of Pi".
Partition revisited
Anup Singh's Qissa is among the more anticipated films at this year's TIFF as much for the presence of Irrfan Khan (as a Sikh who is forced by the Partition riots to flee his village) as for its unusual yet accessible look and feel. In the words of TIFF artistic director Cameron Bailey, Qissa is "beautiful, timeless, and touching the deepest human impulses" and "carries the spirit of a great folk tale".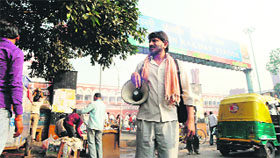 Richie Mehta's Siddharth is a modern-day fable about loss and the futile quest for answers
Bailey writes in the TIFF catalogue that "Qissa is a Punjabi story for the whole world" and that it is "a film that is immediately accessible to anyone sensitive to the conflicts that drive classic stories: fear versus hubris, individual need versus social codes".
One of the screenings of Qissa, an Indian-German-Dutch-French co-production, will be followed by an extended question-and-answer session in which Janice Gross Stein, director of the Munk School of Global Affairs and an expert on conflict management, will speak about the film. Besides Irrfan Khan, Qissa features Tilottama Shome, Rasika Dugal and Tisca Chopra in key roles.
A matter of faith
Another Indian film with elemental appeal is Faith Connections, Pan Nalin's cinematic journey to the heart of what is the world's largest and most extraordinary religious congregation — the Kumbh Mela. Explaining why he chose to turn the spotlight on the Kumbh, Nalin says, "In our times, we are losing "real" touch with religions. Instead, it's all about power, politics, fanaticism and exploitation of faith... spirituality is packaged and exported, and then, re-imported back as a lifestyle. Thus, only the poor of the world hold onto true faith — the spectacle of one such holding is the Kumbh Mela."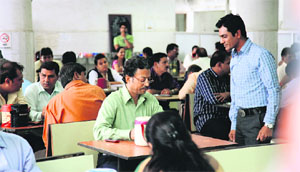 Irrfan Khan in a still from Ritesh Batra's The Lunchbox. The film had its world premiere in the Cannes earlier this year
Faith Connections focusses on five different and profoundly moving stories involving a runaway child, a sadhu, a desperate mother looking for her missing son, a yogi who is raising an abandoned baby and a world-weary ascetic who seeks escape from his worries by smoking cannabis. It is a fascinating human tapestry held together by that one unfailing glue — faith.
Over to Bailey again: "Precious few films bring genuine curiosity and reverence to the subject of spirituality. Fewer still approach the subject with anything like the diligence of Faith Connections, a spectacular, open-hearted documentary that explores the frontiers of devotion."
New horizons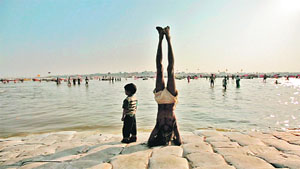 Pan Nalin's Faith Connections takes a journey into the the Kumbh Mela, world's most extraordinary religious congregation
The World of Goopi and Bagha, made by children's content creator and animation teacher Shilpa Ranade, is aimed at a young audience and is set in the world of magic and music, food and frolic, served up in an entrancing new form that promises to transport filmgoers back in time.
Another Indian filmmaker in the TIFF line-up is Shambhavi Kaul, whose nine-minute short film, Mount Song, is part of Wavelengths, which is devoted to "films that expand our notions of cinema" and celebrates "daring, visionary and autonomous voices".
Indian-origin Canadian-born filmmaker Richie Mehta's sophomore effort, Siddharth, which will be screened as part of the TIFF's Contemporary World Cinema, is, like his first feature film, Amal, set in Delhi. It narrates the story of a poor zipper repairer, whose 12-year-old son goes missing after the family sends him out to work. The distressed and hapless father, fearing that the boy has been abducted and trafficked, launches a search that seems completely futile, given the obstacles the man is up against.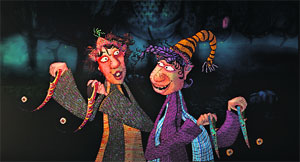 Shilpa Ranade's The World of Goopy and Bagha is an animated adaptation of the classic 1969 children's musical made by Satyajit Ray
Rajesh Tailang plays Siddharth's father while Tannishtha Chatterjee essays the role of the mother. Mehta's film is a modern-day fable about loss and the futile quest for answers. It seeks to remind the viewers that in today's complex world, nothing is anything like what it might appear to be, especially for those that do not have the power to manipulate the system. The Discovery section of this year's edition of TIFF has two fiction films that will be of some interest to moviegoers who have roots in the Indian subcontinent: Iram Haq's I Am Yours and Aron Gaudet and Gita Pullapilly's Beneath the Harvest Sky.
Haq, of Pakistani descent, is an Oslo-based singer, actor and filmmaker. I Am Yours presents a lively portrait of Pakistani-Norwegian single mother, played by the Nepalese-born Amrita Acharia.
Beneath the Harvest Sky, on the other hand, is the debut feature of the American documentary filmmaking couple, Gaudet and Pullapilly. It is a teen drama set in a dreary industrial town in Maine.
'Success comes when you are at peace'
Sreya Basu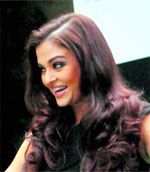 Aishwarya Rai Bachchan is all set for her post-motherhood comeback. However, she is tight-lipped about the project. Excerpts from an interview:
When are you coming back on the silver screen?
I am reading scripts and work is getting finalised. But I have always maintained that it is the prerogative of my directors and producers to make the official announcements. That is why I never do it. Everybody has a plan and I respect the plans of the people I work with.
How do you feel when people keep asking you about your comeback?
It is very welcoming, humbling, reassuring, exciting and encouraging that my fans and well-wishers are so enthusiastic about my comeback; making me feel missed on the silver screen.
Did you miss the limelight?
Well, it's not that I disappeared from the job. I have been interacting with you all very often because of my various brand associations. Hence, I don't feel I have taken a break at all. But yes, logically speaking, my last release on the screen was Guzaarish (2010). It is three years since my last film got released.
You were at the peak of your career when you choose to go the family way. Was it easy to give
up success for family?
My pace of life has been really hectic. I never had the time to sit down and calculate things. As it is, everyone has his/her own barometer for success. As for me, I think apart from your professional achievements and personal aspirations, you are successful when you are at peace.
What is beauty according to you?
It is very important to know who you really are. That makes you beautiful and confident.
Why aren't you on Facebook or Twitter unlike you tech-savvy father-in-law Amitabh Bachchan and husband Abhishek Bachchan?
May be, I should join in because my well-wishers have been asking me for a while. Facebook and Twitter have incredible capacity. It's wonderful how connected it keeps you and how you can go there and share your views and opinions in just a couple of seconds with the world out there. I am totally for social networking. And honestly, I feel now it seems okay for me to join the gang.
Why 'now' is okay?
Because initially when these social networking sites became active, two things were happening back then — a huge rush and an extent of frivolity. I am not being judgmental about any individual, in particular. But people were tweeting just anything. And everybody almost felt that it was so important to do that just to be present and be topical every single day. And I am not exactly that kind of a person.
Don't you think Facebook and Twitter are barometers of celebrityhood?
Yes, initially these two public sites were taken as barometers of popularity and celebrityhood based on the number of followers, retweets, shares, etc. But I didn't want to fit into that process. That was the mad rush I was talking about. And with three members of the family into that, I didn't want people to make comparisons as to who was more popular.