M A I N N E W S
Asaram questioned for 4 hours; sent to one-day police custody
Jodhpur, September 1
Self-styled godman Asaram Bapu, accused of sexually assaulting a 16-year-old girl at his ashram, was today remanded to police custody for a day after being grilled by Jodhpur police for about four hours.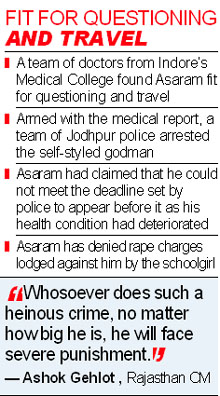 Asaram (72), who was flown from Indore where he was arrested after midnight amid high drama, cleared a potency test conducted on him at the SN Medical college here.
He was also taken to the Manai ashram, 30 km from Jodhpur, where the incident was recreated to verify the charge against him. Asaram was later produced before District and Sessions Judge (Rural) Manoj K Vyas who remanded him to one-day police custody. Police had sought two-day custody of Asaram.
Earlier, Jodhpur Police Commissioner Biju George Joseph said a medical test was carried out on Asaram and there was nothing to suggest that he was unwell. Asaram had claimed that he could not meet the deadline of August 30 given by the
Jodhpur police to appear before it as his health condition had deteriorated.
Asaram has denied rape charges lodged against him by the schoolgirl, the police commissioner said. He refuted reports that Asaram was on a hunger fast and refusing to eat or drink anything. "He is taking food and water," Joseph said.
Asaram was brought by Rajasthan police team led by Additional Commissioner of Police. They were flown via Delhi in an Air India flight at about 12.30 pm. He was taken to Rajasthan Armed Constabulary Battalion Campus in Mandore where he was interrogated for four hours, police said.
Unprecedented security arrangements were made at the airport. Asaram's supporters shouted slogans at the Delhi and Jodhpur airports. A report from Mumbai said they also stopped trains at Ulhasnagar's railway tracks in the neighbouring Thane district shortly after noon. Asaram was arrested by the Jodhpur Police after midnight from his ashram in Indore and escorted by a large posse of police personnel to the airport, where he spent the night on a sofa in the VIP lounge. An Air India flight carrying Asaram from Indore left at 7.50 am for New Delhi from where he boarded another flight for Jodhpur. A team of doctors from Indore's Medical College had earlier found him fit for questioning and travel, the sources said. Armed with the medical report, a team of Jodhpur police arrested Asaram and whisked him in a white jeep about half an hour after the stroke of midnight, after waiting for nearly eight hours at the ashram. Rajasthan Chief Minister Ashok Gehlot said, "Whosoever does such a heinous crime, no matter how big he is, he will face severe punishment."
The father of the girl called off his fast-unto-death in Shahajahanpur district of Uttar Pradesh after hearing about Asaram's arrest. — PTI

Victim's father ends hunger strike
Shahjehanpur/Lucknow, Sept 1
After the arrest of self-styled godman Asaram in Indore late last night, the father of the victim drank a glass of juice from Shahjehanpur Circle Office (City), Rajeshwar Singh, today to end his day-long hunger strike. "I want to see that he does not get a bail on false medical grounds. My only request is that he should be treated like an ordinary criminal without any special treatment," he told mediapersons.
The security of the survivor's family and their close associates has been strengthened following a threat call received by a family friend yesterday, Rajeshwar Singh said.—TNS