M A I N N E W S
CBI to quiz Army officers in VVIP chopper deal
New Delhi, September 1
The CBI will soon examine Army officers who were part of the selection process for the ight utility helicopter deal that came under the scanner of Italian authorities probing bribery allegations against AgustaWestland.
It was alleged that a Brigadier of the Army who was heading the flight trials in 2010 had demanded $5 million from AgustaWestland to help swing lucrative deal in favour of the company.
The name of the officers surfaced during the probe carried out by Italian authorities in connection with the bribery allegations against Agusta Westland and Finmeccanica. The agency has registered a preliminary inquiry in the deal and asked at least five army officers, who were part of the selection process for the deal, to appear before it and help in its probe, CBI sources said. They said although the officer has not been questioned yet in connection with the case, the agency has asked at least five army officers to appear for examination in the case so that enquiry could be completed soon and decision on registering an FIR could be taken.
During their probe, Italian authorities had come across documents which revealed that the Army officer was seeking $ 5 million to swing the lucrative 197-light helicopter deal in the company's favour.
The authorities had found a letter which also formed part of their investigation report submitted in the Italian court. It claimed that the officer allegedly made contact with the company in Bangalore in January 2010. — PTI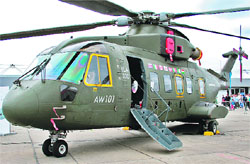 $ 5 million demand
* It was alleged that a Brigadier of the Army, who was heading the flight trials in 2010, had demanded $5 million from AgustaWestland to help swing lucrative deal in favour of the company
* The agency has registered a preliminary inquiry in the deal and asked at least five army officers, who were part of the selection process for the deal, to appear before it and help in its probe