Palette full of gold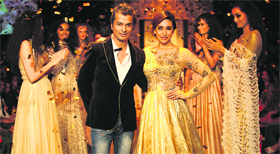 Daniel Swarovski clinked his way to the crystal society. The company wouldn't be what it is, if it weren't for the introduction of bling into our closets. From originally being used in the inaugural ball gowns and wedding dresses to even the Olympic ice skating costumes, bling has been quite a big thing.

Grand finale: VIKARM pHADNIS WITH THE SHOwSTOPPER kARISMA
A sneak peek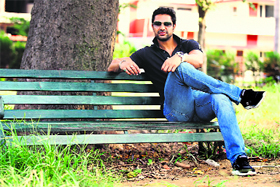 They say, in fact they still say, shoes are a measure of a man. Only recently, if you catch a man wearing semi-formals and sneakers to go with, you wouldn't dismiss him as a lazy or someone who carries attitude on his feet. The most favoured part in a man's wardrobe, the shoes, is seeing an addition of cool comfort sneakers.


Get Stylish: Kartar Cheema
the 'in' side
A dotted affair
Polka dots are a great decorating pattern and look just as good in our rooms as they do on our clothes. It's not very busy but it can add detail to the wall or an element in the décor. Small coloured circles have a big impact on the overall design, even if they are used in the interior in "small doses."
stress buster
What goes around, comes around
Stress can be infectious, so you need to recognize it in others before it takes a toll on you. There are many ways of reacting to stress but you must learn to read common warning signs and decide how to react to them.


Graffiti

Aradhika & Sesh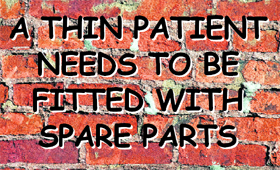 Limited edition
Top to toe!
Kenneth Cole, as a label, might not feature in the first quarter of luxury quotient but reflects the ethos of a brand that gets the pulse of the people right. The American fashion house named after the designer himself was founded as recently as 1982. At times, it's the visibility on the streets that matters more than exclusivity among the few.
Cherish or perish
The natural disaster in Uttarakhand and the tragic stories that hit the papers have disturbed each one of us. Amlendu Asthana has come up with a book on the same under the title of Prakritik Aapda, Hawa Or Boond Se Samvad.
it's rocking
Back with a bang
Wondering where Katy Perry disappeared? Well, seems like she was busy recording the new song Roar for her upcoming fourth studio album, Prism. Perry, Lukasz "Dr. Luke" Gottwald, Max Martin, Bonnie McKee, and Henry "Cirkut" Walter have written the midtempo power-pop song. Here is what the city folks have to say about it…
sTAR TRACK


Karan Kundra gears up for B-town!


Picture perfect


All in the past


The dream run continues…


Shraddha's Parisian getaway


Of the fan frenzy
chatter box


The game gets bigger


Leaps and bounds


Together no more


Turning down the bigg chance


Jack out of the box