Alcohol abuse among women
Alcohol dependence in women is a fast-emerging health hazard. Studies have shown that women suffer from more alcohol-related health and psychosocial issues as compared to men
Dr Rajeev Gupta
Women are becoming the new face of alcoholism in India. Liquor companies are employing all sorts of marketing strategies to increase acceptability of alcohol amongst women in India. A fruit juice-based light alcohol which was launched in different flavours, has found ready acceptance among women and youngsters.
Traditionally more men have been heavy drinkers than women, but the gap is shrinking fast in most countries. Drinking among men is accepted more readily at the socio-cultural level and is considered a part of the job in many male-dominated businesses and professions.
Sociologists consider drinking as a field-leveller towards gender equality. In present times, even women are under pressure to network and drink like their male colleagues. Alcohol intake has very much become a part of corporate culture. Alcohol is often considered as a sort of self-medication for handling stress, anxiety and depression. It is wrongly considered as an antidote to dissatisfaction and problems of life. The initial 'comfort' received in the aftermath of alcohol soon becomes a serious health hazard and one has to pay a heavy price for alcohol consumption.
More harmful for women
Scientific and clinical studies have shown that women suffer from more alcohol-related health and psychosocial issues than men.
A single alcoholic drink taken by a woman has about twice the effect on her than it would on a man. Women have a "telescoping" or accelerated course of alcohol dependence; they advance faster from their first drink to alcohol-related problems than men.
Women can get greater alcohol levels even with smaller doses as compared to men. This is so because women are genetically predisposed towards this. This is because of the lower level of alcohol dehydrogenase in the stomach and aldehyde dehydrogenase in the liver of women.
Changes in hormone levels during the menstrual cycle may also affect alcohol metabolism in women.
Body water, which needs to dissolve alcohol in the body, is less in women.
Mostly, alcohol consumption by women is kept a secret in Indian families and they seek medical help only when the problem worsens.
Women suffer from more medical complications than men with the same level of alcohol consumption.
They are more likely to suffer from alcoholic hepatitis, cirrhosis, liver damage, alcohol-induced brain damage, heart disease and breast cancer.
Women alcoholics are also highly prone to osteoporosis, falls and hip fractures, premature menopause, infertility and miscarriage, high blood pressure etc.
Some studies say they become victims of violence, sexual assault and sexually transmitted diseases.
Female alcoholics have higher death rates 50 to 100 per cent more as compared to male alcoholics. This also includes deaths from suicide, alcohol-related accidents and medical complications.
Foetal alcohol syndrome
It is the most common known preventable cause of mental impairment. Babies with foetal alcohol syndrome (FAS) are born small and have brain damage and many lifelong problems. Alcohol consumption by a mother during pregnancy is extremely harmful to the baby.
Symptoms of alcoholism
Alcoholism is a gradually progressing disease. The journey from social drinking to alcohol dependence or alcoholism may take couple of years. Common symptoms of alcoholism are:
One continues to drink despite alcohol-induced physical ailments, psychosocial complications and legal issues.
Drinking alone.
Becoming violent after drinking.
Urge to take alcohol in the morning.
Neglect in eating, personal care, social and professional life.
Missing work or skipping child and family care responsibilities.
Tremors in the morning when there is no drinking.
Memory disturbances.
Losing control on the quantity of alcohol intake.
Having withdrawal symptoms when trying to stop alcohol. (tremors, anxiety, irritability, disturbed sleep and jerks)
Need to take a drink or two to boost one's confidence at a social gathering.
Those at a higher risk
Working women
Unmarried women staying alone.
In live-in relationship.
Women who have suffered childhood physical or sexual abuse.
Depressed and anxious women.
Having a partner who drinks heavily.
Parents or siblings with alcohol problems.
Having easy access to alcohol.
Ability to hold liquor more than others.
Relationship problems.
Working or living in a culture where alcohol use is accepted.
Emerging trends
According to the Indian Centre for Alcohol Studies (INCAS), a government research body, less than five per cent of Indian women drink but this consumption is expected to rise by 25 per cent in another five years.
The latest World Health Organisation (WHO) global station report on alcohol and health shows that India is on an alcoholic surge. This has been accelerated as the age of drinking which was 28 years in 1980 has come down to 15 now. In some metros it is even as young as 13.
In India there is a taboo about discussion and open acceptance of alcohol among women by the conservative sections of the society and also due to religious, cultural beliefs some sections of the population,
A study by the Glasgow Centre for Population, UK, says more and more British women are dying due to alcohol-related illnesses. The number of British women in their mid-thirties, dying due to alcohol-related illness, is rising. The death rate due to drinking among women born after 1970, has doubled in the past 20 years, the number of men in the same group has fallen slightly.
Some social scientists link the rising consumption of alcohol among women to their changing role in the society, Rick Gruaza, an epidemiologist at Washington University School of Medicine in St Louis, correlates women's drinking to the rise in female college attendance.
Many studies show that after drinking, men report having a feeling of being more powerful, overestimating their capabilities while women report feeling more affectionate and feminine.
A consumer court in Delhi ordered Jet Airways to pay a compensation of Rs 50,000 to a female passenger who was refused an alcoholic drink because of her gender. The complaint was filed by a Canadian woman who was on a flight from Bangkok to Delhi with her family in 2009.
Conclusion
As an increasing number of women are joining the work force at all levels. More and more women are attaining higher levels of education than before. The value system is changing fast with changing mores. Alcohol consumption among women is bound to increase manifold. This will also increase alcohol-induced health problems. There is a need for caution, early recognition and timely management of such problems. In case of all addictions, including alcohol dependence, prevention is the best cure.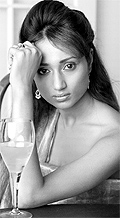 Case study 1
A 50-year-old conservative housewife was introduced to alcohol five years back by her husband. What started as social drinking gradually became five to six pegs per day and she became addicted to alcohol. She experienced cravings and severe withdrawal symptoms. The woman became depressed; self-abusive, harming herself in the process. She became indifferent to her surroundings and started neglecting her responsibilities. She kept liquor bottles locked in a cabinet of her washroom. She started having severe mood swings and turned violent over minor issues. Her personality and behaviour deteriorated after she became a regular drinker. She is now under psychiatric treatment.

Case study 2
Mrs B, (32), single, a bank professional living alone, started taking alcohol after her relationship with a male colleague broke up . She became withdrawn and often plunged into severe depression. She was consuming more than half a bottle of alcohol every day. In the absence of alcohol, she suffered from withdrawal symptoms like tremors, jerks and restlessness. Once she had a bout of convulsions. She suffered twice from jaundice and was eventually diagnosed with alcoholic hepatitis. She never took psychiatric help for alcohol dependence and continued with regular alcohol intake.
The author is a Ludhiana-based psychiatrist and deaddiction specialist