To sir with love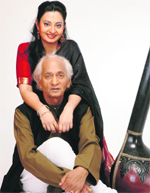 Teachers play such a significant role in our lives…sometimes holding our hand gently guiding us on a new path, at others challenging our inner potential and preparing us for the journey called life! This Teacher's Day some of famous personalities share interesting anecdotes from their life. For radio jockey and actor Dhanveer, it's his professor Harjinder Walia at Punjabi University, Patiala, who stands out in his memory. "Walia sir was the one who embarrassed me the most in the class, yet he is my favourite!" Point of contention between the two — Dhanveer missing classes to chase girls! "Sir would watch me following girls and then when I was in class after four-five days, he would say:
Meeta Pandit with her father LK Pandit
A dream run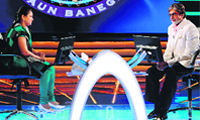 It's all yet to sink in! Preeti Panwar insists winning a huge amount in Kaun Banega Croreopati, sharing screen space with Amitabh Bachchan, coming back home like a celebrity…still seems like a dream. Through word of mouth, everybody in her hometown, Rohtak, knows that she has come back with huge prize money and after meeting the iconic Amitabh Bachchan.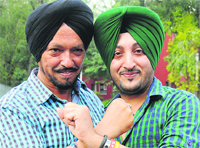 Serious statement
When a title qualifies for an oxymoron, one can picture ample explanations coming along the way. Dil Pardesi Ho Gaya could easily be confused for a Hindi film credit and that too of three decades back. "You have seen and liked movies Heena and Veer Zaara. It falls in the same league and is perhaps, better than them," writer and director Thakur Tapasvi draws the right analogy at the music launch of the film.
Know your nutrition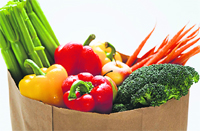 There are countless nutritional myths in the health industry. The unfortunate truth is that once a theory becomes "accepted as scientific evidence", it becomes re-written until it is accepted as undisputed truth. However, some of these theories may not stand the test of time. Governmental organisations aren't likely to make a public announcement stating, "In light of new evidence, we must regretfully inform you that what we have advocated as healthy food is actually unhealthy".
One for the immunity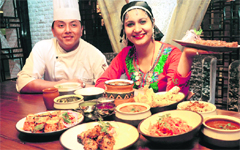 While the autumn's advent kindles much curiosity about the flavours of the season, Chandigarh is already stewing a welcoming delight that promises to fill up your appetite for taste and health. At the Kashmiri Cuisine Festival in Saffron at JW Marriott, Chef M Rehman, who is a food consultant with the premium five star restaurant chains in India, brings an array of delicacies straight from Kashmir.
Coffee and cookies
As always the summer rolled into a thunderous monsoon, giving us pure delight in cooling showers. And sheer disgust in the resulting onslaught of humidity, if I may add! This is the perfect timing for sitting in the verandah with a frothy strong brew of coffee in one hand and a cookie in the other. A book, some music of your choice and human company, definitely of your choice would complete the picture. Shop-bought cookies, no matter how much they tom tom about their fabulous list of healthy ingredients, contains chemicals. They are cloaked under the guise of "enhancers" and nothing beats the taste of a buttery golden brown cookie, straight out of the oven and popped into the mouth. Even better when it comes with the 'home made' tag! Here's my all-time favourite, the ginger-nut cookie, fragrant with cinnamon and ginger powder, guaranteed to please!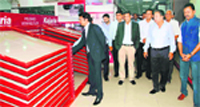 Take home!
Kajaria, known for its ceramic and vitrified tiles, has announced the opening of its state- of- the-art Galaxy showroom in Chandigarh. Ashok Kajaria, CMD, Kajaria Ceramics Ltd, inaugurated the showroom.
Smart choice
Anything that can go wrong, will. This derivation of Murphy's Law stands true most of the times. You will be neck deep in work on the day that you are expecting Dhoni to complete a century. Or you will have an army of guests at home the day that your favourite character will make an exit from the show.

No child's play
Ud Gayi Titli and Ghuggi Mur Aayi are two latest works by Darshan Singh Aasht. The man has spent thirty-five years writing for children. "The only way to connect our kids with our culture and language is to have interesting, informative, illustrative coloured books that people can afford," says Aasht.