Cuff parade
With plenty to choose from in terms of metals and stones, cufflinks are getting a chic makeover
Avinash Julka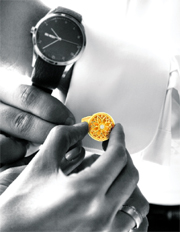 Time was when men did not have many choices as far as accessories are concerned. A tie bar or a lapel pin on a jacket was all that passed for a personal style statement. The non-accessorised couture was bland and almost bordered on boredom.
That was when fashion gurus sensed an opportunity and stepped in to change men's couture from drab to dapper. Thanks to their creative efforts, the new millennium has seen the Indian male becoming more accessory conscious even as designers are busy offering him an array of choices ranging from ties to belts, watches to wallets and necklaces to cufflinks.
Purely ornamental
However, nothing has caught the fancy of the metro male as much as a pair of trendy cufflinks that not just make an elegant statement but also distinguish a stylish gentleman from a crowd. A pair of links on the shirt cuffs showcases a man who gives attention to detail in his dressing and can carry off something that is purely ornamental.
Many designers feel that accessories like cufflinks are essential to create that perfect look. These add a spark to an ensemble, making it come alive and look complete. Though most fashion-conscious men have started dressing to the nines flaunting ties, belts and over-sized watches, many hip trendsetters are falling for the charms of the cufflinks to complete that macho look.
Wearing the right pair of designer cufflinks to match your tie-bar adds pizzaz to a business suit. This is evident from what jewellery designer Parul Kukreja has to say, "The number of men buying cuff-links for themselves featuring diamonds, and sometimes onyx or lapis lazuli, has increased by leaps and bounds. Cuffs spell style and when these are studded with precious stones, these look spectacular. On the shirt, cuff diamonds are a man's best friend!"
Vintage styles
The cufflinks are seeing a new revival in haute circles and are once again being considered chic. Suddenly, there is plenty to choose from in terms of metals and stones these are made from. You can get cufflinks made of an assortment of materials ranging from stainless steel, carbon fibre, titanium, gold, silver and other metals encrusted with onyx, crystals, mother-of-pearl and diamonds.
The cuffs come in many shapes and sizes. The all-time favourites are the vintage style links, which are round or square in shapes made from gold, platinum or silver with black or brown onyx. There is something for everybody. You can get basic cufflinks for as low as a couple of hundred rupees to those studded with diamonds and rubies, which can run into lakhs.
American luxury accessories brand Jacob & Company's Canary Diamond cufflinks carry a price tag of $4.2 million (Rs 25.20 crore). These are made from 18-carat white gold and have a centrepiece that consists of 21 carats of canary yellow diamonds, surrounded by 10.76 carats of additional baguette-cut white diamonds.
Diamond cufflinks
Swedish shirtmaker Eton, which is commemorating its 80th birthday, has come out with a special Egyptian cotton shirt costing a staggering $45,000 (Rs 27 lakh). The main component of the price is the pair of stunning cufflinks that come with the shirt and are encrusted with dozens of high value diamonds.
Not many know that cufflinks are not a new fashion appendage to a shirt. These came into existence in the 16th century when French King Louis XIV expressed his unhappiness at shirts that had open-ended sleeves. This sent the designers of the day in a tizzy and soon enough, they came up with "sleeve buttons", which were tiny glass buttons with a chain running between to hold them together.
Over the years, the glass on the buttons was replaced by a host of precious stones, including diamonds, rubies and the chains were supplanted by a single cufflink that was joined by a swivel bar to hold it from end to end. That was when this elegant accessory started being considered the most regal of all shirting details.
Different types
Today there are two basic types of cufflinks — the post and swivel bar types that have an ornament on the outside end and a clip on the inside end. The other, and more expensive ones, have ornaments on both sides. Either of these can be used on any shirt with cuffs and have their own legion of admirers.
"For the meticulously dressed male, cufflinks are as important as the shirt he wears," says Delhi-based designer Rishab Behl, and adds, "I would go a step further. Today accessories decide what you are going to wear. Many ultra stylish men have different cufflinks for different shirts, which stand them apart." Leading designers are laying extra emphasis on accessories like cufflinks, which not just bring out their creativity but add that extra edge to their couture.
The Indian connection
With their demand rising among fashionistas, many Indian designers have launched their own brands of cufflinks. At the 2013 Cannes Film Festival, designer Tarun Tahiliani showcased a man's ensemble, comprising a jacket, trouser and shirt in tussar gold with a pair of golden cufflinks.
Fashion and accessories brand Satya Paul has a range of cufflinks costing between Rs 795 and Rs 2,995. For the 2011, ICC Cricket World Cup, he launched cufflinks in the shape of bats, balls and trophies.
Designers Shantanu and Nikhil recently brought out a set of pure silk tie and a sterling silver finish pair of cufflinks. Packed in a premium leather and velvet box, these cost Rs 5,000 plus taxes.
Mumbai-based accessories brand Leaf Jewels has come out with rhodium-plated cufflinks with pictures of a postage stamps of Mahatma Gandhi and Rabindranath Tagore.
In many western countries, cufflinks made of hand-painted current and vintage Indian coins are very popular. These are sold by all leading vendors. Online retailer www.cufflinksman.com retails a pair for $175 (Rs 10,500)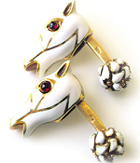 David Webb
This is a handsome pair of 18-carat yellow gold and white enamel cufflinks by American jewellery label David Webb. The equestrian motif in the shape of stylised horse-heads accented with ruby eyes exude a great macho appeal and also makes a valuable gift for someone special.

Price: Rs 3.6 lakh
Cartier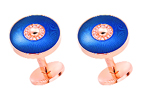 An accessories collection by Cartier always makes instant news in swish circles. These pink gold and diamond cufflinks are a part of its latest collection and offer an impeccable finishing. The 18-carat cufflinks in soothing blue enamel sunshade décor are encrusted with a total of 32 diamonds.
Price: Rs 5.35 lakh
Versace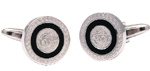 The Versace 18-carat white gold and black enamel cufflinks smack of the world grace and elegance. Crafted in the classic shape with a hand-engraving of the iconic Versace Medusa emblem as their mark of distinction, these cufflinks are meant for a man of taste and style.
Price: Rs 18,000
Raymond Lee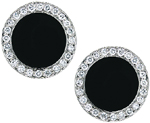 American jeweller Raymond Lee has a way with ornaments, and one of his specialities is cufflinks. Proof of that is this beautiful round-shaped platinum black onyx and diamond pair. The stunning links will surely enhance the style quotient of the wearer.
Price: Rs 2.10 lakh
Yozu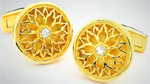 American atelier Yozu's one-of-a-kind cufflinks are handmade in 18-carat gold with a diamond in the centre. These off-the-cuff look can also be custom-made incorporating your name or replica of your coat-of-arms if you are a king. In case you are not, the cufflinks guarantee to give you that royal look.
Price: Starting at Rs 3.72 lakh
Dolce & Gabbana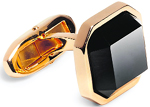 The Dolce & Gabbana cufflinks feature faceted onyx nestled into a 14-carat gold framing with the traditional T-bar fastening. These cufflinks will lend a debonair feel to an attire. In keeping with the label's opulent aesthetic, these will make a superb gift for a man with a discerning taste
Price: Rs 16,200
Dunhill
Dunhill's exclusively designed cufflinks for men are unique in the sense that each section rotates independently forming a variety of patterns. This interesting function allows the cufflinks to subtly change their shape and pattern each time these are worn on the cuff.
Price: Rs 21,000
S.T. Dupont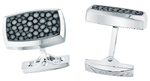 French brand S.T.Dupont's cufflink collection combines both timeless and modern designs. These palladium cufflinks worn by James Bond star Daniel Craig in the 007 movie Casino Royale make these unique and iconic. These have become a synonym of class and style.
Price: Rs 20,250
Jan Leslie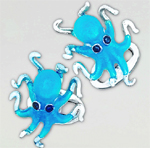 These silver octopus cufflinks for men are from leading American accessories designer Jan Leslie's Wild Side collection. These are crafted from sterling silver and hand-painted enamel. Each pair is finely crafted and will add a touch of playfulness and personality to any outfit.


Price: Rs 22,500
Jewel of Ocean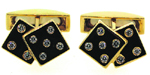 The Jewel of Ocean gold and diamond cufflinks are sure to make a bold and dramatic statement with their retro look. The glistening 18-carat yellow gold sets the perfect stage to showcase the fine dice design. Encrusted with 0.35 carats of diamonds the cufflinks will add drama to any evening outfit.
Price: Rs 4.2 lakh
Turnbill & Asser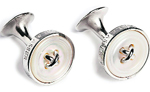 These classic button cufflinks from British clothier Turnbill & Asser are timelessly elegant. These are crafted from sterling silver with white mother-of-pearl faces. Engraved designer detailing lends these a bespoke touch. Wear these with formal a dress shirt for an impeccable finish.
Price: Rs 16,200
Judith Lieber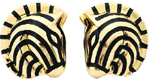 New York-based designer Judith Lieber's 18-carat yellow gold and black enamel zebra figural cufflinks are hand-finished and meticulously assembled one pair at a time. Fine workmanship has gone into these precious works of art, which are guaranteed to give you that distinct look.
Price: Rs 2.5 lakh
Scully & Scully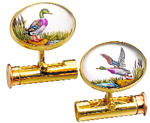 These fabulous duck crystal cufflinks from British home décor and accessories label Scully & Scully are hand-carved and delicately hand-drawn with oil paints. The cufflinks are then set in 18-carat gold and mother-of-pearl making the wearer a cynosure of all eyes.


Price: Rs 4.62 lakh
Bvlgari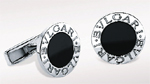 Italian luxury label Bvlgari is not just well-known for its exclusive jewellery, watches, handbags and fragrances but also for its cufflinks in a variety of precious metals and stones. These sterling silver and black onyx links from its 2013 collection exude elegance and sophistication.
Price: Rs 34,550
Tateossian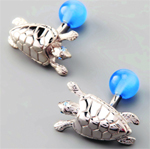 Tateossian of London is among the leading cufflink brands of the world with innovative, eye-catching designs and budget pricing. These turtle cufflinks are a proof of that. Made with Swarovski elements and finished with colour fibre optic glass-ball fitting, these have a rhodium-plated finish.



Price: Starting at Rs 10,500
Deakin & Francis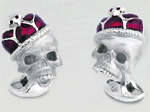 There is something sinister about these crowned skull cufflinks in sterling silver by British jewellery designer Deakin & Francis. The skulls have a moving jaw and popping ruby eyes and these not just add a colourful and distinctive accent to your dress shirts but are instant attention grabbers.
Price: Rs 27,000
Montblanc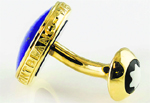 The stunning round classic 18-carat yellow gold and lapis cufflinks are from Montblanc's Meisterstuck collection. These feature blue lapis lazuli set on the front end and the Montblanc symbol on the other. Pair these elegant cufflinks with a Montblanc pen to add that edge to your look.
Price: Rs 1.35 lakh