Corridors of power
There is no denying the fact that women bring the much-needed respite from the display of money and might on the campus. More than a democratic one, electoral process, the world over, remains a male-dominated one.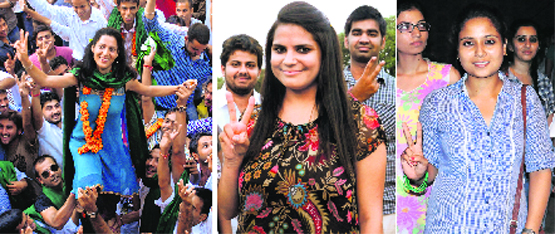 (1) Deepika Thakur Photos, (2) Disha Arora and (3) Abha Sharma: : Pradeep Tewari

Friends forever
No laughter, no regular punches, no forced romance in the name of romcom; Punjabi film Haani not only brings Harbhajan Mann back after a hiatus, it also ushers a new chapter in the Punjabi movie industry that is just focused on comedy. These days, you don't miss the artist you are growing up on; instead you can place a bookmark in Haani and return to it whenever you want - it will still be romantic and gripping.
Drape it in style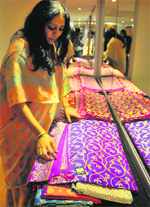 Just when the handloom heritage was on the brink of extinction, Taj Khazana, an initiative by the group and Taj's in-house lifestyle store, stepped in to revive the ancient textile industry. The weavers were reduced to extreme poverty and the handlooms stood still, till the revival work happened. Shares Sarita Hegde Roy, chief operating officer, Taj Khazana, "We've adopted the village Serai Mohan in Varanasi, where weavers weave for the Taj front desk. She adds, "This is for the first time we've put up an exhibition in Chandigarh. After this, it moves to other cities." Silk Route, the trunk show, brings along silks and cottons in all their ancient glory. The collection of Varanasi weaves comprises hand woven saris, salwar dress materials and dupattas."
The creative cut
Plazzo suits made a grand entry into our wardrobes straight from Pakistan through the Wagah border! Itís been two years now and plazzo pants still make for an interesting alternative to the staple ethnic-wear ó churidaars and salwars.