ARTS
The doctor as artist
Frames of Reference, a photography exhibition by paediatric surgeon Amrish Vaidya is a study in abstract art
Surekha Kadapa-Bose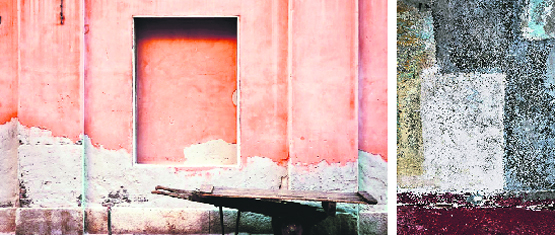 The beauty in Dr Vaidya's world of art is not cosmetic. His lens finds joy in the grit of life, dirt of society and hard facts
AS we walked into the coffee shop to talk about his passion, it was so easy to imagine him with his child patients — soft, gentle, calm and assuring. His silent gaze, while listening to the conversation, seemed to understand the unspoken thoughts and the bewilderment that was troubling us to understand his love for something entirely different from his professional pursuit.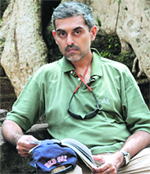 Dr Amrish Vaidya
"Of course, my first love is surgery," confessed Dr Amrish Vaidya, a paediatric specialist surgeon attached to several Mumbai hospitals. "But whenever I get free time, which is mostly when I am out of city on a vacation with my family, I enjoy my art with the same enthusiasm as my work."
Elaborating on his second love, he recalled that as a child, it was his visits to the residence of one his aunts that sowed the seed for his interest in the world of art.
"Her house in Gujarat had beautiful paintings hanging on the frame of each door. The cabinets were filled with several curios and other artworks. I loved gazing at these," recalled Vaidya.
His interest in art was stimulated due to the proximity of his house in South Mumbai to art galleries like Jehangir Art Gallery, Prince of Wales Museum, National Gallery of Modern Art, etc. He would make it a point to take in as many exhibitions as possible. But all this interest had to take a backseat when he joined joined Medical colleges to pursue his medical degree. There were no art galleries anywhere near vicinity and he wouldn't even get time to visit any.
"A doctor in training sees life differently. Shorn of the niceties, with no gloss or veneer, life here is raw, harsh and immediate. Wounds are real and deep, the pain real and excruciating. Real loneliness has to be seen and heard to be believed," he said about hospital life.
This is when he realised that his world of art wouldn't be the cosmetic type — beautiful, aesthetic and a Utopian world where the pains of the world are rarely shown. He preferred to see beauty in the grit of life, the dirt of society and the hard facts. And this is when he picked up his camera Nikon D-100.
His photography exhibition, 'Frames of Reference' currently going on at Sakshi Gallery in Mumbai, appears to be a study in abstract art. First look and it is absolutely impossible to imagine these to be photographs.
Explaining his works, Vaidya said, "As a medical student exposed to pain, I started creating situations from what I saw around me — a corner of a wall, paint peeling, part burnt from a wood fire lit under it — framed in a certain way, from a certain angle, particular way of light playing on them — these neglected areas looked like a composition and became exciting abstractions! I saw these all around me. I imagined these painted on a canvas, hung in my gallery."
While studying, he didn't have the time to actually photograph any of his virtual images. It was only later when he married Dhruti, an architect, and was visiting her sites of work that he took up photographing. He confesses he neither photographed the completed buildings nor labourers working on the site. But a sand pile here, a cluster of stones there became his muse. And the natural sunlight became his illumination.
"I never use the flashlights. That would kill the sole purpose of my photography. Fun is showing a door, a street, a column of pillars, lichen on the stone, stained walls or the aftermath of an event held in natural light," he said.
The problem comes when the family goes vacationing. When the entire world is busy shooting the Eiffel Tower, Big Ben, the Alps or the Goa beaches, Vaidya is busy looking for exact lights of the day to photograph the harsh realities behind these beauties! His work many a time makes the dirt, harshness appear more colourful.

A bride to remember
Many beautiful women have been subjects of paintings the world over but Sobha Singh's immortal work The Kangra Bride is special
Kamal Garewal
Drive to the Kangra valley on a clear day and try to reach by dusk to view the rays of the setting sun on the snows of the mighty Dhauladhars. There are many roads leading to Kangra. No matter which you take, you will know Kangra is not far when you see small villages, roadside teashops and homesteads, all with sloping grey slate roofs. We were unlucky with the weather. The mountains were shrouded in mist but you can't expect clear skies in Kangra in July. This is after all one of the wettest places in India.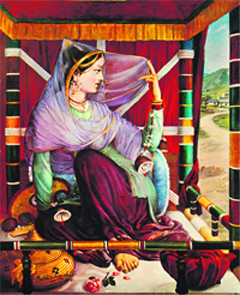 The Kangra Bride, a painting by Sobha Singh
Photo courtesy Hirday Pal Singh
If a glimpse of snow on the Dhauladhars was denied, there was compensation by way of a glimpse of the Sobha Singh Gallery at Andretta. The great artist settled here around 1950. His home has been turned into a museum. There was a personal reason to visit the gallery. More than six decades ago, a bride had left Andretta for Delhi. Sitting demurely in a modest but sturdy palanquin, borne by her father, the bride reached her new home safely. She was placed in a simple wooden frame to adorn the walls of her new owner's drawing room. I was only five-year-old when the painter handed over this masterpiece to my family. I can't describe how the bride's father may have felt on the day he had to part possession of his artistic creation. Perhaps, he felt sad like all fathers do when they bid farewell to their daughters. The bride has been taken good care of. She is in a splendid condition, though her existence is not so well-known.
She is strikingly beautiful, such exquisite elegance — dreamy almond-shaped eyes, sharp features. She has pulled her dupatta above her head for everyone to see her lovely profile. And has turned back to have a last look at the home she is leaving. At a distance, the dawn is breaking. It seems to be time for her to set off for her new home. At her feet sits a dove, with one wing outstretched. Has the bird brought a message? May be, the bird is trying to comfort her. But the bride has a composed look. She is looking out and does need comforting.
What are her thoughts? One can only imagine. Will her husband be kind and gentle to her? And, what about her mother-in-law? Her husband is probably in the Army — is she humming "Bhala Sipaeeiya Dogariya"? Probably not yet. That beautiful piece is a song of longing, sung by a young wife waiting for soldier to come home on leave from the front. She may sing this song later when her husband goes away to serve the country.
The sun rises in Kangra from behind the Dhauladhars, and spreads its light on the lower hills. Dawn it definitely is, may be the bride is heading for the plains.
Of her jewellery and garments, neither are flashy. She is wearing a saggi phul, a huge nose-ring, earrings, three in each ear, red bangles and gold bracelets or karas, and a huge ring on her right thumb and gold anklets on her feet. Her clothes are simple, pinkish purple choli and ghagra, with midriff exposed. This is rustic sophistication at its best.
The bride probably travelled to Pathankot, en route to Delhi, by the Kangra valley railway. The traveller can enjoy scenic views of the Dhauladhars from one window, rolling hills, gurgling brooks, green fields from the other. The landscape is picture perfect. It must have been pristinely so in 1929 and in 1952 when the bride made the final journey to her new home.
Sardar Sobha Singh's painting is after all our Mona Lisa. All masterpieces have their own special place. Johannes Vemeer's "Girl with a Pearl Earring" is the Dutch Mona Lisa. There must be hundreds of paintings of beautiful women by well-known painters, but our very own Kangra Bride is very special.