Make classroom teaching more lucrative
If we want our graduates employable, we should raise an army of highly effective teachers who take classroom teaching seriously, irrespective of whether they are good researchers or not
Jayanti Roy
OUR country churns out tens of thousands of graduates every year but less than half of them are employable or possess the basic skills necessary for any productive role. According to a recently published report, claimed to be the first-ever national audit of employability of three-year bachelor's degree graduates, by Aspiring Minds, an employability solutions company, around 47 per cent graduates in India are unemployable for any job. The report is based on data of over 60,000 graduates pan-India.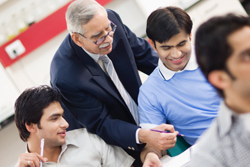 Quality classroom teaching is a strong antidote to unemployability. — Thinkstockphotos
We need no fancy reports to tell the quality of academic and technical skills of degree holders around us who can hardly draft a simple leave application correctly, what to say of performing jobs needing higher cognitive skills. We frequently hear the lament of the older golden days when even a matriculate had greater academic skills compared to today's graduates. The phrase 'unemployable graduates' has been repeated so often that it has lost all meaning, and nobody is ready to look into the pit.
Interventions are needed at the higher education level. This is obvious. Graduates do not learn anything because they are not taught. Now, why are they not taught? The simple reason is that it is not mandatory for the teachers to teach. Seems confusing? Let me explain.
I have employed a carpenter to make chairs at my factory. He makes beautiful chairs, and I have to pay him handsomely for that. It pinches me and I think it is not enough for him only to make chairs, so I put a condition that he must do research on how to make good chairs, types of wood, polish and tools, history and aesthetics of chairs, and also attend conferences. His salary is now linked to how many conferences he attended and how many papers he published. Obviously, it leaves him with no time and energy to work on making beautiful chairs. Though he still makes them, they are no longer beautiful but defective, ugly and non-usable.
Quality classroom teaching is a strong antidote to unemployability. Only rigorous teaching can provide theoretical and practical inputs and equip students with adequate academic, technical and intellectual skills for problem solving in the real world. Interaction in the classroom can never be compensated by heavy individualistic research done or workshops attended by the teacher. This should not be interpreted to mean that research is bad for teaching but only that effective teaching is a full-time activity and has to be invested heavily with time, energy, intellectual inputs. One can munch popcorn and watch TV at the same time but assuming that teachers do dedicated research, attend conferences and in whatever little time is left they teach is dangerous and is leading us to a fatal skew in higher education. Doing quality research with full dedication and effective classroom teaching are two full-time activities, and when you juggle both of them you compromise on the quality of one or the other.
It is highly surprising that classroom teaching is not incentivised at any level. The promotion of teachers is linked with how many papers/ books they have published and number of conferences attended. Their academic performance is gauged with everything else under the sun save teaching effectively in the class. There are no awards for dedicated teaching. All these policies send a clear message — teaching is not important. Since we do not want our teachers to teach sincerely, they do not; therefore, our graduates remain untaught, though not without a degree. It is as simple as that.
We need, on an urgent basis, to find out ways on how to make classroom teaching lucrative. The interventions may range from defining good teaching, framing parameters of good teaching, making physical teaching spaces attractive, providing support for developing and sustaining good teaching skills, awarding good teachers, creating platforms for discussing teaching challenges and focusing our full attention on teaching. We need to raise an army of highly effective teachers who take classroom teaching seriously, irrespective of whether they are good researchers or not.
If we really want our graduates employable, we have to make teaching the central, most significant and indispensable aspect of higher education and not treat it like a half-hearted attempt in a part-time job.
The writer is Deputy Director, Academic Staff College, Panjab University, Chandigarh