M A I N N E W S
UP on edge as riots toll rises to 30


Army stages flag marches as violence spreads


PM dials Akhilesh
Tribune News Service & PTI
Muzaffarnagar/Lucknow, Sept 9
The Uttar Pradesh Government on Monday struggled to contain the communal flare-up as the death toll in the Muzaffarnagar clashes rose to 30 and violence spread to neighbouring Shamli and other districts. Curfew remained in force and the Army staged flag marches for the second consecutive day.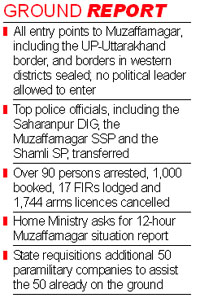 Chief Minister Akhilesh Yadav blamed the BJP and other mischievous elements for the violence in Muzaffarnagar and its adjoining districts and said those responsible would not be spared. The Opposition accused the state government of failing to act in time to prevent the violence. The BJP alleged that the UP administration under the Samajwadi Party government had acted in a discriminatory manner. BSP supremo Mayawati slammed the government for lapses on several fronts.
The government announced setting up of an inquiry commission headed by Justice Vishnu Sahai (retired). It would probe the sequence of events from August 27 when a minor eve teasing incident led to three deaths in Kaval village starting the violence. It will submit its report in two months.
"The death toll in the violence in Muzaffarnagar and other areas has climbed to 30," Principal Secretary Home RM Srivastava said. Another 48 are seriously injured in Muzaffarnagar (45) and Baghpat (3).
Concerned over the incidents, Prime Minister Manmohan Singh spoke to Chief Minister Akhilesh Yadav and assured him of all help from the Centre to deal with the situation. The Union Home Ministry has told the Uttar Pradesh Government to send a situation report every 12 hours and asked the state government to deploy enough forces in rural areas where violence is yet to be contained.
Union Home Minister Sushilkumar Shinde said the Centre had alerted 11 states following intelligence inputs about possible communal incidents. "I don't think he (Akhilesh Yadav) ignored these warnings," he said on being asked whether the CM was to blame for the violence.
While IG Crime & STF Ashish Gupta described the situation as relatively better than yesterday, violence spread to the neighbouring district of Shamli where a 40-year-old Imam of a mosque, Maulana Umar Din, was shot dead, Shamli District Magistrate PK Singh said. The Army staged flag marches in Shahpur, Khautauli, Purkazi, Maripur, and Shamli areas, officials said.
Muzaffarnagar SSP Subhash Dube has been replaced by Pravin Kumar while and SP Abdul Hamid has been replaced by Anil Kumar Rai. DIG Saharanpur Ashok H Jain has also been replaced by DC Mishra. ADG Bhuvesh Kumar who has earlier been posted in Muzaffarnagar has been sent there to assist the present team.
Seventeen FIRs have been lodged in connection with the incidents and 90 persons have been arrested. Around 1,744 licenced weapon holders in the districts have been disarmed. Curfew continues without any relaxation in the three police station areas of Civil Lines, Kotwali and Nai Mandi. The police filed an FIR against 40 persons -- including four sitting BJP MLAs -- for delivering inflammatory speeches at the 'Bahu-Beti wa Hindu Bachao Mahapanchayat' at Nagla Madod under Sekheda police station on September 7.
The mahapanchayat held in an already tense situation was attended by around 25,000 and led to the ongoing series of violence. The four BJP MLAs named in the FIR are Hukum Singh (Kairana) and Suresh Rana (Thana Bhawan) both in district Shamli and Sangeet Singh Som (Sardhana) in Meerut and Kunwar Bhartendra (Bijnore). BJP ex-MLAs Ashok Kansal and Pradeep Baliyan as well as former BJP MP Sohanvir Singh have also been named in the FIR.