Hero & heroics
Shahid Kapoor is back after a break. And this time in a brand new comic avatar with Phata Poster Nikla Hero…
When others around him are hogging on chana bhatura and non-vegetarian biryani, he limits himself to the diet of peanuts and juice. And you thought just about anyone could be a hero!


FUN TIMES: (L-R) Shahid Kapoor, Ileana D'Cruz and Ramesh Taurani. Photo: S CHandan

Spring in step
Young IT professional Neha Khaitan loves each move in the dance form she cherishes — Bharatnatyam
Dance is divine for Neha Khaitan; and it was a divine coincidence that made Neha move from her profession in the IT industry and devote her soul to Bharatnatyam. A late starter, she landed at a Bharatanatyam recital that left her mesmerised in Hyderabad. Next, she was at her Guru Hemamalini Arni's doorsteps to start a new journey. Seven years on, Neha is busy with two concerts a month around the country.
Playful effort
Students of The Department of Indian Theatre, Panjab University's production The Inspector General promises to be full of humour and suspense

Mounting a theatre production equals the clichéd Herculean task; there is a set to take care of, together with sound, lighting, costumes, props and characters. In the process of channelising the energy of students, tickling the funny bone only makes things further challenging for the human faculties. Prof Mahendra Kumar believes in maintaining a balance and flits to and fro between keeping things effortless and challenging himself. "As far as comedy is concerned, I believe that one shouldn't try to make the audience laugh. It should be an effortless process.
STAGE ACT: The cast and crew of the play The Inspector General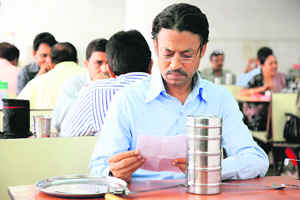 A successful recipe
Director Ritesh Batra's debut film The Lunchbox (Dabba), starring Irrfan Khan and Nawazuddin Siddiqui, will compete in the official competition section of this year's London Film Festival. The film, that earlier won the Critics Week viewer's Choice Award at the 66th Cannes film festival, is the only Indian film to make it to the 13-film shortlist.



Irrfan Khan in The Lunchbox
Priyanka says 'no' to Shahid
It seems Ekta Kapoor is having a tough time. First her film Once Upon A time in Mumbai Dobaara had a release date clash with Shah Rukh Khan's block blaster of the year Chennai Express. Ekta delayed the release of her film but still didn't get as much screens as she expected. This led to a skirmish between Ekta and the SRK.
Chatter box
An issue of importance
In the wake of the recent rape and molestation cases that have wrecked the peace of the country, especially of the women, Zee TV has decided to spread awareness about the sad state of our nation through its popular show Qubool Hai. The makers have decided to insert a plot where the character of Surbhi Jyoti, Zoya will become a victim of a certain stranger's fantasy and how she will reprimand him for his untoward behaviour towards women.
Pure bliss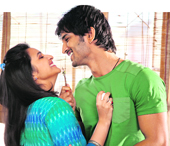 Parineeti happy with response to Shuddh Desi Romance
Actress Parineeti Chopra is ecstatic with the response to her latest film Shuddh Desi Romance and says she knew it would work ever since she read the script. Produced under the Yash Raj Films (YRF) banner, the movie that also stars Sushant Singh Rajput and Vaani Kapoor is directed by Maneesh Sharma. "When I read the script I was sure that this is going to be a very entertaining film.
Parineeti Chopra and Shushant Singh Rajput in Shuddh Desi Romance

The other side of the story
One of the main ingredients of a Prakash Jha film is its topical element and the director now wants to bring on the silver screen the relationship of the police and society today. Almost all of Jha's films be it Mrityudand, Gangaajal, Apaharan and latest Satyagraha have been connected to their time. The 61-year-old filmmaker feels the image of police in the society has changed drastically in the last 12 years and this subject could make for an interesting movie.
Astro turf
ARIES: You can bring dreams back into focus with the added benefit of your age and wisdom. You will be in the mood to meet people from different walks of life. Tarot message: Prevent trouble by taking timely action. Lucky colour: Fushia. Magic number: 46
The 'in' side
Open invitation
If you don't like cooking on your own while the whole family is watching TV or having fun together then maybe you should consider an open plan kitchen. Open plan kitchens are gaining popularity in India and allow a family to spend quality time together. Creating an open plan kitchen dinner is a great way to make meal times a more of a social occasion. Here are a few things you need to keep in mind: Before you start breaking down walls, keep in mind all the activities that will take place in the room and if they can all be done together in harmony. Make sure you install a good chimney so that all the cooking smells don't permeate the entire area.
TRENDSETTER
Being original
Every person has a sense of style in his own right. Yet there are only a few who'd attract the second glances, who have the power to make the camera go zoom on them. It could be the tousled hair or it could be the torn jeans. This week's face in the crowd Ronica Bedi, a student, 20, likes to play things up to the maximum.
A new beat
The Aashiqui series in Bollywood have been musical blockbusters. Now the question is whether the up and coming Punjabi film with the same prefix will be able to stir a similar musical flavour in the Punjabi film industry!
Shop till you drop
DLF City Centre had put together a combination of world-class shopping, fabulous promotion, top-class entertainment for movie buffs, cash back offers which ensure a unique and truly memorable shopping experience for all visitors during this festive season.
The year ahead
If your birthday is September 11...
Rakul Preet's Army connection
Rakul Preet, who is making her foray into Bollywood with debutant director Divya Kumar's Yaariyaan, has a habit of reaching the sets half an hour before time.
The macho man & the bachelorette
Bollywood actor Sunny Deol has been approached for a guest appearance in TV show Bachelorette India — Mere Khayalon ki Mallika. The show will see actress Mallika Sherawat's journey as she selects her partner from 30 suitors vying for her attention.
Master Chef
Pass some pears!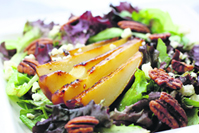 Pear salad
You have green ones and blushing pink ones, you have soft juicy ones and you have crisp ones. But all of them are a delight to eat, one way or the other! There are even some awfully hard ones that are even called pathhar naakh! Well, don't say you weren't warned, because these are literally rock hard! Relatively cheaper, this variety is acceptable to make a chutney or hit somebody with! A pear salad with a scattering of greens and some nuts, enrobed in a tangy dressing is a lovely change from the standard kheera-tamaatar. Add some orange juice to the dressing for extra pizazz!
What a birthday!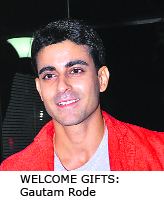 Recently, Gautam Rode aka Saraswati in STAR PLUS' Saraswatichandra celebrated his birthday and was overwhelmed with emotion on being informed that his female fans have also celebrated his birthday. While in the show he seems to have lost his lady love, Kumud, his female fans from across the world seem to be making up for the loss. "I am so touched by the generous love, support, blessings and the gifts that I received on my birthday," says the charming Gautam. Even now the gifts seem to be flooding at his residence. From greeting cards to love notes, from healthy items like — green tea, granola bars to marriage proposals, Gautam is one happy guy! Gautam exclaimed, "I have been busy shooting and haven't been able to personally write to them. There is nothing more rewarding for an actor than being loved by fans and making my birthday even more special." — HRM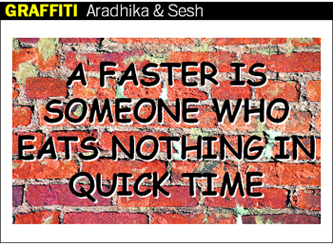 Welcome the winter
Celio, the international menswear brand from France, creates yet another style statement this season with the launch of its Winter'13 collection. For Winter 13, Celio is revisiting the male wardrobe and presenting three universes: The Urban universe is characterised by discreet and subtle English style elegance, ideal for everyday or smart weekend wear. The urban wardrobe offers a broad range of materials: woollen fabrics, velvet and chambray, crafted in warm tones of burgundy, khaki, chestnut and camel. In winter, cable-knit sweaters and wool overcoats will enhance the looks. — TNS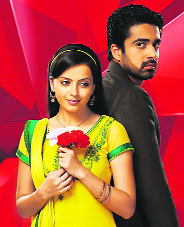 The battle heats up
The much-talked about sequel of the popular show on Star Plus Iss Pyaar Ko Kya Naam Doon Ek Baar Phir has begun on a high note. Sources tell us that the makers now plan to chuck out some interesting sequences to up the drama quotient of the show. Aastha (Shrenu Parekh) will confront Shlok (Avinash Sachdev) as he has dismissed a girl from the college. Their clash will be publicised by the media leading to an attack on his father Niranjan's (Manish Wadhwa) head office. This will only widen their differences. As viewers have already witnessed, the pair detests each other from their first meeting and things will only become worse with further encounters.
AT LOGGERHEADS: A still from Iss Pyaar Ko Kya Naam Doon Ek Baar Phir

A time to remember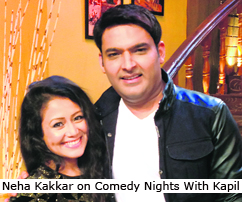 Singer Neha Kakkar, who is gaining popularity for her recent song Dhating Naach from the movie Phata Poster Nikla Hero, met Shahid Kapoor on the set of Comedy Nights with Kapil recently. Shahid along with Ileana D'cruz were on the show to promote their movie. Very few people know that Neha Kakkar has been a fan of Sasha's work from the time he started his career. She is so fond of him that when she got to know that Shahid Kapoor will be grooving on her item number, she was elated. An excited Neha Kakkar said, "I am speechless right now and couldn't have asked for more."
Make-over for Pankhuri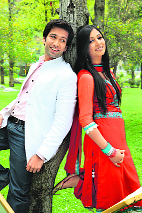 Pankhuri (Disha Parmar), the lead protagonist of Star Plus' Pyaar Ka Dard Hai Meetha Meetha Pyaara Pyaara (Rajshri Productions), has got a makeover in terms of looks. The recent episodes have shown a courageous and determined Pankhuri getting back to the house to claim a hold on the property and also to expose Chachaji (Anil Dhawan) as well as his family. The story is proceeding towards a maha episode to be aired on September 14, wherein Pankhuri will keep three challenges before Choti Nani (Suchitra Bhandekar). The first is to get Aditya (Nakuul Mehta) out of the jail; the second is to free Anuradha (Harsha Khandeparkar) and third, to unite their family again.
LOVE-LY Times: A still from Pyaar Ka Dard Hai Meetha Meetha Pyaara Pyaara

Mahabharat in Jaipur...
The cast and crew of the show Mahabharat, being helmed by Siddharth Kumar Tewary, will be shooting in the Pink city, Jaipur, soon. "The Amber Fort in Jaipur is a favourite with filmmakers and TV serial producers when it comes to shooting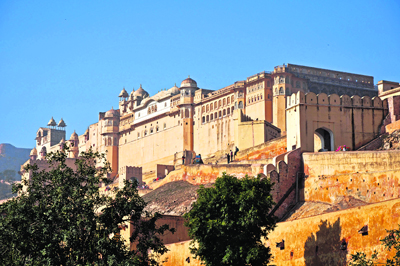 historical or mythological sequences. And now, the fort is soon going to witness the shoot of another epic — this time, the Mahabharat, which is scheduled to air on Star Plus. They are going to shoot the introduction sequence of the Kauravas and Pandavas at the Amber Fort," informs a source. At present, the team is also scouting for locations on the outskirts of Jaipur to shoot some war scenes.
SHOOT AT SITE: The Amber Fort in Jaipur