Trailblazers who stood the course
Reviewed by Priyanka Singh
Women of Vision
by Alam Srinivas.
Roli Books. Pg 110. Rs 140
In a country where women empowerment is still a notion, there are women who have been trailblazers in men-dominated fields, busting stereotypes and steering their organisations through challenging times to new growth. The common thread running through all these stories is one of endless struggle; and that nothing comes from nothing.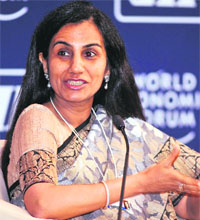 Chanda Kochhar broke the glass ceiling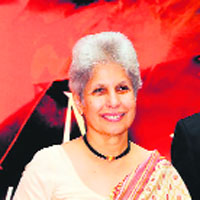 Anu Aga came up trumps despite tragedies
Though they come from sound financial backgrounds, which perhaps made them dare and dream without fear, the element of pushing limits defines their achievements.
The book is dedicated to the women who shattered the corporate glass ceiling and to millions of girls killed in the wombs. Alam, a freelance journalist, delineates their personalities well, a tough ask considering time and space constraints. The profiling is breezy, with anecdotes and glimpses into their personalities and little-known eccentricities as they open up to him in a candid tete-a-tete.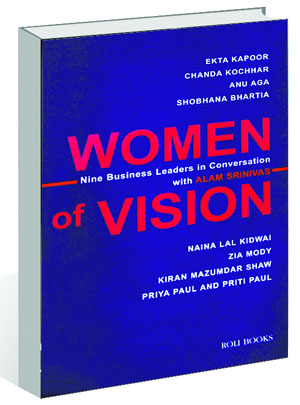 Anu Aga has seen tragedies most people wouldn't in a lifetime. She lost her second daughter during pregnancy; her son was born with a hole in his heart and was killed at 25 in a car crash, 14 months after her husband died of cardiac arrest. Padma Shri and director of Thermax Ltd, Anu immersed herself in work, questioning destiny, and finally accepting it. Inspired by her empathetic son, she makes it a point to give back to society.
A college dropout, Ekta Kapoor has seen as many failures as successes. Joint MD of Balaji Telefilms, Ekta experienced the dizzy heights of success only to hit rock bottom with the parting of ways with Star. The "monster boss" bounced back and diversified to become the queen of entertainment.
When it comes to time, Shobhana Bhartia is a stickler (she'll remind you your time's up). At 45, she took over the reins of HT Media and is behind its changing face. It wasn't all smooth, but her grit made the difference.
Naina Lal Kidwai, Ficci president and head, HSBC India, received the Padma Shri for promoting trade and industry. The first Indian woman to graduate from the Harvard Business School, Naina is focused on financial inclusion. Like her, Chanda Kochhar, CEO, ICICI Bank and Padma Bhushan awardee, wants to push banking services into rural areas. Passionate about saris and diamonds, Chanda proved she deserved the mantle.
The "high priestess of corporate marriages", Zia Mody's appetite for work is insatiable. From 13 lawyers, her firm AZB and Partners has grown to nearly 250. Among her clients are the Tatas and the Ambanis.
Kiran Mazumdar Shaw's rise as the wealthiest self-made woman of India was a result of her stark ability to take risk. She is all for experimental culture, saying: "Our schools have perfected the art and science of focusing academics towards exams, and not education." As head of Biocon, she emphasises on innovative thinking.
It wasn't a rose-strewn path for the Paul sisters. Priya and Priti Paul, chairperson and director, respectively, of Apeejay Surrendra Park Hotels, had to learn the ropes after their father was shot by ULFA terrorists. There was no time to grieve as they were thrown into the market world with little experience. They not only propped their diverse businesses of hotels, shipping and tea, but also expanded them.
These women are ordinary, made extraordinary by their vision and perseverance during daunting times. For them, failure was only a stepping stone.