Chasing the desert
Rajasthan is made up of 26 former princely states and territories, each with their own proud and distinctive character.
Their collective wealth of tradition and culture — their vivid colours, crafts, music, dance, language, and literature — is to a large extent a response to the challenges of living in a difficult terrain
Gillian Wright
Rajasthan, is modern India's largest state, extending over more than 340,000 sq. kilometres. Roughly divided into two parts, the west comprises the shifting dunes and scrublands of the Thar Desert, the easternmost part of the Saharan-Arabian desert zone. The heart of this desert is locally known as the Marusthali — the land of the dead. Over vast areas of the Thar ruled the Maharajas of Bikaner, Jodhpur, and Jaisalmer. Protecting the south and eastern part of the state from the advance of the desert is the ancient mountain range whose name, Aravalli, literally means an obstacle in the way. Temperatures vary from almost freezing in winter to above 50 degrees centigrade in summer. Brief monsoon rains can be torrential and transform arid areas into tapestries of green. A quarter of India's livestock is to be found in Rajasthan. This amounts to 55 million animals including 12 million cattle, 14 million sheep, 17 million goats, 24,000 horses, and 70,000 camels.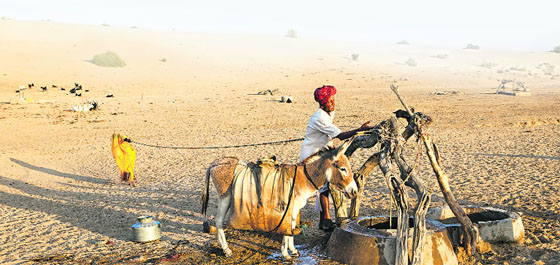 Wells in the desert often belong to different communities and castes. This well in Barmer district belongs to members of the Rajput caste. A woman hauls on a rope to raise water in a rubber pouch. Her husband then pours it into bags slung over their donkey
---
'Art & Soul
Vanishing strokes
Calligraphy, or the fine art of writing, may not have many takers today but the form continues to survive in some pockets of the country
B.N.Goswamy
I shall first say something about the art of writing…. The letter, a magical power, is spiritual geometry emanating from the pen of invention; a heavenly writ from the hand of fate; it contains the secret word, and is the tongue of the hand…. Superficial observers see in the letter a sooty figure; but the deep-sighted a lamp of wisdom. The written letter looks black, notwithstanding the thousand rays within; or, it is a light with a mole on it that wards off the evil eye. A letter is the portrait painter of wisdom; a rough sketch from the realm of ideas; a dark night ushering in day; a black cloud pregnant with knowledge; the wand for the treasures of insight; speaking, though dumb; stationary, and yet travelling; stretched on the sheet, and yet soaring upwards.
Abu'l Fazl in the Ain-i Akbari, ca. 1590
I do not exactly remember when but I am sure I have written in this very column on the art of calligraphy, especially Islamic calligraphy, before. And I might even have cited the words —words that I find irresistible — of Abu'l Fazl, that great chronicler at the court of Akbar. Why then, it could be asked, am I returning to the theme? It is for two reasons: one arising from my visits to Delhi and, two, because I read recently about some fine calligraphers, who continue to practice this art at Hyderabad.
---
Wellness
Don't get hyper
Every two out of 10 individuals have high blood pressure. The causes are varied — high-stress levels, obesity, diabetes, smoking, alcoholism, sedentary lifestyle, high salt intake, etc. But lifestyle modifications can help lower blood pressure and prevent the risk of cardiovascular diseases
Our goals today are materialistic and monetary and we give everything we can to achieve them. Our priorities have changed. Health is majorly ignored and considered nothing but secondary. The incidence of stress-related diseases is rising. One such stress-related disease that every two out of 10 individuals are diagnosed with is hypertension, which in layman's terms is called high blood pressure.
---
Society
Parenting in the age of social media
As the social world shrinks to a fist-sized mouse or the tip of a finger, the rules of social interaction are getting increasingly blurred
Aditi Garg
Trusting parents and digital-age teens that take them for a ride easily, make for a troubling prospect and is the stark reality. According to a survey by McAfee in seven Indian cities, 79 per cent of parents trust their kids with the content they access on the Internet but a startling 47 per cent teens have seen sexual content online. 70 per cent parents trust their kids to tell them about their online activities, while 55 per cent teens admit they don't.
---
travel
Gateway to Land of Thunder Dragon
The charming small town of Paro in Bhutan lies on the banks of meandering Paro Chhu River. In a time warp, the place is cautiously opening up to the modern world
Kavita Kanan Chandra
Visiting Bhutan is like visiting a fairy land with imposing dzongs (fortress), rugged mountains, gushing glacial rivers, towering peaks, winding roads and lush dense forest. People walking on streets in their traditional clothes, buildings made of stone, mud and carved wood and the warm and friendly natives are quite fascinating. You might get carried away by the sight and consider that the 'Last Shangrila' indeed remains in the time warp. However, you might be mistaken to some extent for the tiny Himalayan kingdom is opening to trappings of modern world but cautiously. People watch television, keep mobiles and modern modes of transport has made connectivity to the world much better. What will amaze you is the balance that has been maintained between traditions and modernity by the Bhutanese people.
---
Entertainment
Many shades of love
Unconventional romances are increasingly becoming the norm in popular Hindi cinema as directors give a new spin to a tried and tested genre
Saibal Chatterjee
Fluffy boy-meets-girl yarns that end in the young lovers surmounting all odds and living happily ever after have always been, and will always be, staple Bollywood fare for the teen market. However, a new breed of Mumbai filmmakers is increasingly veering round to the Shakespearean view that "the course of true love never did run smooth".
Balraj Sahni: A class act
Balraj Sahni's films carried the signature of his inimitable style, sober body language and soft-pitch dialogue delivery
Shoma A. Chatterji
It is sad that a sterling performer like Balraj Sahni is hardly remembered in the year of his 100th birth anniversary. The actor, who acted in some wonderful plays, is associated with a few classic films like Do Bigha Zamin (1953), Garm Hawa (1973) and his biggest commercial success Waqt (1965.) His low-key and subtle portrayals like that of the farmer-turned-rickshawpuller Shambhu Mahato in Bimal Roy's Do Bigha Zamin and the sad Salim Mirza caught between his love for his Indian roots and the political pressure on him to migrate to Pakistan after Partition in Garm Hawa are unforgettable.