Entertainment
Many shades of love
Unconventional romances are increasingly becoming the norm in popular Hindi cinema as directors give a new spin to a tried and tested genre
Saibal Chatterjee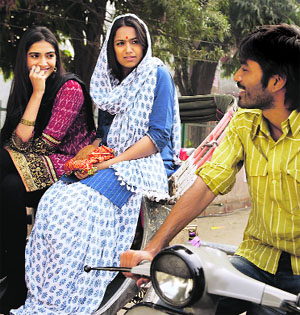 Raanjhanaa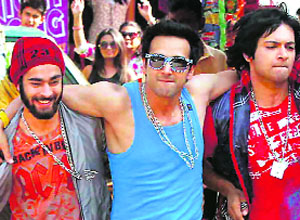 Fukrey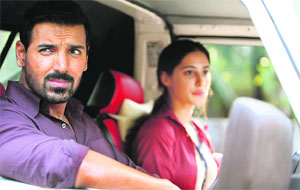 Madras Cafť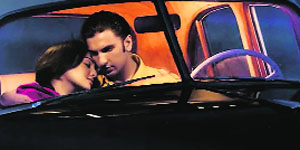 Lootera
Fluffy boy-meets-girl yarns that end in the young lovers surmounting all odds and living happily ever after have always been, and will always be, staple Bollywood fare for the teen market. However, a new breed of Mumbai filmmakers is increasingly veering round to the Shakespearean view that "the course of true love never did run smooth".
They are breaking free from old romantic tropes and walking down unusual narrative paths in a quest to explore the matter of love, or the absence of it, in a somewhat new light.
The past few months have seen the release of a string of Bollywood films that have sought to redefine the parameters of screen romance.
In Mrighdeep Singh Lambaís Fukrey, for instance, the romantic track plays out on the fringes of the story although it is essentially a film that presents a portrait of youthful exuberance.
A meatsellerís son (Ali Fazal), who aspires to be a musician, is in love with an accounts teacher (Vishakha Singh) but he does not break into song at the slightest pretext to articulate his feelings for the girl. The viewer is aware that the two are in love with each other but the director does not resort to age-old romantic conventions of a commercial Hindi film to get the point across.
Pretty much the same is true of the portrayal of the other pair of lovers in the film (Pulkit Samrat and Priya Anand). Fukrey never strays away from its narrative core in the two subtle love stories embedded in the screenplay. The happy augury is that such Hindi films are doing exceptionally well at the boxoffice. It isnít surprising, however, that releases like Vikramaditya Motwaneís Lootera and Aanand L. Raiís Raanjhanaa tend to sharply polarise the audiences.
After all, these arenít your average popcorn romances although these are, like most other Hindi films, targeted essentially at a youthful audience that usually loves to be seduced by the familiar. But the scenario is obviously beginning to change. The commercial success of Lootera and Raanjhanaa is proof that Hindi movie fans are now ready for love stories that go well beyond the realms of the tried and tested and experiment with more complex shades of emotion.
The wonderfully well-crafted Lootera is a period drama that moves from a warm Bengal location to a cold, snow-covered landscape in the hills to narrate a moving story about life, love, death and redemption. The robust Raanjhana, on the other hand, is a tale of doomed Hindu-Muslim love set in a small town in north India that climaxes on the streets of Delhi. Both films, for all their failings, struck a chord because these dared to defy the expectations of the audience without being apologetic about it.
Rohit Shettyís record-breaking Chennai Express is not what could be described as a path-breaking film but its spoofy depiction of the North-South divide through the unlikely love story of a mafia donís daughter (Deepika Padukone) and a Mumbai city slicker (Shah Rukh Khan) does anything but adhere to the norms of the genre. Ayan Mukherjiís Yeh Jawaani Hai Deewani, despite being far more mainstream in spirit and execution, also breaks many established rules of the average Bollywood love story. The story of four school buddies, who get together for a holiday trip and rediscover each other in the process, probes varied aspects of the process of growing up.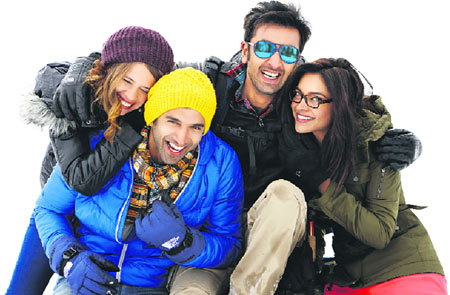 Yeh Jawaani Hai Deewani
While the film might not have broken any new ground in terms of what it eventually propounds, Yeh Jawaani Hai Deewani delves into the minds and hearts of four people with divergent worldviews looking for common ground.
Bollywood love stories are known to usually avoid behavioural nuances but not so in Yeh Jawaani Hai Deewani. While staying within the confines of formulaic storytelling, it frequently ventures into uncharted territory.
So is good-old Hindi movie romance losing its charm now that Yash Chopra is no more on the scene? The dream merchantís son Aditya Chopra has teamed up with screenwriter Jaideep Sahni and director Maneesh Sharma to come up with Shuddh Desi Romance, a small-town love story with a massive twist in the tale. These are clear signs of change.
That apart, the upcoming Akshay Kumar action flick, Boss, has the lead actor in a role that does not allow him any time or scope for romance. The film has no heroine opposite Akshay ó a move that would have been unthinkable only a year ago. In Shoojit Sircarís Madras Cafť, a realistic take on a historical event, the male protagonist, an undercover military agent (John Abraham), is a married man. The filmís lead actress is a journalist (Nargis Fakhri), who spends a fair amount of time with the hero but the thought of any amorous adventure crosses their minds. This is clearly a new kind of Hindi cinema where the old is giving way to the new and romantic love isnít merely another convenient plot device.