Entertainment
Balraj Sahni: A class act
Balraj Sahni's films carried the signature of his inimitable style, sober body language and soft-pitch dialogue delivery
Shoma A. Chatterji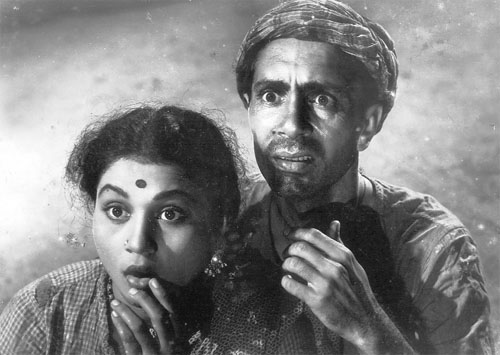 Balraj Sahni as Shambhu Mahato in Do Bigha Zamin
It is sad that a sterling performer like Balraj Sahni is hardly remembered in the year of his 100th birth anniversary. The actor, who acted in some wonderful plays, is associated with a few classic films like Do Bigha Zamin (1953), Garm Hawa (1973) and his biggest commercial success Waqt (1965.) His low-key and subtle portrayals like that of the farmer-turned-rickshawpuller Shambhu Mahato in Bimal Roy's Do Bigha Zamin and the sad Salim Mirza caught between his love for his Indian roots and the political pressure on him to migrate to Pakistan after Partition in Garm Hawa are unforgettable.
His films carry the signature of his inimitable style, sober body language and soft-pitch dialogue delivery. He could become dramatic when the script demanded and this is nowhere more prominent than in the song number "O meri zohra zabeen" in Yash Chopra-directed Waqt, which remains an all-time hit nearly five decades after the film was released. In his autobiography, Sahni repeatedly recounts how, though his performance drew packed houses in the theatre stage, he panicked the moment the movie camera clicked to shoot him. Finally, it was a scathing rebuke from a directorial assistant that brought him to his senses, he held within himself and helped him create and evolve his own style.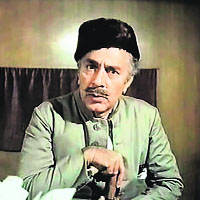 Balraj Sahni as Salim Mirza in Garm Hawa
After the international accolades on Do Bigha Zamin, Balraj Sahni became a household name. Hemen Gupta chose him for Kabuliwallah (Hindi) produced by Bimal Roy. In Hrishikesh Mukherjee's Anuradha, which won the Golden Lotus at the National Film Awards, he played a busy doctor who neglects his wife. It was a difficult role because of its negative shades.
Balraj Sahni ranks among few film personalities who have been invited to deliver the convocation address at the graduation ceremony by the Jawaharlal National University in 1972. In one gem picked from his nine-page long convocation address, he says, "Individually and collectively, we resemble Walter Mitty. Our inner lives are different from our outer lives. Our thoughts and actions are poles apart. We want to change the state of affairs but we lack the courage to do anything different from what we have been doing all along, or different from what others expect us to do." Sahni passed away a year later when he was 60.
His first wife Damayanti, who mothered his two children Parikshit and Shabnam, was at one time, more famous in Bombay films than he was. This affected the relationship towards the end because Sahni confesses that he was jealous of his wife's success and he realised her true worth only after her early and untimely death. He married Santosh Sahni some years later, who was a talented stage actress and acted in some plays he directed.
He featured in around 150 films during his career and several of these are landmarks not only in his career but in terms of the archival value of the films per se. Among these are Do Bigha Zamin (1953), Seema (1955), Kathputli (1957) both directed by Amiya Chakravarty, Lajwanti (1958), Sone Ki Chidya (1958), Anuradha (1961) directed by Hrishikesh Mukherjee, Bhabhi Ki Churiyan (1961), Kabuliwallah (1961), Unpadh (1962), Waqt (1965), Do Raaste (1969) directed by Raj Khosla and Garm Hawa (1973.) The reflection of his daughter Shabnam's sudden demise came across in his performance in Garm Hawa when Salim Mirza showers fistful of earth on his dead daughter's grave.